Good morning. We're continuing to track the severe threat posed by Tropical Storm Laura, and the majority of this post will be devoted to that. However, before getting into hurricanes, just a word about our weather for Monday and Tuesday. We expect partly to mostly sunny skies, with highs generally in the mid-90s. Both days will see a chance of scattered showers, especially along the coast, but we don't expect anything too organized. Weather beyond this will depend upon the movement of Laura.
Tropical Storm Marco
Marco is weakening this morning (50 mph) as it encounters wind shear over the northern Gulf of Mexico. It is expected to approach the southern coast of Louisiana tonight, and then slowly begin to track westward toward Texas. As its main convective activity will be sheared away, it should not bring any noticeable weather changes to the greater Houston region. However, Marco's movement may play into Laura's final landfall location as that storm nears the Gulf coast by mid-week.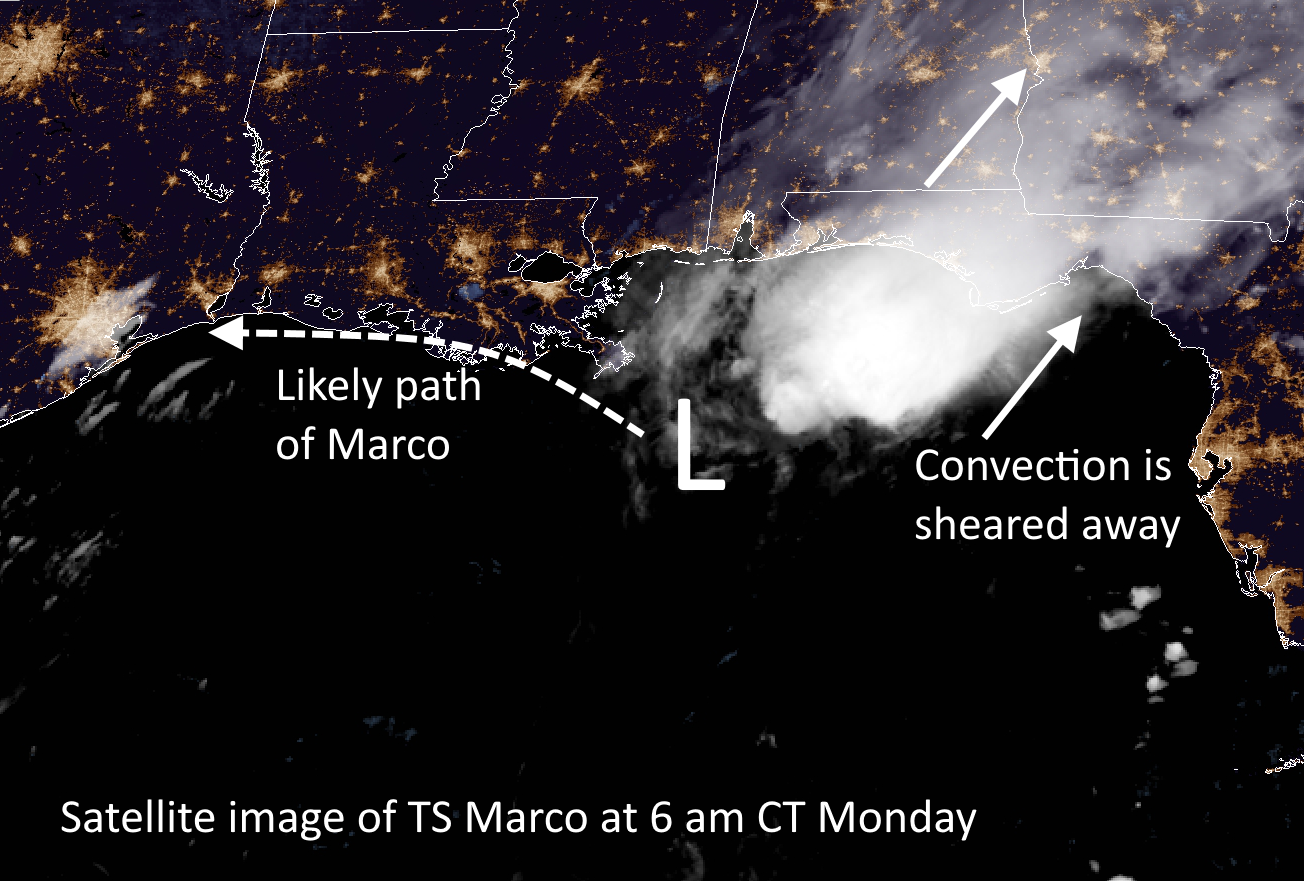 Tropical Storm Laura
Here's the deal with Laura. At this time there is a somewhat improving model consensus for where the storm will make landfall late Wednesday night or early Thursday, likely between Galveston Island and the south-central Louisiana coast. The National Hurricane Center has the storm coming into the coast near the Texas-Louisiana border, but we do not have nearly enough precision to rule out small-to-moderate changes in the track. And for the Houston region, any small shifts in the track westward will change our local forecast dramatically.
Put succinctly: Along the current track forecast Houston would see only modest effects in terms of wind, rain, and surge from a Laura landfall in southwestern Louisiana. However, a subtle shift 50 miles or more to the west would begin to bring serious effects into Houston. A shift of 100 to 150 miles would bring a potentially catastrophic hurricane into the region. This is entirely within the realm of possibility, and therefore the Houston-Galveston metro area needs to prepare now for a land-falling hurricane—possibly a major one. (This goes double for the Beaumont-Port Arthur area).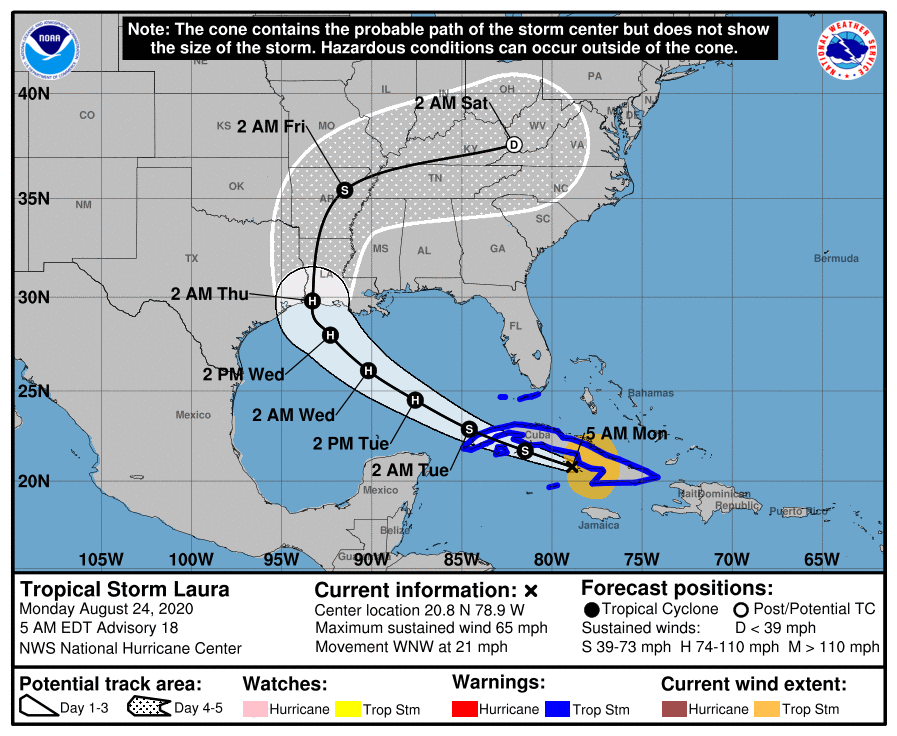 The dominant steering factor for the storm will be strength of a ridge of high pressure building over the southeastern United States, which will be influenced by a weakening Marco and a trough over Texas. It would only take a small change in these large scale features to change the point at which Laura makes a northward turn, which is why we're unable to pin down the storm's ultimate movement. In terms of intensity, Laura has remained near the southern coast of Cuba overnight, staying just offshore. This has allowed the system to maintain its status as a strong, 65-mph tropical storm. It still has the potential to blow up into a Category 2, 3, or even 4 hurricane over the open Gulf of Mexico.
Assuming a land-falling Laura near the border of Texas and Louisiana, the eastern half of the metro area has a decent chance of seeing tropical storm-force winds, likely arriving Wednesday afternoon or evening. Storm surge and tides will be entirely dependent upon track and intensity, but along the current forecast track probably would only be a few feet higher than normal. Overall precipitation would likely be on the order of 1-2 inches of rain, mostly east of Interstate 45. Again, I cannot state how dramatically these effects could change with a change in Laura's track.
Last night I posed three different scenarios for Laura, and I wanted to update those very rough percentages in light of new data overnight.
Scenario One: Near or Direct impact on Houston by a powerful hurricane. (40 percent)
Scenario Two: Powerful hurricane within 50 miles of Texas-Louisiana border (55 percent)
Scenario Three: Weaker storm, central or southeastern Louisiana (5 percent)
Our next update will be posted no later than 2:30pm CT, and quite possibly sooner.