Good morning. Today is the last day most of the Houston area will see above-freezing temperatures until Wednesday. We have a section at the end of this morning's post about preparations for the upcoming hard freeze, this really is your last opportunity to do so. After today, Houston's weather is going to be full on winter until at least Friday.
We're going to discuss this in three phases: Winter storm on Sunday night into Monday, Extreme cold on Tuesday morning, and a Second Arctic front on Wednesday through Friday morning.
Sunday and Monday
Today will be far from pleasant, but for most of Harris and surrounding counties, temperatures through at least the early afternoon should remain above just above freezing. Additionally, any precipitation that falls before around 4 to 6pm this evening should do so as rainfall. (Note: you don't have to get too far west of Katy, or too far north of Conroe, before you run into freezing rain today). By late afternoon or early evening, temperatures should begin to drop below freezing across the area, from west to east as an Arctic front moves into Houston.
This front will have two immediate effects. From sunset on Sunday to sunrise on Monday, temperatures will plunge into the low 20s across the metro area. And it will bring a healthy dose of precipitation to the region. If this were to fall as rain, it would be about half an inch for most locations, but due to the cold temperatures, we're going to see some form of winter precipitation. But what kind? We talked yesterday about how, for snow to reach the ground, temperatures must remain freezing from the surface all the way to clouds where precipitation forms.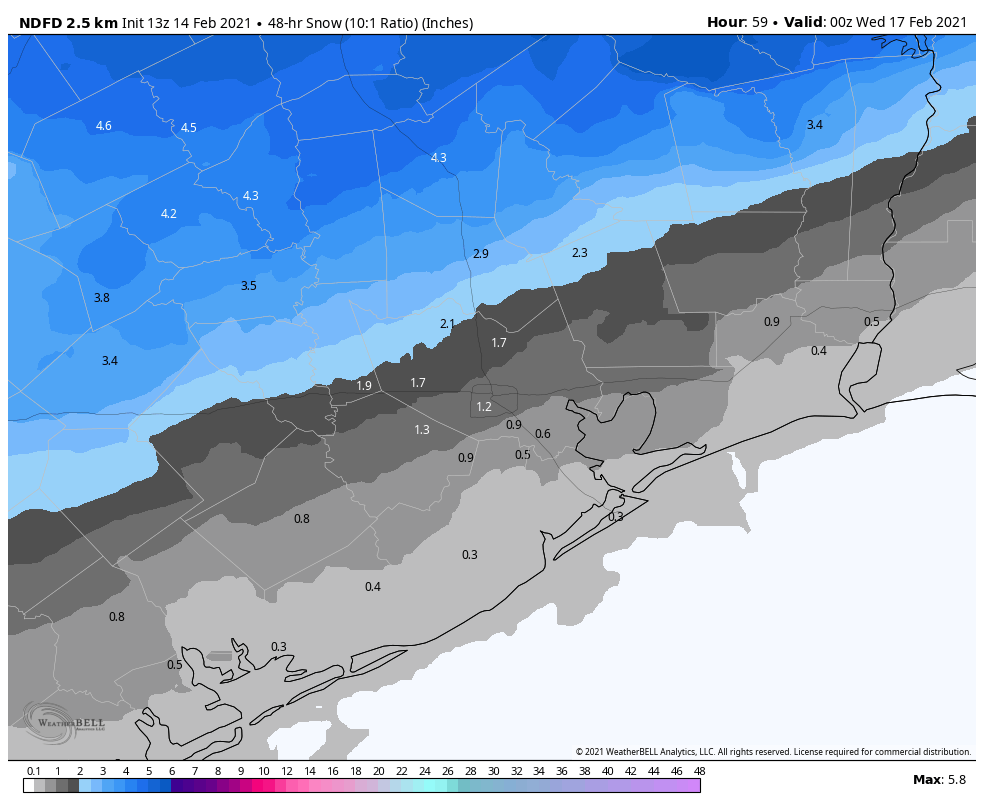 On Sunday evening, the atmosphere is unlikely to be below freezing all the way up, so I think most areas will see a glaze of freezing rain fall before it turns to snow. We're now reasonably confident that areas north of Interstate 10 will see on the order of 1 to 4 inches of snowfall by around mid-morning on Monday. We're less certain what will happen closer to the coast, where there may be enough lingering "warm" air from the Gulf of Mexico to produce sleet or more freezing rain rather than snow.
The forecast models now suggest this precipitation will end by mid-morning, as the atmosphere dries out. We still can't have complete confidence in what area roadways will look like, but the potential for a glaze of ice on the surface, covered over by snowfall, is a rather dangerous one. You should be prepared to not go anywhere from Sunday evening through Tuesday morning. Some major roadways may be cleared by authorities, but this kind of winter storm is unprecedented in recent decades because temperatures on Monday will not get high enough to melt roads. Rather, daytime temperatures will remain in the low to mid-20s. So anything that falls, will stick.
Monday night and Tuesday
We still have lots of questions about the severity of cold weather on Tuesday morning, but if the snowfall forecast verifies for Houston it will amplify the cold weather. The combination of snow cover, light winds, clearing skies and an Arctic air mass is pretty much about the most ideal conditions you could conceive for cold temperatures in Houston. However if the region gets more sleet or freezing rain, and clouds linger, temperatures could be somewhat warmer.
As a result, I think we're looking at a range low temperatures from 5 to 15 degrees for western Harris County and Montgomery County, 10 to 20 degrees in central Houston, and 15 to 25 degrees along the coast. As Matt discussed yesterday, this would be a historic cold snap for the region.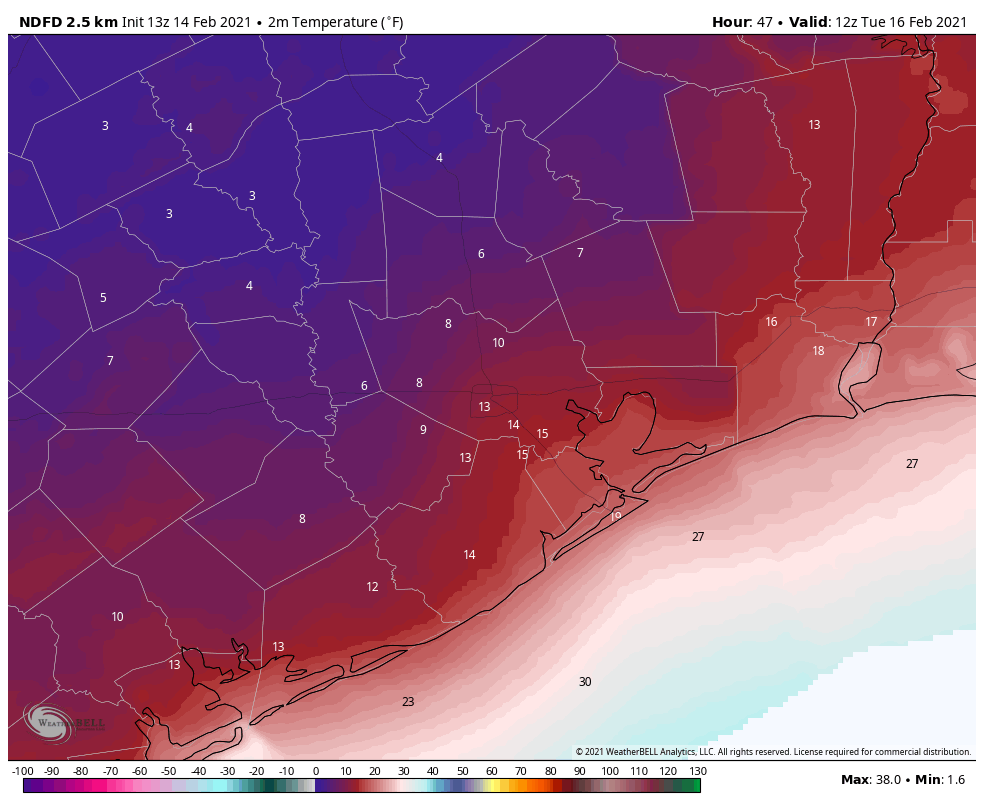 Another question we have is where temperatures may briefly rise above freezing on Tuesday. The coast is a definite yes, where highs may reach the upper 30s. Many areas south of Interstate 10 may briefly see highs of 33 degrees or slightly warmer. I do not know whether this, in combination with mostly sunny skies, will be enough to melt and dry roads. Much of the region north of Interstate 10 will remain below freezing during the daytime. Temperatures Tuesday night will only drop a little bit below freezing.
Wednesday and beyond
Part three of our collision with winter will come later in the week. Yet another storm system will approach from the west early on Wednesday, and it will draw Gulf moisture into the region. Much of the Houston metro area is likely to see another 0.5 to 1.0 inch of precipitation on Wednesday. This may start out as freezing rain early in the morning, but as daytime temperatures climb to about 40 degrees, it should turn to rain. This should also melt any lingering ice on roads.
However, temperatures on Wednesday night will probably drop below freezing for everywhere but the coast, so this sets up a situation where roads are problematic again on Wednesday night and Thursday morning due to ice. We'll have to nail down these details in the coming days. Highs Thursday should rise above freezing and will hopefully melt any ice on the roads, but we're going to remain close to freezing. Again, details to come on this.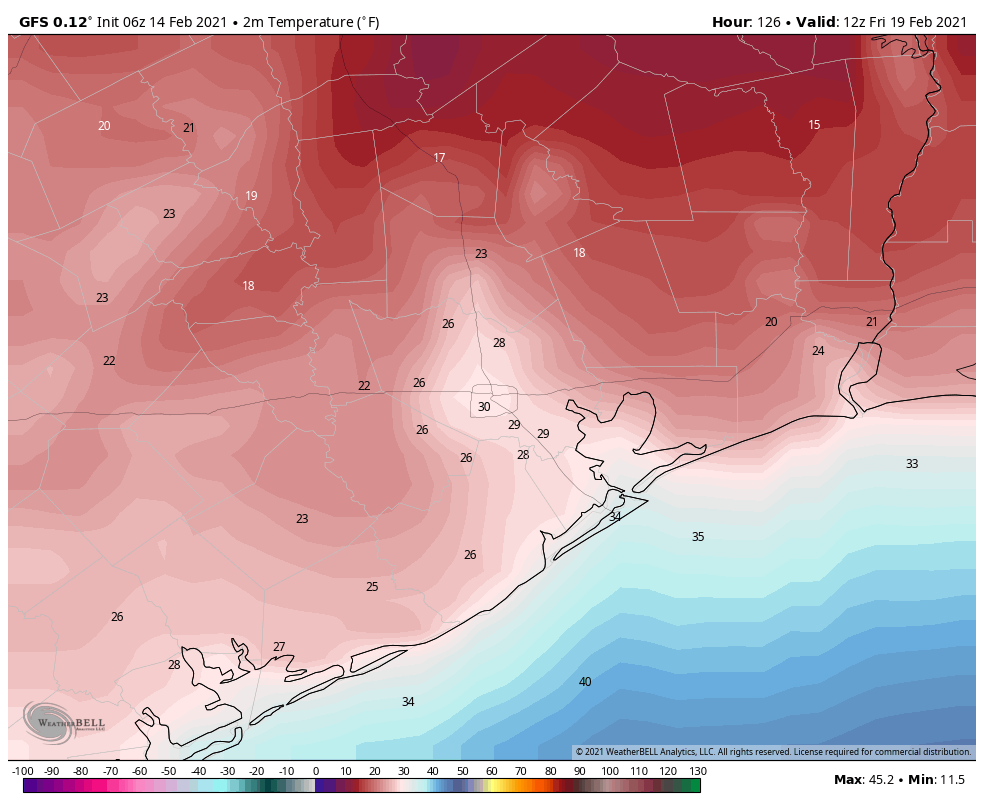 Highs Friday should finally push at least into the mid-40s, with sunny skies. That will be the end of the winter storm. By Saturday, we should be into the 60s.
Final preparation tips
These suggestions were provided by Jeff Lindner, a meteorologist with the Harris County Flood Control District.
PIPES: Protect all and any exposed pipes, shut off and drain sprinkler systems. Open cabinet doors and closet doors to get as much heat against outside facing wall pipes as possible starting Sunday night. In some cases the best course of action may be to shut off water to a structure and drain pipes overnight when water usage is low to avoid pipes freezing and bursting.
PLANTS: Heavily cover and protect any tropical vegetation, citrus, or vulnerable plants. Given the intensity and depth of the freezing conditions this will likely be a killing freeze for much of the tropical landscape of this region.
PETS: Pets and livestock should have proper shelter, feed, and water. Normal water supplies will likely freeze over including stock ponds and lakes.
PEOPLE: Persons should plan to limit outdoor exposure Monday and Tuesday as wind chills will be dangerously cold for our region. Prolonged exposure could result in frostbite and hypothermia. Please ensure your neighbors have adequate heating.
Matt will have our next update on the site by around 4 or 5 pm CT today.