Good morning! Although some parts of the Houston area saw flakes or sleet on Sunday, the real snowfall action remained to the north and west of the Houston metro area. Bryan-College Station saw a record 4.5 inches, and some nearby areas saw as much as 6 inches. For the rest of us closer to the coast, it was just a cold rain, with an average of 1 inch falling during what was a very chilly day. We'll continue to see cold weather for much of the rest of this week, which falls during the dead of winter.
Monday
While winds have slackened for inland areas this morning, it remains breezy along the coast with gusts above 20 mph. Temperatures have bottomed out in the low 30s across much of the region and with mostly cloudy skies, high temperatures today probably won't rise above the mid-40s. Winds will remain out of the north today, at 5 to 10 mph. Skies may break apart a little bit later tonight, but with partly to mostly cloudy skies providing a little bit of insulation most of the city should remain near or just above freezing. Outlying areas will see a freeze.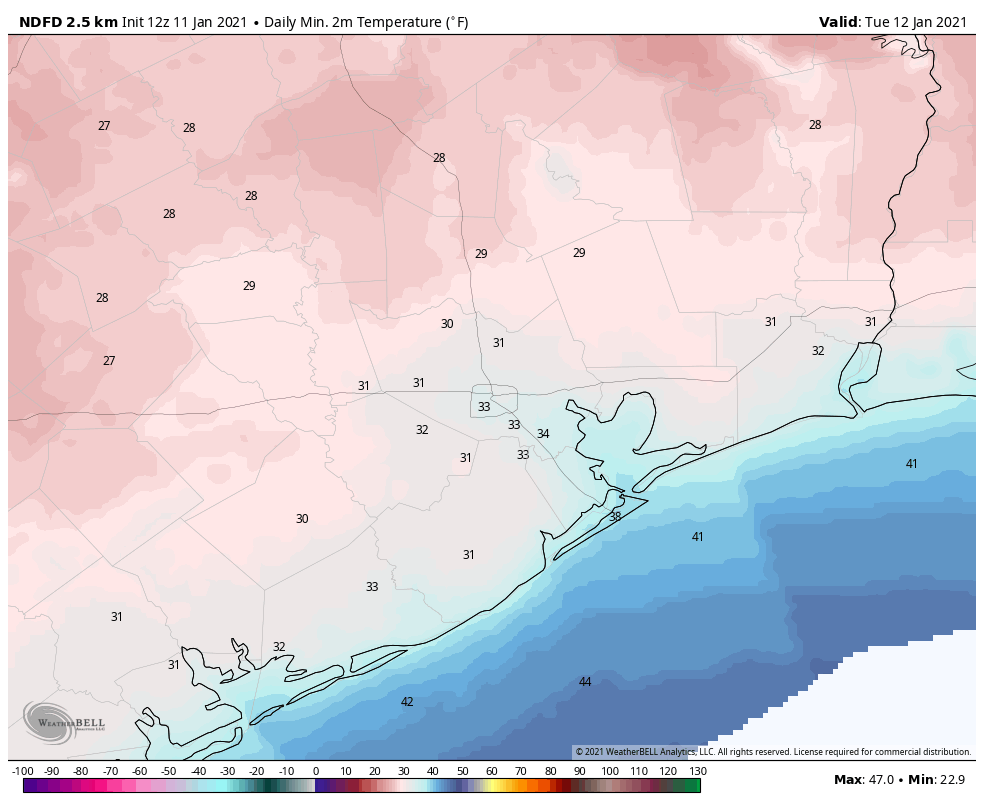 Tuesday, Wednesday, and Thursday
High pressure should more or less keep conditions on the mostly sunny side this week, and after a very cold Monday night a slow warming trend will begin on Tuesday. Look for highs in the low 50s on Tuesday, headed toward the upper 60s by Thursday. Nighttime temperatures, too, should warm from the low- to mid-30s on Tuesday night to mid-40s by Thursday night. All in all this will be a cold, very winter-like week for Houston.
The weekend and beyond
So what does the weekend hold? A cold front appears to be on track to cross the Houston area on Thursday night, or so. Right now this most likely will be a dry passage, with no rain, and bring more clear and cool weather for the weekend. We can probably expect highs in the neighborhood of 60 degrees, with lows down around to around 40 to 45 degrees.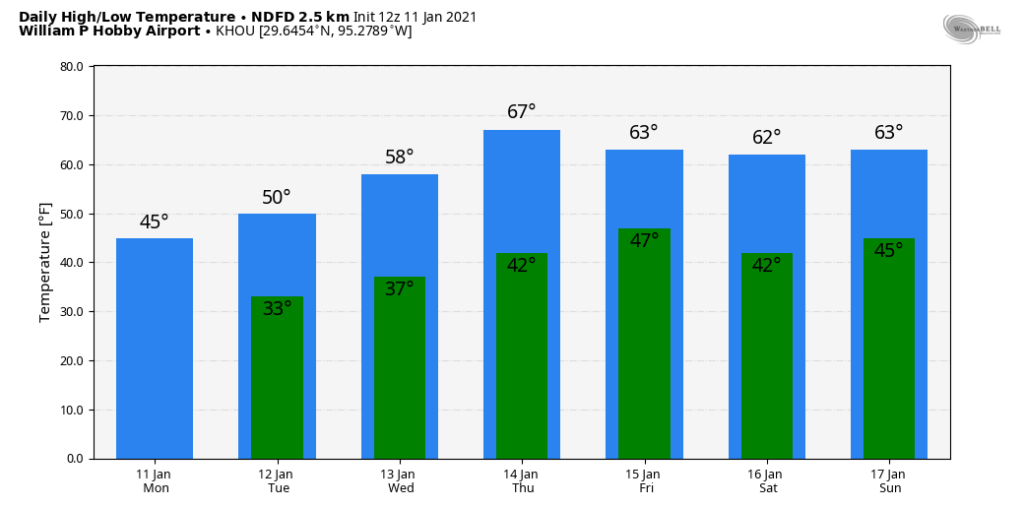 Some clouds may begin to build later on Sunday—at about the same time our confidence in the forecast begins to decrease. Next week looks warmer, with more days in the 60s, and with more clouds. After our soaking and near miss with wintry precipitation this past Sunday, our next real chance for precipitation may not come for awhile. We don't really need any more rain, so can anyone complain?