Some cold fronts come into Houston like lambs. Today's front, however, will be a lion. The prime time for severe weather today will run from late morning to about 4 pm as the front barrels into the region. A lot of the ingredients that we look for when it comes to severe weather, including instability and an energetic atmosphere, will be in place ahead of, and along with the front today. We'll discuss the threats in greater detail below.
In the big picture, a strong upper-level system will track toward Texas, inducing a low pressure system at the surface that will create turbulent conditions. Ahead of this low, we will see strong southerly winds this morning, gusting up to 40 mph. These winds will shift to come from the west and then northwest as the front passes. Scattered showers and thunderstorms will be possible this morning ahead of the front, but the main line of storms will likely bring the most severe weather. In terms of timing, I expect the front to reach a line from Katy to Tomball to Conroe by 1 to 3 pm, push into the central Houston corridor from Sugar Land to downtown to Kingwood from 2 to 4 pm, and push off the coast from 4 to 6 pm. Let's consider the three main threats.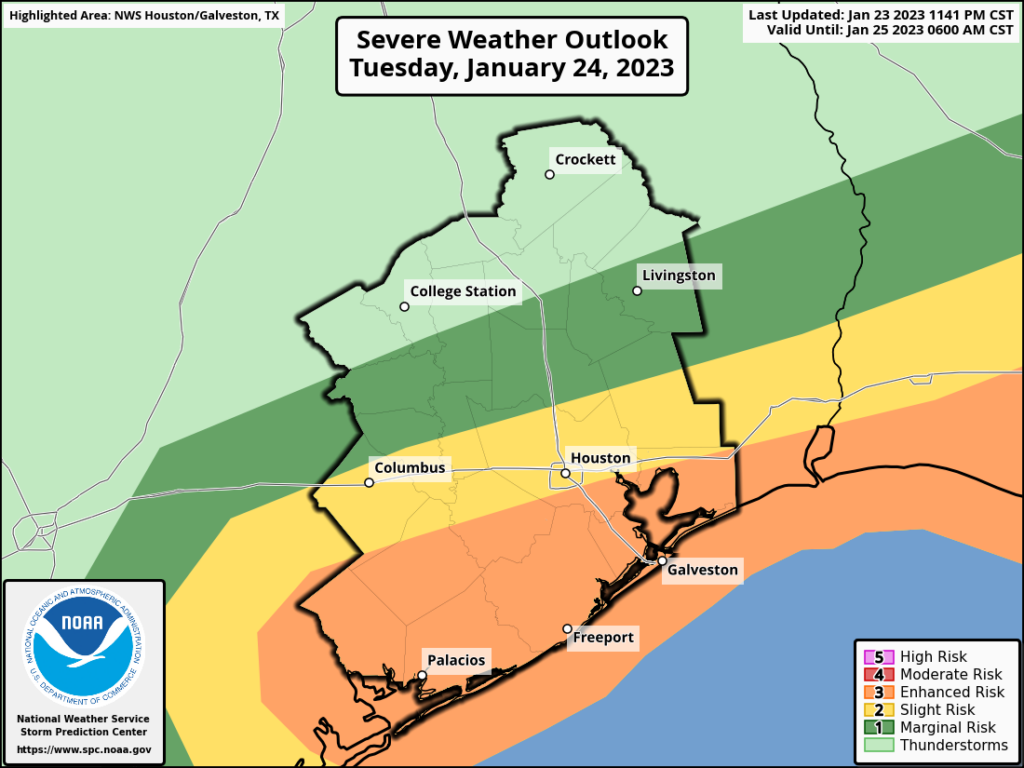 Damaging winds: In response to the low pressure system, expect sustained winds of 30 mph or higher, with gusts of 40 to 50 mph across much of the area, especially south of Interstate 10. These winds may be strong enough to cause isolated power outages. Any outdoor furniture prone to blowing around should be put away, if possible. These kinds of winds will knock down tree limbs as well.
Heavy rain: Expect 1 to 3 inches of rain for most areas, with isolated totals of 4 inches or higher possible in areas that see storms this morning ahead of the front. The bad news is that, with the main line of storms, rainfall rates up to 2 inches per hour are possible. The good news is that the system will move fairly quickly from west to east, clearing the area. Some street flooding is possible, but I'm hopeful that roads will be clearing in terms of water by rush hour in the metro area.
Tornadoes: There is plenty of instability, lift, and shear in the atmosphere today. A lot of the parameters that we look to for tornadic activity are lighting up, especially for areas along and south of Interstate 10. But with that said, the overall environment is not ideal for tornado formation such as one might see in Oklahoma later in the spring—just supportive. The most likely time for this activity is from noon to 4 pm today, so please be weather aware at that time. Your overall odds of being impacted by a tornado are quite low, but these are high-consequence phenomena worth paying attention to.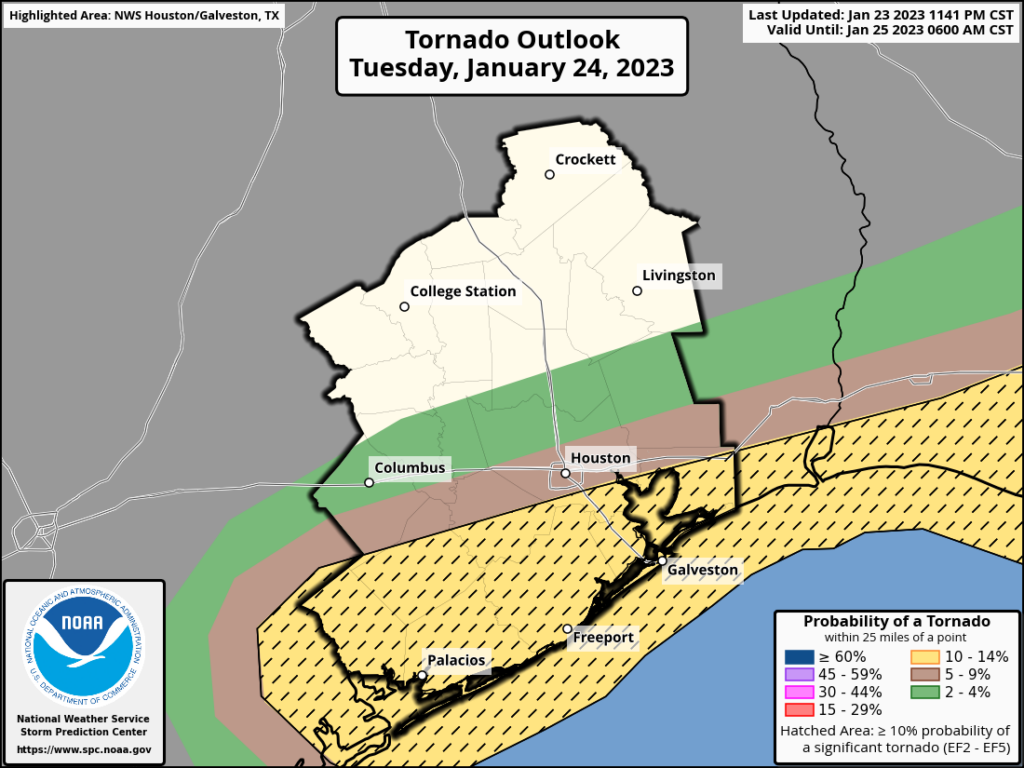 Be weather aware: Space City Weather will provide additional updates today as warranted. We also will be providing notifications through our app (Apple version, Android version) of any significant tornadoes that form. Other good resources include NOAA weather radio and emergency alerts from the National Weather Service.
Tuesday
As noted above, today will be a windy, rainy, and nasty day. High temperatures ahead of the front will reach the upper 60s beneath mostly cloudy skies. After the front, winds will quickly shift to come from the west, and then the northwest, bringing much cooler and drier air into the region. Temperatures tonight will drop to about 40 degrees in Houston, with colder conditions further inland. With brisk, gusty winds, it will "feel" like freezing temperatures outside late tonight with the wind chill.
Wednesday
This will be a breezy and cold day, with sunny skies and highs in the mid-50s. Winds will still be gusty, up to 25 mph out of the north. Lows on Wednesday night will drop into the upper 30s.
Thursday
Winds will finally start to slacken some on Thursday, at just 5 to 10 mph, and we can expect to see highs in the mid-50s. With lighter winds, Thursday night should be the coldest of the week, with lows possibly dropping to freezing for far inland areas.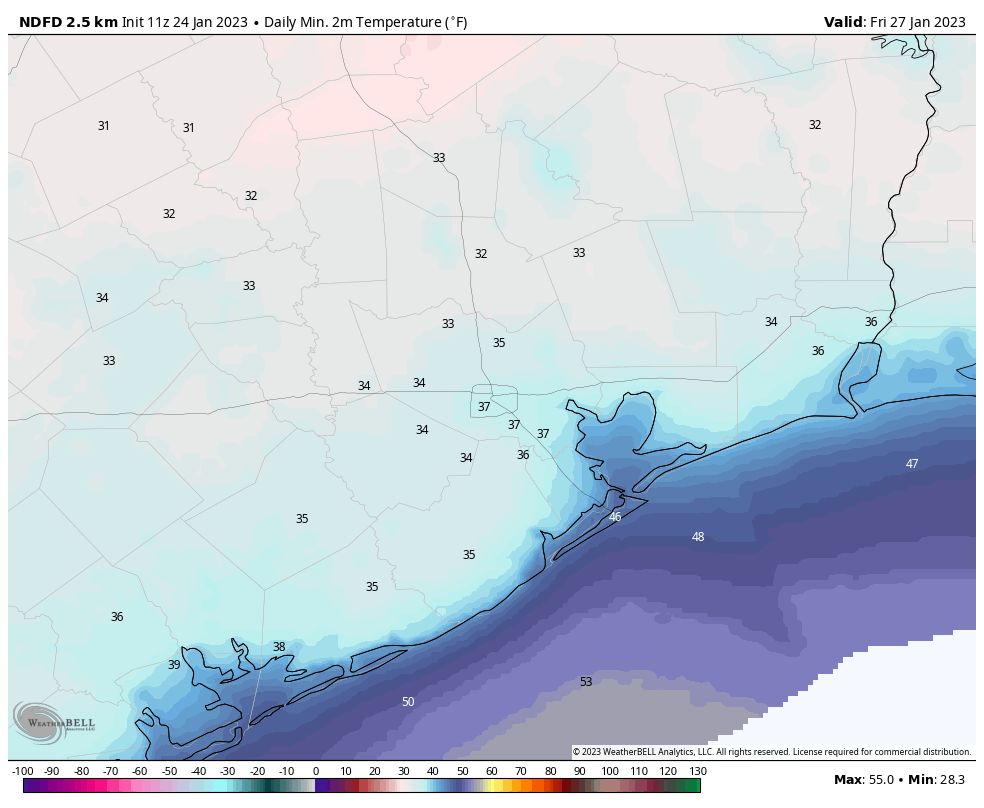 Friday
Look for mostly sunny weather, with highs around 60 degrees. As the southerly flow reestablishes itself, lows will only drop to around 50 degrees on Friday night.
Saturday and Sunday
I'm afraid the weekend outlook is not great. Both days have solid rain chances, but the most likely time is probably from Saturday evening through Sunday, with accumulations of perhaps 0.5 to 1.5 inches of rainfall. Highs will be near 70 degrees by Sunday before some sort of front cools us down a little bit.
Our next update will be posted no later than 1:30 pm CT.