Good morning. Houston received its first round of mostly light to moderate rainfall on Tuesday evening and during the overnight hours, and we'll have another good chance again today, and then again later on Friday. We should also be done with 80-degree days for awhile after today, as well.
Wednesday
We're still awaiting the arrival of a weak front this morning, but instability associated with this system is continuing to generate showers with some embedded thunderstorms. I'm afraid there is really no consistency in the high resolution models for where rainfall will be greatest today, and my confidence on accumulations is low. Most areas will see between 0 and 1 inch of rain through tonight, but we can't rule out a few bullseyes with greater totals. Highs today will reach about 80 degrees, with mostly cloudy skies. The front will sag southward into the region later on, reaching The Woodlands around midnight, and pushing down to the coast around sunrise.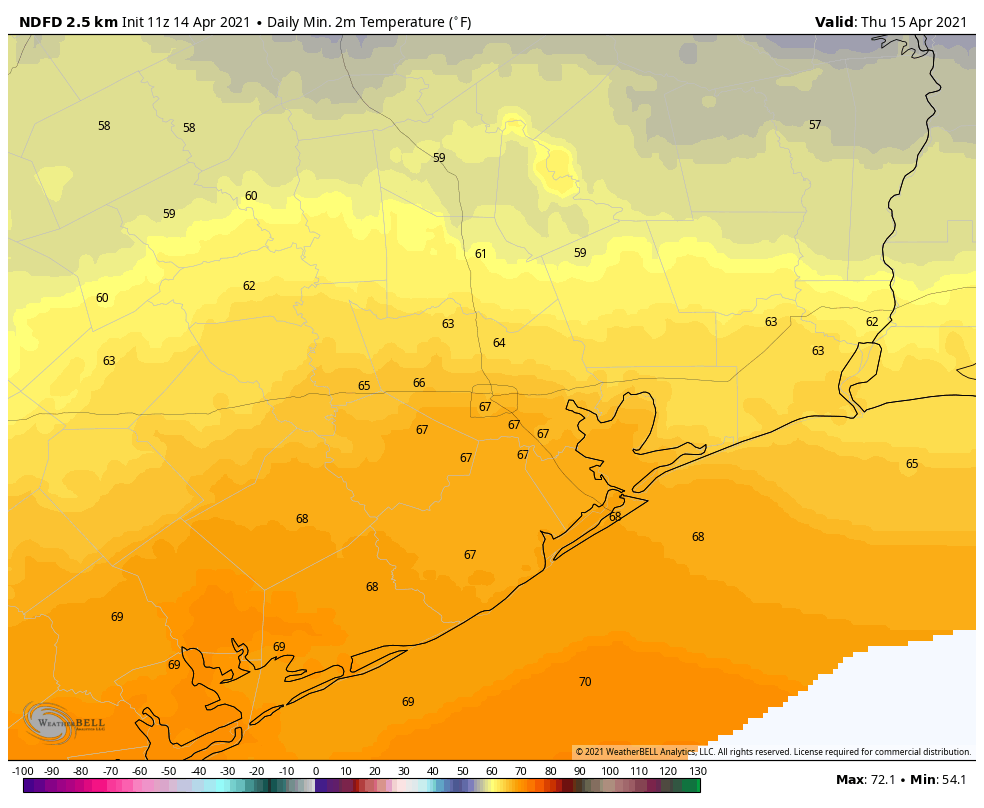 Thursday
Things probably will calm down somewhat on Thursday, but we can't be sure the rain is entirely going to go away. Skies will remain mostly cloudy, and with a mostly light northeasterly wind, highs will likely shakeout somewhere in the mid-70s. Overnight lows will drop into the mid-60s.
Friday
This will be another cloudy day, with highs likely slotting somewhere into the 70s. The first half of the day should be fairly sedate before rain chances start to increase during the afternoon and evening hours with the arrival of another cold front overnight. This will again bring a period of showers with embedded thunderstorms into the region, and again I think accumulations will range from 0 to 1 inches for most areas. Lows Friday night will be dependent on the front's position.
Saturday
The front should reach the coast by around sunrise, or shortly after, on Saturday. This will usher drier air into the region and should preclude all but a few scattered showers during the afternoon hours. Expect mostly cloudy skies with highs in the upper 60s to low 70s. Things should get fairly breezy after the front blows through, with gusts of 25 or 30 mph possible during the daytime. Temperatures will drop down to about 50 degrees on Saturday night in Houston, with colder conditions inland, and a bit warmer along the coast.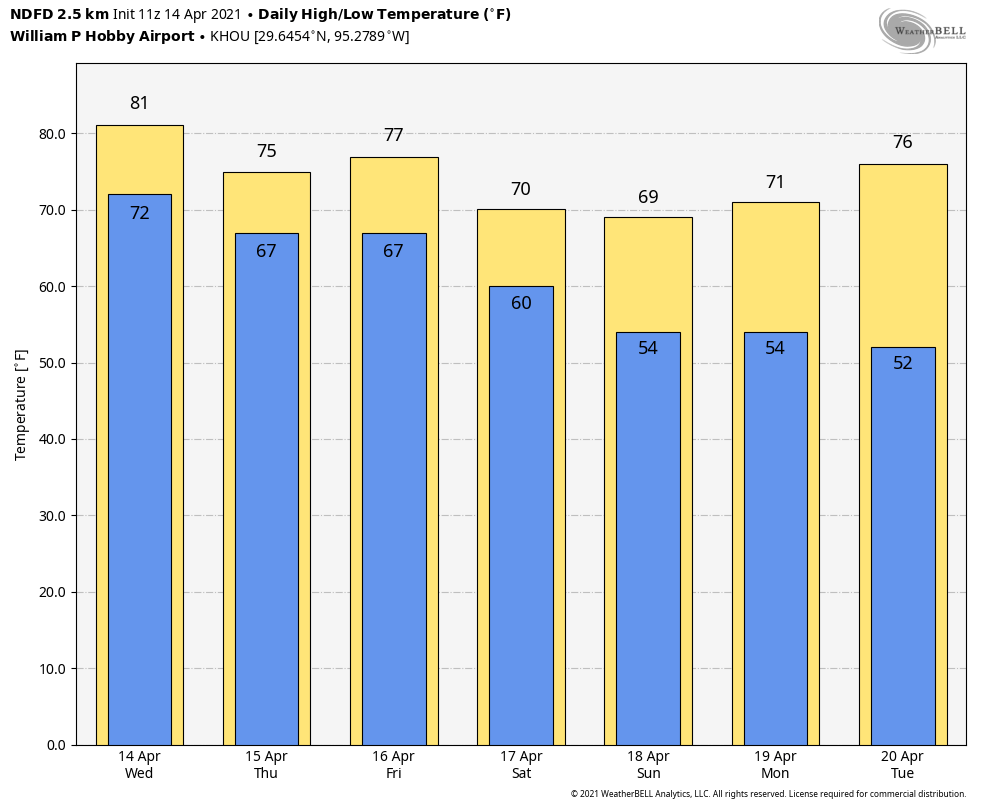 Sunday and beyond
Skies will start to clear out some on Sunday, and highs will likely reach the upper 60s to 70 degrees. With lesser winds, this should be a fine spring day, and certainly one of our last days this cool, with sunshine, this season. I think we'll remain in a pattern of highs in the 70s and lows in the 50s through the early part of next week before a warming trend begins. Summer is not too far away, so this will offer a nice blast of spring before things turn perma-humid for us.