One of the cruelest aspects of summertime in Houston is that it lasts so late into "fall." When considering the average high temperature, the peak of summer for most of the United States comes in July—on average July 23rd for the lower 48 states. This is understandable, as the Sun reaches the highest point of the sky in late June. However this is not the case for much of Texas, and especially the Texas coast, where the peak of summer typically comes during the second week of August (see map below).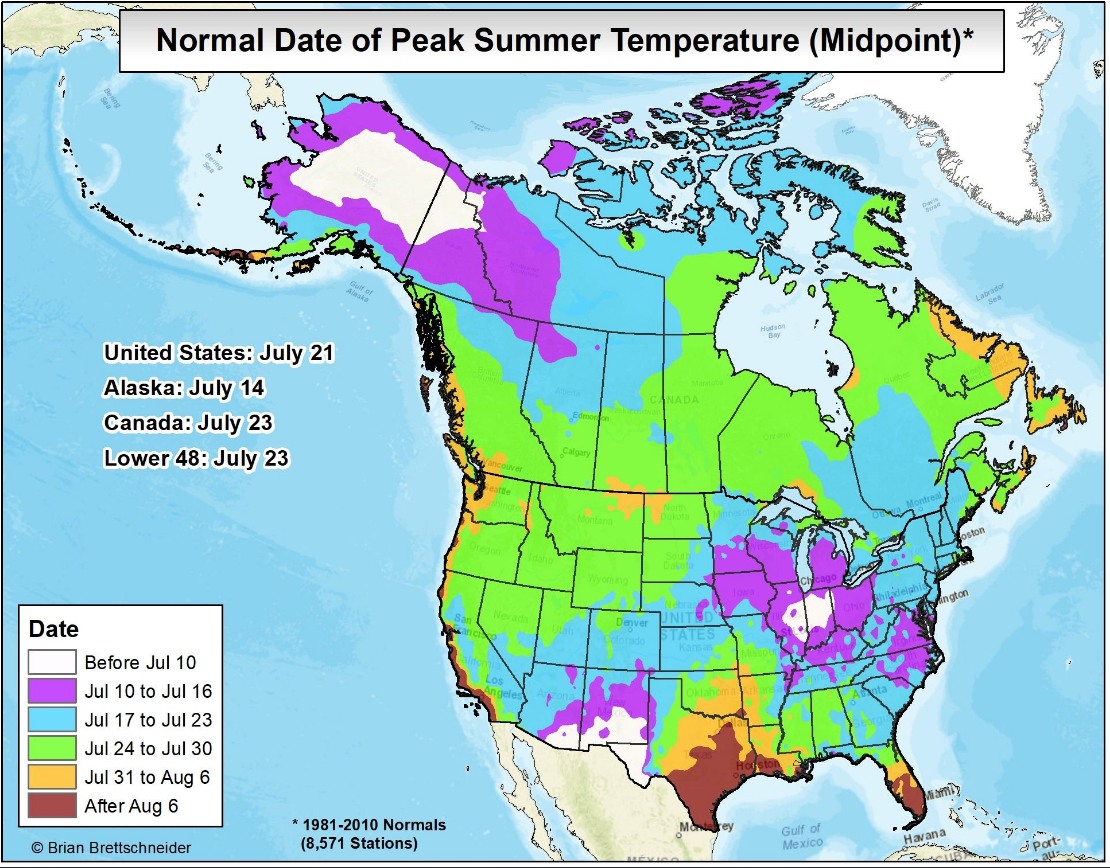 The primary driver of this latent heat, of course, is the Gulf of Mexico, which takes a little longer to warm up in late spring and early summer, and therefore takes a lot longer to cool down in August and September due to slightly shorter days and, eventually, cool fronts from the north. As a result Houston "enjoys" peak heating well into the month of August while the rest of the country begins to cool down.
This is a good day to discuss peak heating because some areas of Houston this week will have an outside shot at hitting 100 degrees for the first time this year.

Tuesday through Friday
The forecast for this week remains much the same with mostly drier air likely preventing rain showers for most of the area. We could see some scattered storms on Wednesday along the sea breeze, but for the most part rain chances will be 10 to 20 percent this week. This should allow high temperatures to reach into the mid- to upper-90s, and I think a few inland areas that see full sunshine on Thursday or Friday could hit 100 degrees.
Saturday and Sunday
Some models continue to show the southeastern Texas region, including Houston, between a high pressure system to the west this weekend and lower pressure to the east. This could allow a "front" to slowly move into the area this weekend. It's not going to bring any cold air—this is July, after all—but it could provide the impetus for some showers and thunderstorms later on Saturday and Sunday. I'd also be concerned about tropical mischief if the front makes it all the way into the Gulf of Mexico and stalls—but that is rather speculative and not worth fretting about overly.
For now, expect slightly cooler weather this weekend (due to a few clouds), with the potential for some storminess by later Saturday or Sunday. We'll see.
Posted at 7:30am CT on Tuesday by Eric