Good morning! Houston weather will be doing Houston things for the rest of this week, which means you can expect our customary heat and humidity. But given that our weather will neither be exceptionally hot or exceptionally wet in the days ahead, we'll take that and be happy in August.
Tuesday
This will be another day a lot like Monday, with partly to mostly sunny skies. Winds will be light, at only about 5 mph, out of the west. This should allow high temperatures to nudge up into the mid- or possibly even upper-90s for areas well inland, while remaining several degrees cooler near the coast. As temperatures rise into the 90s, we may see the development of isolated to scattered showers and thunderstorms north of the metro area, sagging southward into Houston during the late afternoon or early evening hours. Rain chances are likely about 30 percent, or a tad less.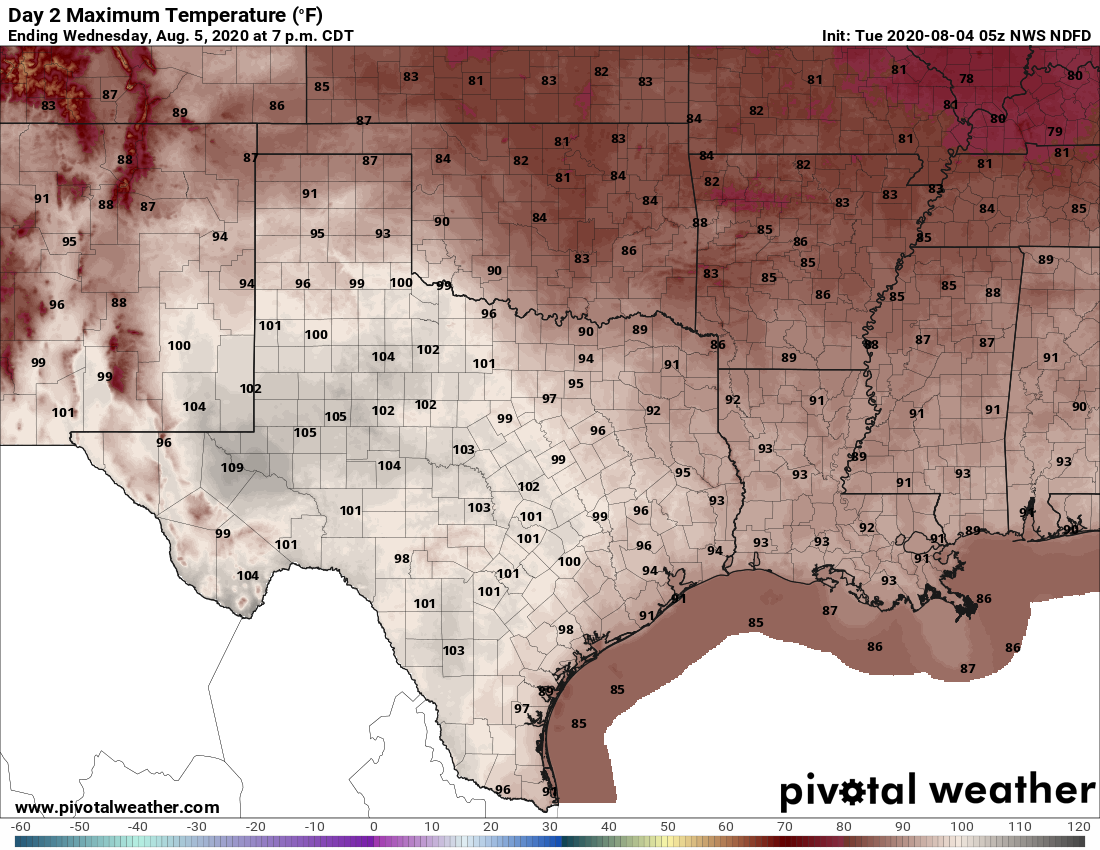 Wednesday
Expect more of the same conditions as Tuesday, with mostly sunny skies and highs generally in the mid-90s. We will again see a chance for the development of some briefly lived, south-moving showers and thunderstorms in the late afternoon. As will be the case for most of this week, nighttime lows will barely drop into the 70s for most of the region, with partly cloudy skies. Humidity will be ample, of course.

Thursday and Friday
Houston won't fall directly beneath a stultifying ridge of high pressure toward the end of this week, but on Thursday and Friday its influence will peak, leading to a pair of mostly sunny days with highs in the mid-90s. We can't entirely rule out a few showers firing up along the sea breeze, but overall rain chances should be quite low.
Saturday and Sunday
As the influence of high pressure weakens slightly, we may see slightly better rain chances this weekend, although it's hard to pinpoint precisely when. Otherwise, skies should be partly to mostly sunny, with relatively "moderate" temperatures for August, as highs only climb into the low- to mid-90s. Like, it will be hot, but not extremely so.
Next week
After mostly sunny skies this week, next week may see more clouds mix into the skies, with perhaps some slightly better rain chances. The good news is that, when looking at the medium-range models, we don't see any really hot weather requiring a heat advisory, nor any signs of potentially flooding rainfall. The bad news is that this forecast only gets us into mid-August, and this being 2020, we're not letting our guard down at Space City Weather.