Good morning. Before jumping into the forecast I want to briefly touch on Tuesday's rainfall, as well as our brief reprieve from extremely hot weather. First, the rainfall. Parts of Galveston and Brazoria counties received a few tenths of an inch of rain from fading Tropical Storm Harold on Tuesday. These were welcome, if brief downpours of tropical rains. The vast majority of the region along and north of Interstate 10, however, received no precipitation whatsoever. The bottom line is that, as expected, our ugly and worsening drought continues. See the end of this post for a discussion of rain chances down the line.
Additionally, the cloudy skies and breezy conditions—the strong easterly winds were part of Harold's circulation—helped keep a lid on high temperatures. Houston's Hobby Airport topped out at 97 degrees, and Bush Intercontinental peaked at 97 degrees as well. Both of these locations ended long streaks of days with recordings of 100 degrees or higher. Hobby's streak was remarkable, 18 days, doubling its previous record of nine days. Hobby has collected meteorological data for nearly a century. Bush IAH ended its streak at 23 days, falling one day short of the city's all-time record of 24 days, set during the torrid month of August 2011.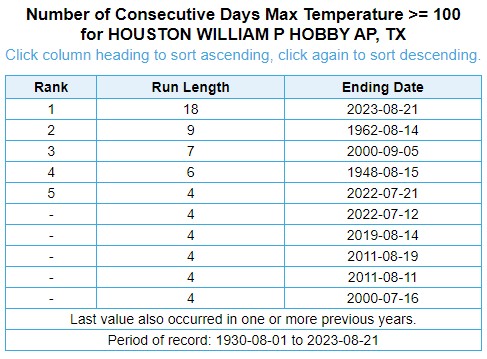 Unfortunately, we're probably going to start new streaks at both locations today. Harold is gone, and extreme heat is back on the menu for a little while longer.
Wednesday
We're right back to very hot weather today, with area-wide highs of about 100 degrees, high humidity, and mostly sunny skies. Winds will shift to come from the southeast at 5 to 10 mph. The key difference for the rest of this week is that we are going to see some weak atmospheric disturbances roll through the area. It's going to be difficult for these to generate significant rainfall, given the sinking air associated with high pressure. However, it will not be impossible, and therefore each day should carry about a 20 percent chance of rain.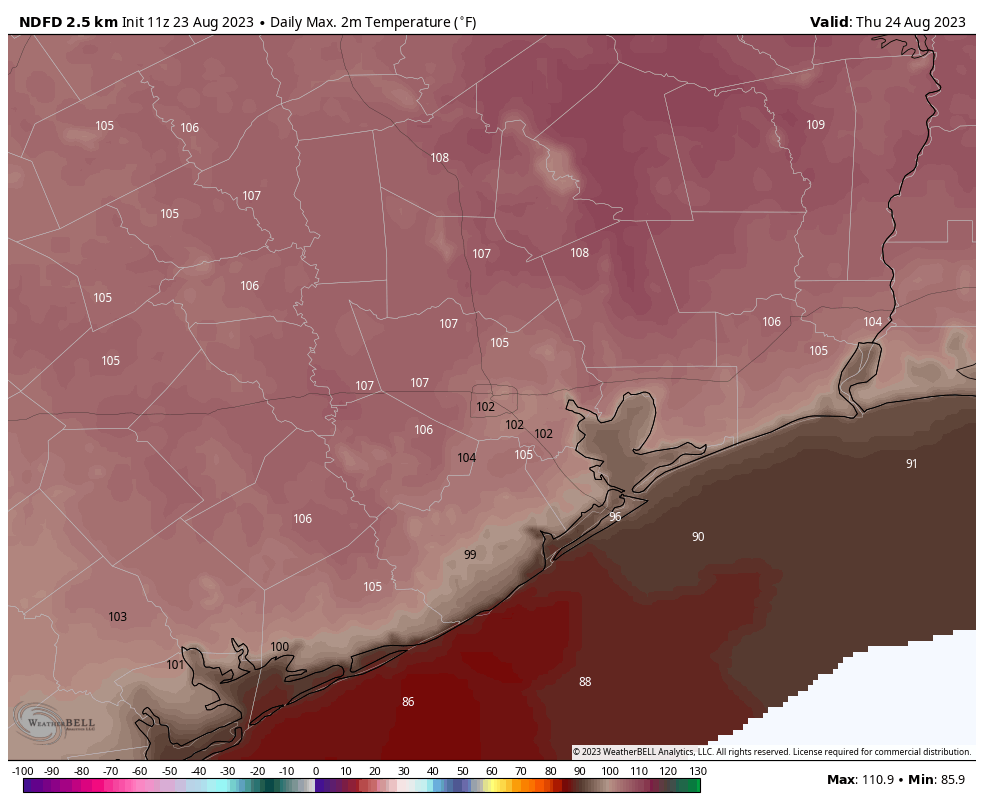 Thursday
As high pressure moves almost directly overhead, this should be a very hot day, with highs generally in the low 100s across the area, away from the coast. Afternoon rain chances, again, look to be on the order of 20 percent.
Friday, Saturday, and Sunday
The forecast remains more or less the same, with highs of around 100 degrees, mostly sunny skies, and a puncher's chance of some rain showers.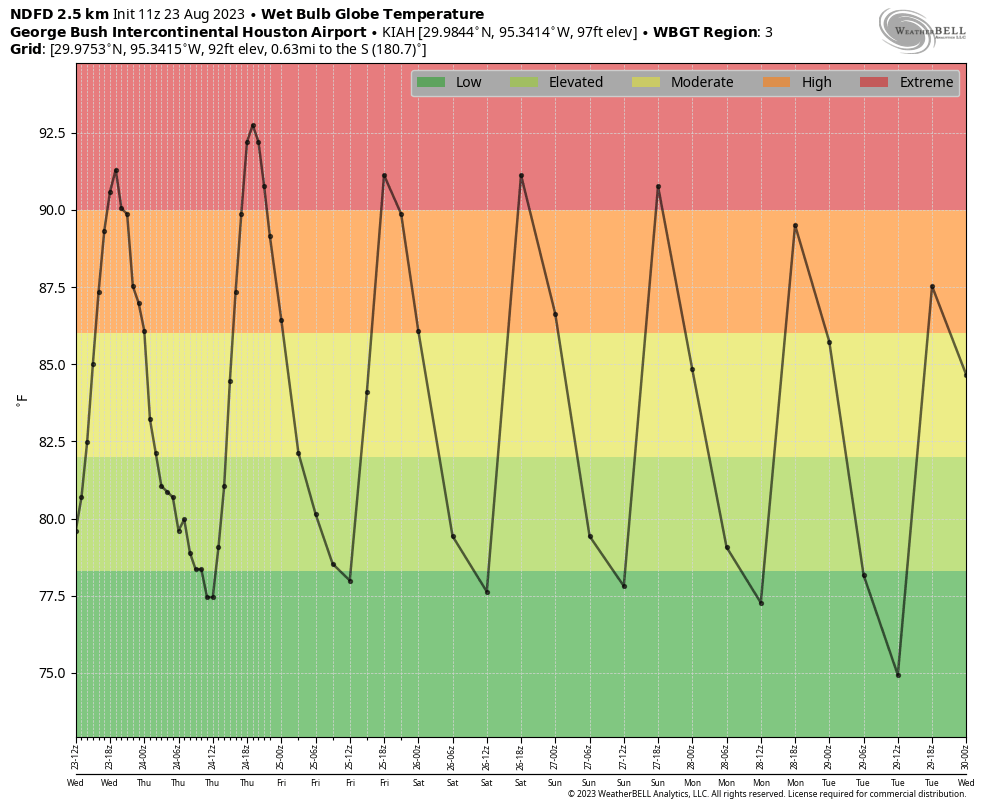 Next week
This is where the forecast starts to get a little bit more interesting. The high pressure system that has dominated our weather for much of this summer looks to fade westward, and this should allow for a slight moderation of temperatures. We may also see some better rain chances by Tuesday or so of next week, but that's far enough into the future I would not want to bet on anything. But I do have some modest hopes, and the end of August is on the horizon.
Space City Weather app
We've updated our app to address some bugs that readers have reported with old timestamps and odd temperatures. Our developer thinks he has worked through the problem, but if you're still seeing issues, please email us at [email protected]. Thank you to everyone who reported problems in the last couple of weeks. If you haven't downloaded our app, you can get it for free here for Apple, and here for Android.