As we've been telling you since Friday, the tropical system in the Gulf of Mexico—which was upgraded to Tropical Storm Harold overnight—is going to go far enough south of the Houston metro region to preclude us from seeing significant effects. We'll see some easterly breezes, with decent gusts, and we'll see some clouds. But unfortunately we're not going to the kind of significant, widespread rainfall needed to help put a dent in our sharpening drought. Instead, we just get more heat.
Please don't kill the messenger.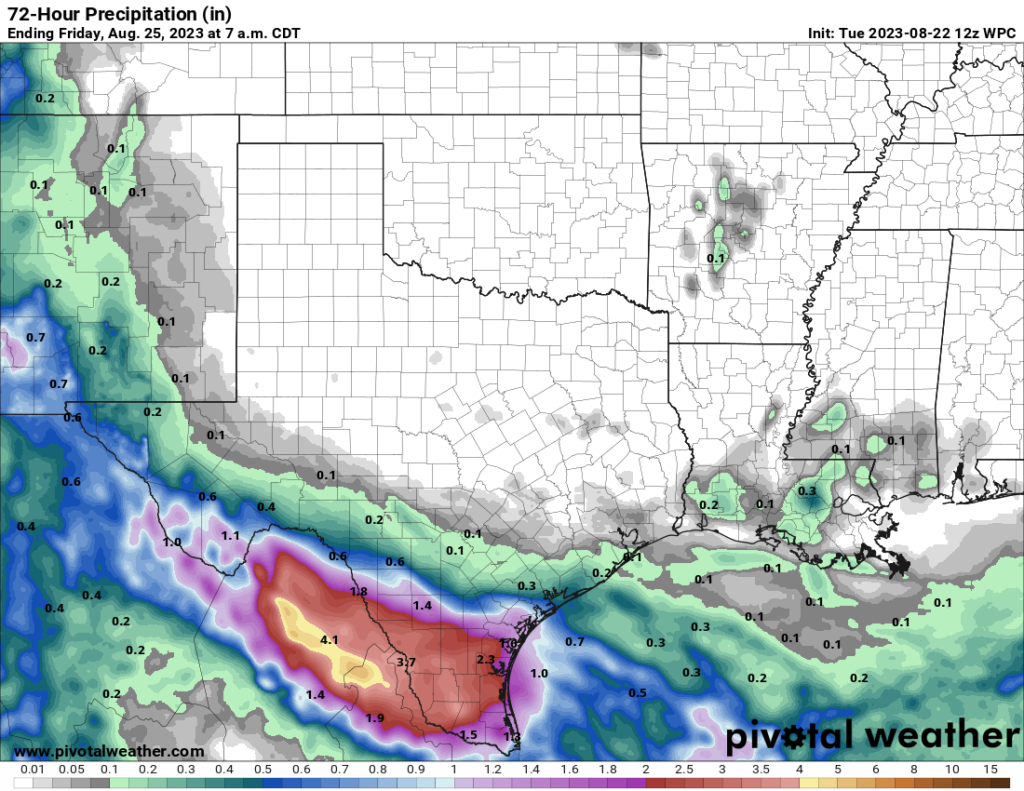 Tuesday
Whether you see any effects from Harold will depend on how close you live to the coast. Residents of southern Brazoria and Galveston counties will have the best chances of rain, perhaps 50 percent today, and strongest winds. Gusts above 40 mph are possible today right along the coast. Areas further inland, but south of Interstate 10, will see lesser rain chances of around 30 percent, with slightly less gusty winds. Highs should be below 100 degrees for these areas relatively near the coast.
And parts of Houston north of Interstate 10? Well, it's just going to be another very hot and mostly sunny day. Highs may reach the low- to mid-100s again for places such as The Woodlands. Rain chances for inland locations are perhaps 10 percent.
Wednesday
This will be a sunny day with highs in the low 100s across the area. With a bit of lingering moisture from Harold, rain chances are perhaps 10 or 20 percent.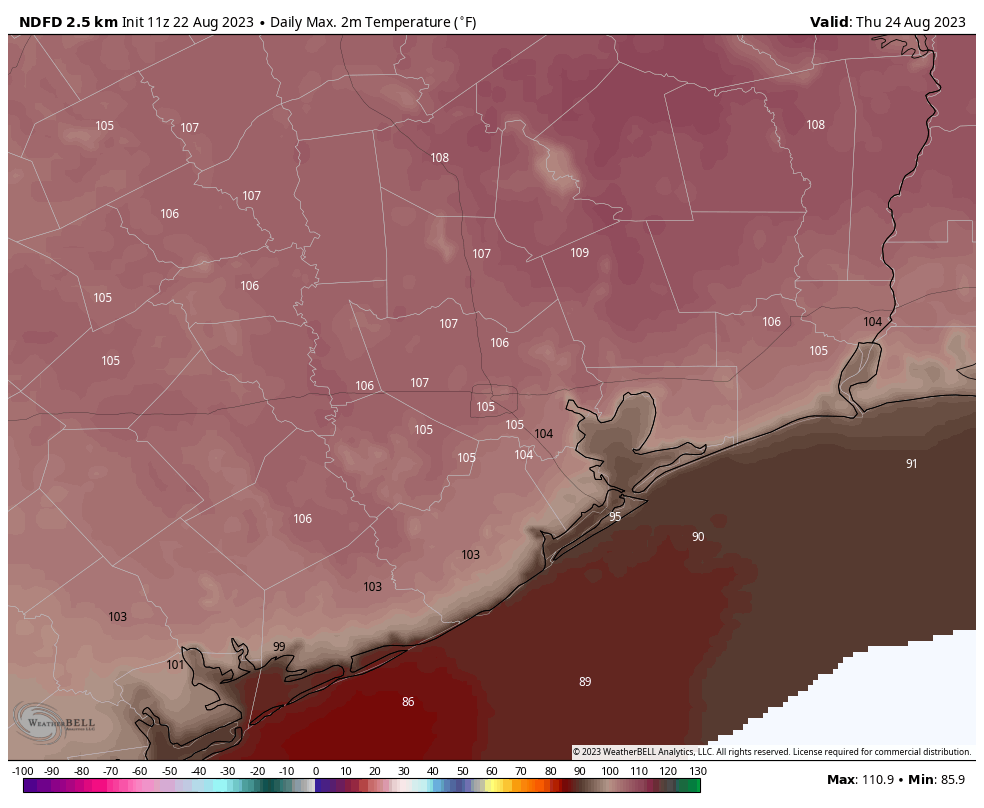 Thursday and Friday
These two days look really hot, with highs in the 105-degree range likely for much of the area. Skies will be mostly sunny. Rain chances are not zero, so perhaps 10 percent daily.
Saturday and Sunday
Don't get me wrong, these will be hot and mostly sunny days. But as high pressure eases off to the West, highs may drop back down to around 100 degrees. We'll also see some weak atmospheric disturbances that could spark some scattered showers during the afternoon hours. Please do not get too excited, as I'd peg rain chances at only about 20 percent.
Next week
If you had hot and mostly sunny on your bingo card for next week, congratulations, you're a winner! However, I don't think next week will be as hot as this one, and we're also going to see some modest rain chances. I don't think they'll be higher than 20 or 30 percent each day, but that is a sight better than the 0 to 5 percent we've experienced for much of this summer. In case you're wondering, we're still about three to five weeks away from when we can anticipate our first decent cold front of the season. It can't come soon enough, I know.
Tropics
Beyond Harold, which will bring some tropical winds and rains to South Texas, there is a lot happening out there in the Atlantic. While there are no distinct threats to the Gulf of Mexico, or Texas, that can change fairly quickly at this time of year. Be sure and check The Eyewall for a full rundown of all the activity out there, every morning around 7 am CT. Matt has been nerding out with some book-length posts of late.