As the forecast for the next several days becomes more clear, unfortunately it means that our skies will be quite unclear. Which is to say cloudy. Very cloudy. Just looking at the "total cloud cover" forecast from the GFS model this morning, skies are forecast to be 98 percent cloudy (or greater) from now through Wednesday morning—with the exception of a brief period Saturday night. So that's six days of gray skies, and I'm afraid not much help for it.
Friday
It's quite warm across the Houston region this morning, as temperatures for some parts of the city have yet to fall below 70 degrees. Cloud should limit high temperatures to the mid- to upper-70s today, but it will sure feel humid outside. Some scattered showers, mostly of the light variety, will be possible throughout the day. Accumulations should not be much above a tenth of an inch, if that. Lows tonight will again be very warm for this time of year.
Rodeo weather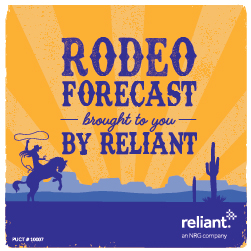 Temperatures will be warm, in the low 70s, walking into the show this evening. Relative humidity will be above 80 percent, and we can't rule out a misty rain before the show, but more likely than not it will just be gray. After the concert, temperatures won't have dropped much, perhaps down to around 70, and while rain chances will be lower (about 20 percent) they won't be zero. Again, any rain that falls should be light.
Saturday
A cold front will be sweeping into Texas this weekend, but the bulk of the drier and cooler air will be shunted north of Houston. So, too, should most of the inclement weather.
Therefore while some light rain will be possible Saturday morning, and maybe a thunderstorm or too, for the most part we don't expect much action in the city and nearby suburbs. The day itself should be warm, in the upper 70s. It's possible parts of Houston will see some clearing skies during the afternoon and evening, but don't blink or you'll miss the blue sky. Rain chances fall to near zero Saturday night.

Sunday
Unfortunately as we won't see too much drier air with the front, skies aren't going to clear out much, or for very long. We now anticipate that most of Sunday will be partly to mostly cloudy. Those pesky 30 percent chances of light rain will return as well, along with highs in the 70s.
Monday and beyond
The thing is, during winter and early spring in Houston, generally if the weather is clear that means that a cold front has blown through, high pressure is dominating, and cooler northern air has prevailed over the region. So clear means cold. And clouds mean that a return flow has set up off the Gulf of Mexico, so our weather is warmer, and more humid. We just don't get all that many pleasantly warm and sunny days during this time of year.
And so it will go next week. Generally we're going to be warm, in the 70s, with warm nights in the 60s, through about Wednesday or so. Clouds and chances for light rain will stay with us. At some point thereafter a stronger front should blow through, clearing out the region and cooling us down. A period of at least several days after Thursday or so of next week does look colder, with potentially clearer skies.
As for winter's "end," I do think the region is very likely done with any freezes for this year. I'll try to make a final determination about that on Monday, but if you're a gardener living south of I-10, I'd feel comfortable going ahead and planting this weekend.