The big story this morning, and for the next couple of mornings, is fog with warm, muggy air lingering over colder waters. A dense fog advisory is in effect until 10am for Monday morning. We're also ready to declare that Houston will see more no more freezes this season, and that despite some cooler weather during the second half of this week, winter is effectively over for our region.
Monday
After the fog burns off, today will be a mostly cloudy, warm day with temperatures likely rising to around 80 degrees. Some very light rain will be possible across the region, but chances are only about 10 to 20 percent. Rain chances will be a bit better tonight, but again anything that falls should be light and misty.
Rodeo weather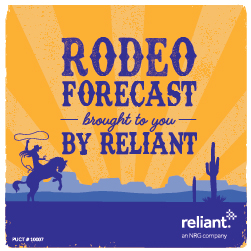 Temperatures going into the show this evening will be in the upper 70s, and while rain chances aren't zero, they are quite low. Expect light southeasterly winds and high humidity. Post-show temperatures will be down around 70, with misty rain possible, but unlikely. Don't expect to see many, if any stars—at least outside NRG Stadium.
Tuesday
Fog will very likely be a problem again this morning. Then, we'll be in for another warm, mostly gray day, with highs again near 80. Rain chances will be slightly better, again with misty rain mostly likely what falls from the sky. Southerly winds will pick up later in the day, gusting up to 20mph by the evening.

Wednesday
The region's next cold front finally pushes into the region on Wednesday, and this will bring us our next healthy chance of rainfall. With ample moisture and a somewhat disturbed atmosphere, there is a good chance of showers and potentially some thunderstorms along with the front's passage. Highs Wednesday will be in the 70s, with lows that night falling to around 60—cooler inland and warmer near the coast.
Thursday and Friday
Cooler and drier air will work its way into the region toward the end of the week, this will lead to partly to mostly sunny days, and highs in the 60s or 70s. Lows should fall into the 40s for everyone but coastal areas. Sunshine, people!
Saturday and Sunday
The front is carrying enough oomph that we expect skies to remain mostly clear for the weekend, although I'm not 100 percent confident in that yet. For now I'd anticipate partly to mostly sunny days, with highs in the 60s or 70s, with a slight chance of spotty rain showers. More to come, tomorrow.
Winter
Houston experienced a freeze as recently as March 5 and 6, but it looks like we're done with "Arctic" fronts for the winter of 2018-2019. While we can certainly gets freezes in Houston during March and even early April, the pattern does not support that this year. Moreover, the ensemble forecasts for the next 16 days from both the GFS and European models do not hint at a freeze. Therefore, I feel pretty confident in stating that the metro area will see no more freezes until at least late in 2019. Happy Spring, y'all.
Sponsor message
Given that winter has run its course, Reliant wanted to remind our readers that Spring is an ideal time to make sure your home is in shape before the summer heat arrives.
Here's a good checklist to follow:
Get an 

AC Tune-Up

 to make sure your home cooling system is working properly and efficiently.

Change your air filters. Cleaning or replacing filters can lower your system's energy consumption by up to 15 percent. Depending on the type of filter you have, changing your filter every 30 or 60 days is the best way to keep the filters clean and ensure the air flow is uninterrupted by debris. Signing up for Reliant's

air filter delivery service

is an easy way to stay on top of changing filters regularly.

Weatherstrip exterior doors

and

caulk leaks

 that allow hot air to seep in and cool air to escape from your home.

Install window treatments, such as blackout curtains, to block out the heat that will accompany the arrival of summer.

Seal ducts. Air loss through ducts accounts for approximately 30 percent of a cooling system's energy consumption.

If you want to find out more about your home energy usage and how to reduce it, Reliant customers can get a free 

Home Energy Checkup

. With this service, Reliant customers receive a free home energy snapshot, which includes details about your home's energy usage over the last year, a home efficiency rating, tips to improve your home's energy efficiency and a baseline to help measure your home's progress year-to-year.
Check out additional energy-saving tips from Reliant to learn more ways to save energy as we head toward the summer months!