The front that pushed into Houston on Monday brought some very dry air with it. The relative humidity level at Bush Intercontinental Airport dropped to 15 percent during the afternoon hours, and Hobby Airport reached 12 percent. These are Arizona levels of dryness, and we can look forward to a few more days which are nearly as dry.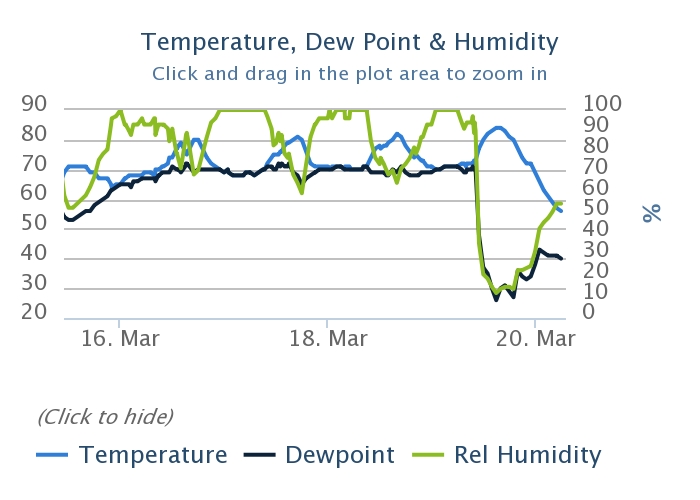 Tuesday and Wednesday
We're going to have a couple of great, mostly sunny days as the region remains under the influence of northwesterly winds and high pressure. Expect high temperatures in the 70s, for the most part, and lows in the upper 40s for areas well inland (i.e. Montgomery County) and in the 50s for central and southern parts of the region. These will be fine, low-humidity days.

Thursday and Friday
The onshore flow resumes Thursday, and this will begin the process of warming us up for the weekend, and restoring humidity levels to their more rightful place for Houston, which is to say lofty. We can expect high temperatures in the upper 70s to 80 degrees to round out the work week, with a corresponding increase in overnight lows into the 60s. Skies should remain partly to mostly sunny.
Saturday and Sunday
The weekend looks warmer, with the onshore flow firmly established. With moisture levels rising, some scattered showers will be possible, but right now there don't appear to be any particular triggers for widespread showers. Instead, I think most of us will probably see a mixture of sunshine and clouds, with warm days in the mid-80s. I'm not ruling out rain chances, but for now they appear to be pretty low.
Monday and beyond
Better rain chances return to the region early next week, but at this point it's hard to say how good they will be. Forecast models are struggling—and by struggling I mean they are all over the map—with the evolution of the next cold front. Some stall it well north of Houston (keeping the rain up there), others bring it all they way through (and keep showers short), while still others stall the rain over Houston and bring a fair amount of it into the region. For now, I'd bet on the front stalling north of Houston, but we'll just have to wait and see.