We'll get to the forecast in a moment, but first I wanted to discuss the forthcoming Atlantic hurricane season, which begins on June 1. Matt addressed this topic last week, but we've continued to receive questions about the upcoming season, largely due to an alarming forecast that has gone viral. I would echo precisely what he said, that you should treat any calls for an extremely active season, at this point, with a very healthy dose of skepticism.
This is especially so for the coming season, because it's not clear whether an El Niño or a La Niña will develop in the Pacific Ocean (see embedded tweet below from National Hurricane Center forecaster Eric Blake, a friend of the site) this summer. The presence, or absence, of an El Niño is the single greatest predictor of activity during an Atlantic hurricane season.
Good luck making a seasonal #hurricane forecast when two of the top #ElNino models are making totally different predictions! Lots of uncertainty this year… 🤔 pic.twitter.com/QxJ5IjgZF1

— Eric Blake 🌀 (@EricBlake12) March 17, 2018
Because we have no confidence in whether an El Niño, La Niña, or none at all will develop during the months of the upcoming Atlantic hurricane season, we can have a corresponding lack of confidence in tropical activity during the season itself. So please, don't sweat it. Now, onto this week and weekend's forecast, when we at least have a decent chance of coming close to the mark.
Wednesday
It's chilly this morning across the region, with lows generally in the mid- to upper-40s except for areas along the coast. With full sunshine we can expect a banner day, with highs in the mid-70s across most of Houston. Then, we'll see another gorgeous sunset and low temperatures tonight about 10 degrees warmer. This probably will be one of the nicest days of the year in Houston. Savor it.

Thursday and Friday
The onshore flow will resume sometime early on Thursday, and this will inevitably bring warmer weather with it. Highs to end the work week will be in the upper 70s to 80 degrees, with partly to mostly sunny skies. Nights will be noticeably warmer, with lows only falling into the mid- to upper-60s by Saturday morning.
Saturday and Sunday
The weekend doesn't look great, but it will be serviceable. Moisture levels will rise, so we're going to see a pair of partly to mostly cloudy days, with muggy highs in the lower 80s. Just as there will be some sunshine—perhaps a bit more on Sunday than Saturday—we also will probably see some scattered light to moderate rain showers. Nothing to write home about, but these showers could briefly disrupt outdoor activities for a few people.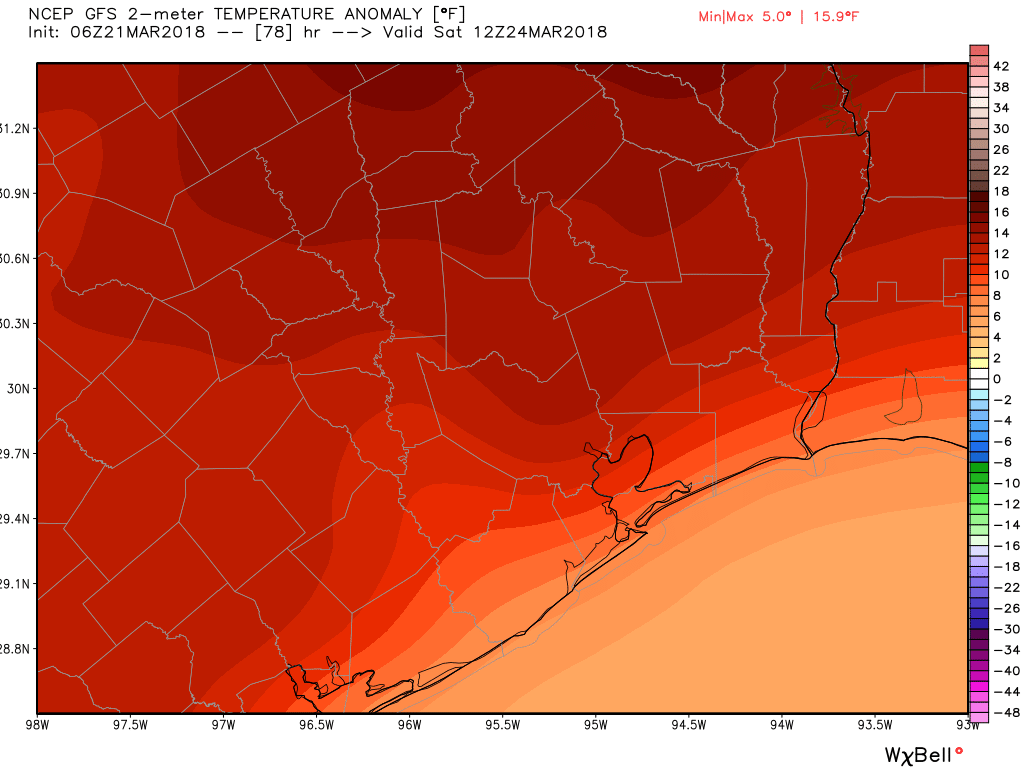 Monday and beyond
It now seems fairly certain that a cool front will stall north of the Houston region early next week, and this will lead to better rain chances for most of next week. If I had to guess, I'd say we're looking at a total of between 0.25 and 1.0 inch for most areas, but who knows. A weaker cool front may cool us off a little toward the middle or end of next week.