Everything was in place for a memorable and devastating afternoon in Southeast Texas.
An Outbreak Unfolds
By 1:30 PM on November 21, 1992, the Southeast Texas tornado outbreak began. Wharton County took the hit first, with two F-1 tornadoes and one F-2 tornado near Wharton (there is some confusion about exactly what the tornado intensities were in Wharton County. The NOAA summary after the storm said 2 F-1's and one F-2, while the Storm Data publication showed 3 F-1s). Fort Bend County was next where two F-1 tornadoes occurred at around 2:40 near and south of Sugar Land. But the most damaging was an F-2 tornado that touched down around 2:20 PM east of Fulshear and then moved into Cinco Ranch and Kelliwood and heavily damaged the West Houston Airport.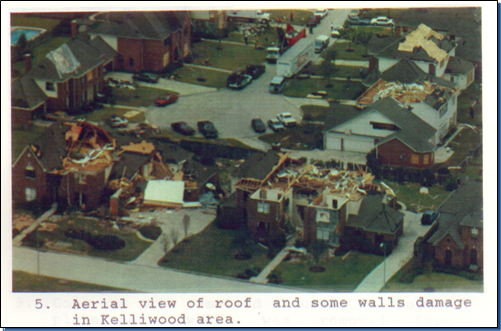 Things exploded as storms developed in Harris County, clashing with the moist air. An F-1 tornado developed north of Pearland and was reported as a funnel cloud at Hobby Airport at about 3:15 PM. About 5 to 10 minutes later, another tornado formed near Hermann Park and crossed the South Freeway (SH-288) into the Third Ward, then moved northeast into the East End, inflicting extensive damage north to Denver Harbor. That tornado was rated an F-2 and damaged over 600 homes and commercial buildings. Simultaneously, another tornado formed on the east side and touched down in Channelview. This tornado became the strongest in the region, evolving into a massive 0.75-to-1 mile-wide, F-4 intensity twister as it raked the Channelview area, damaging more than 1,200 homes and businesses and destroying many. The hardest hit area was the Sterling Green subdivision. The Channelview tornado weakened to F-2 intensity as it moved into Liberty County, dissipating near Dayton. As all this was going on, a third tornado developed in northeast Harris County. This one stayed on the ground for 32 miles into Liberty County before dissipating. It became an F-3 tornado that injured one and caused damage in Tarkington.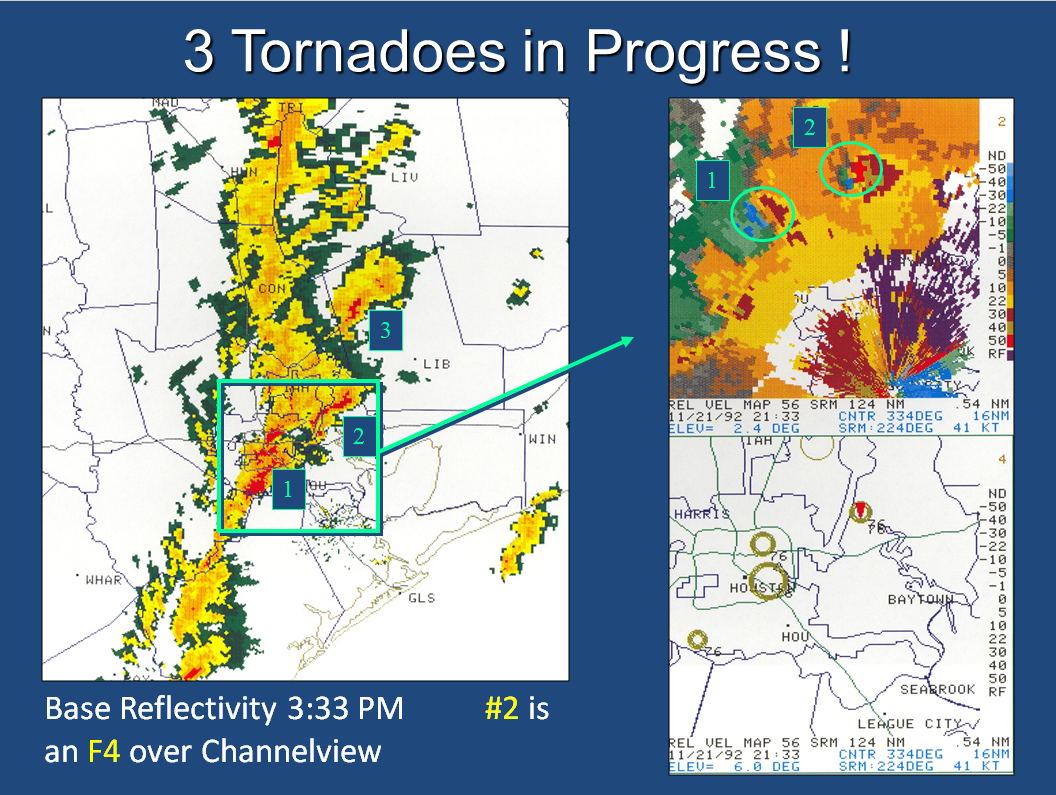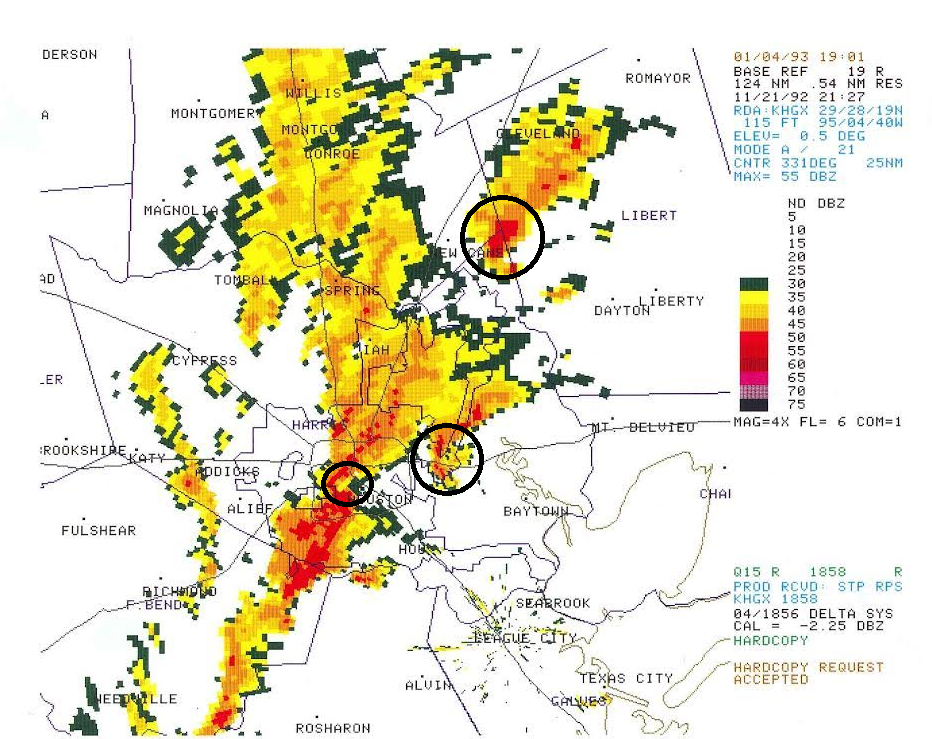 Let's take a closer look at a couple of these twisters.
West Houston/Kelliwood Tornado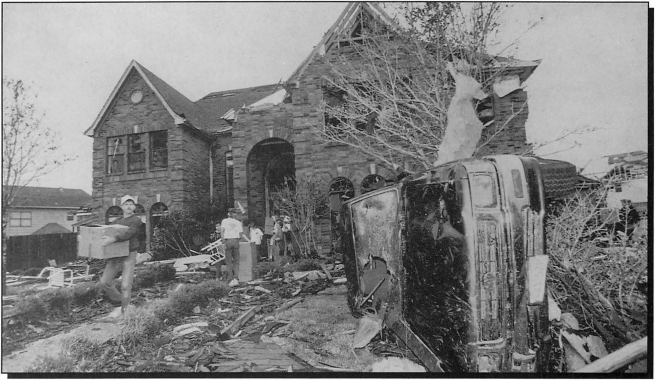 The F-2 tornado that hit west of Houston formed south of the Kelliwood subdivision, just west of George Bush Park. According to Marshall, who conducted damage surveys after the tornadoes, the Kelliwood storm tore off roofs, destroyed garages, and removed some exterior walls. The Houston Post reported that Natalie Kurz, an 11-year-old Kelliwood resident at the time, survived the tornado uninjured by hiding in a china closet under a stairwell in her home. Natalie had been playing upstairs when her mother, Debbie, saw the tornado and called her with instructions to hide. The Kurz's lost part of their roof as the tornado damaged the room Natalie was in prior to her mother's phone call.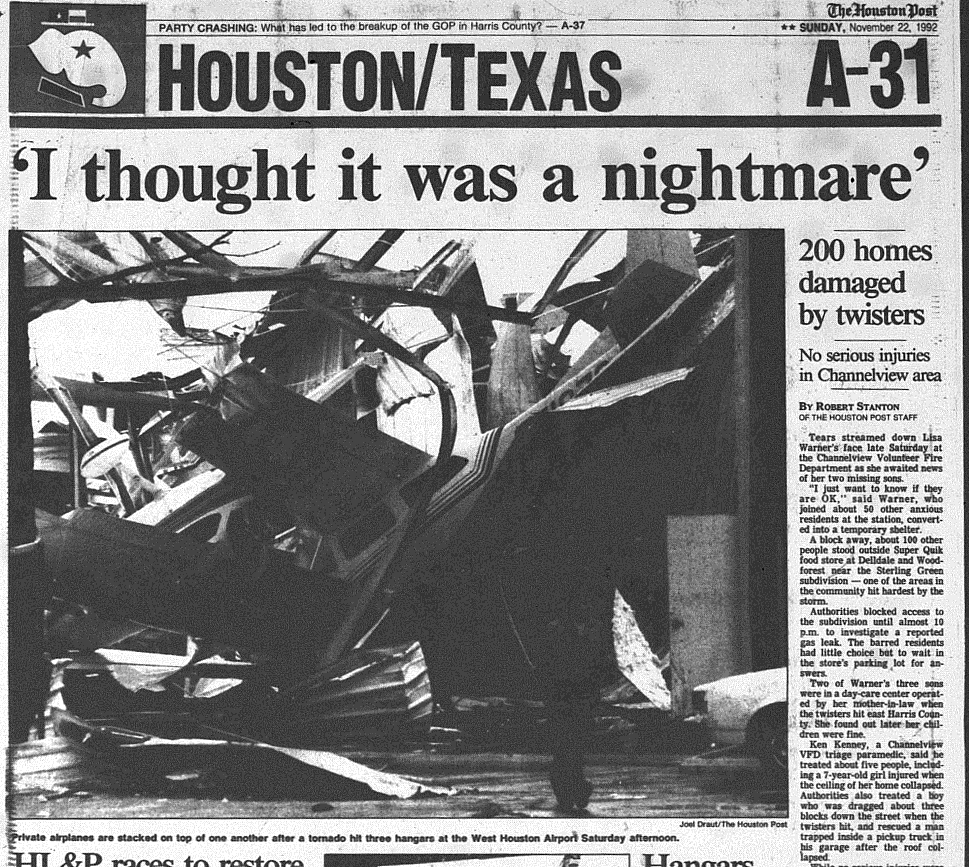 As the tornado crossed I-10, F-1 intensity damage was found. Several metal hangars at West Houston Airport were destroyed. Rob Baron, a flight instructor at West Houston Airport at the time, said that upwards of 23 private airplanes were damaged or destroyed by that tornado. According to Baron's account in the Houston Post, around 30 people at the airport huddled inside the main hangar terminal as the tornado hit. Fortunately it survived and no one was injured.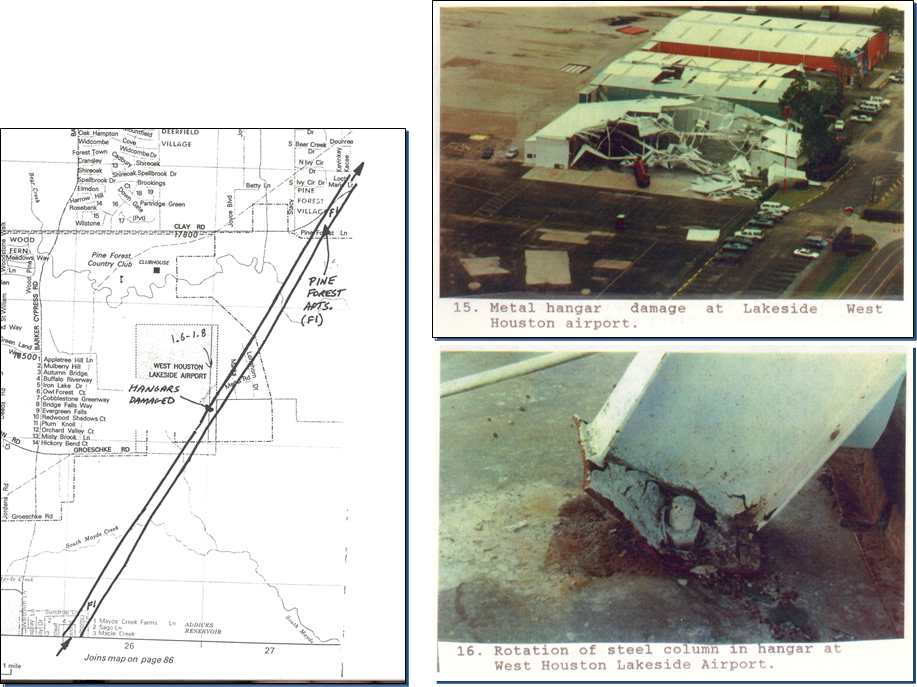 The tornado continued northeast into Bear Creek and damaged several homes and apartment complexes. Damage also occurred at a Randall's at West Road and Jones Road in Northwest Houston, with windows blown out, cars damaged, and part of the roof blown off. This tornado was ultimately on the ground for nearly 20 miles before it dissipated.
East Side/Denver Harbor Tornado
Damage from the Inner Loop tornado began at the southeast edge of Hermann Park. As that tornado lifted north and east, it injured six, damaged over 600 homes and businesses, and likely contributed to a natural gas explosion just east of the junction of the South Freeway and US-59.
This tornado was on the ground for about 11-12 miles, inflicting some of its worst damage on some of the city's most vulnerable residents east of downtown and in Denver Harbor. Ben Reyes, the City Councilman at the time whose district took the brunt of the damage from this storm said "The people who got hit the worst are the poorest people in my neighborhood."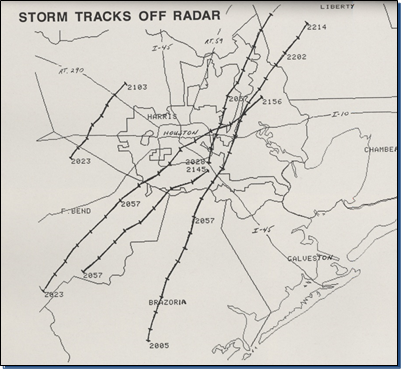 As in many instances of this event, the fact that more people were not seriously injured or even killed is almost a miracle. It seems many residents realized this. One victim was quoted in Monday, November 24th's Houston Post as saying, "I feel all right. We just don't have an apartment. Other than that, I'm glad no one got hurt."
Another resident was injured, picked up and carried about 10 feet during the tornado while he was at a car repair shop on Navigation. Unfortunately he was there to check on a car that was being worked on, and both that vehicle and the other vehicle he drove over in were damaged.
The Denver Harbor tornado was classified as producing F-2 damage.
Channelview: Worst of the outbreak
Without question, the most severe tornado of the outbreak occurred in Channelview, just east of the city. The same storm that produced a weaker F-1 intensity tornado in Brazoria County, near Pearland around 3:10 PM, produced the monster F-4 tornado in Channelview about 15 minutes later.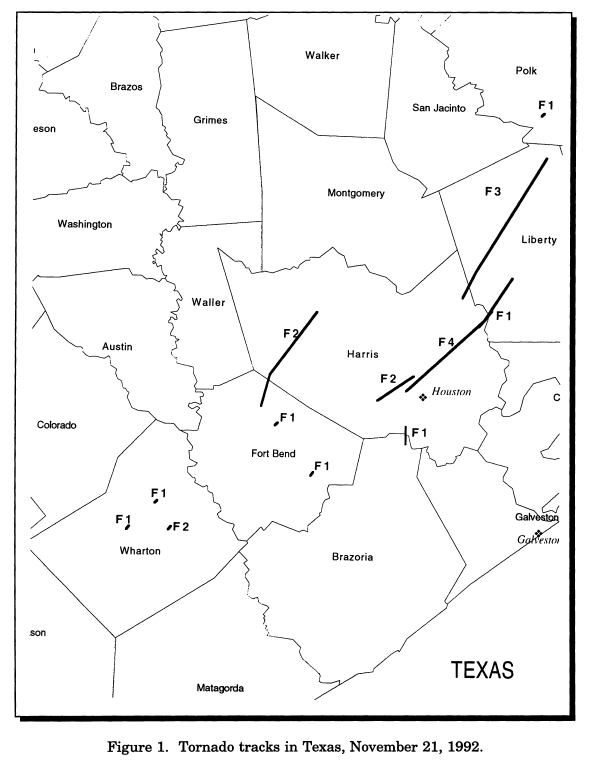 Per Tim Marshall's damage survey, the Channelview twister formed near the Houston Ship Channel and lifted northeast, rapidly intensifying as it crossed I-10 and went on to ravage the Sterling Green subdivision. The damage was massive, and reporting at the time commonly compared the destruction in Channelview to that inflicted by Hurricane Andrew in South Florida three months earlier. Marshall's survey found 183 homes that lost roof structures, 88 homes that had just a few interior walls left standing, and 14 homes with no interior walls left at all, indicative of F-4 damage. Marshall's comments on patterns of damage is worth a read.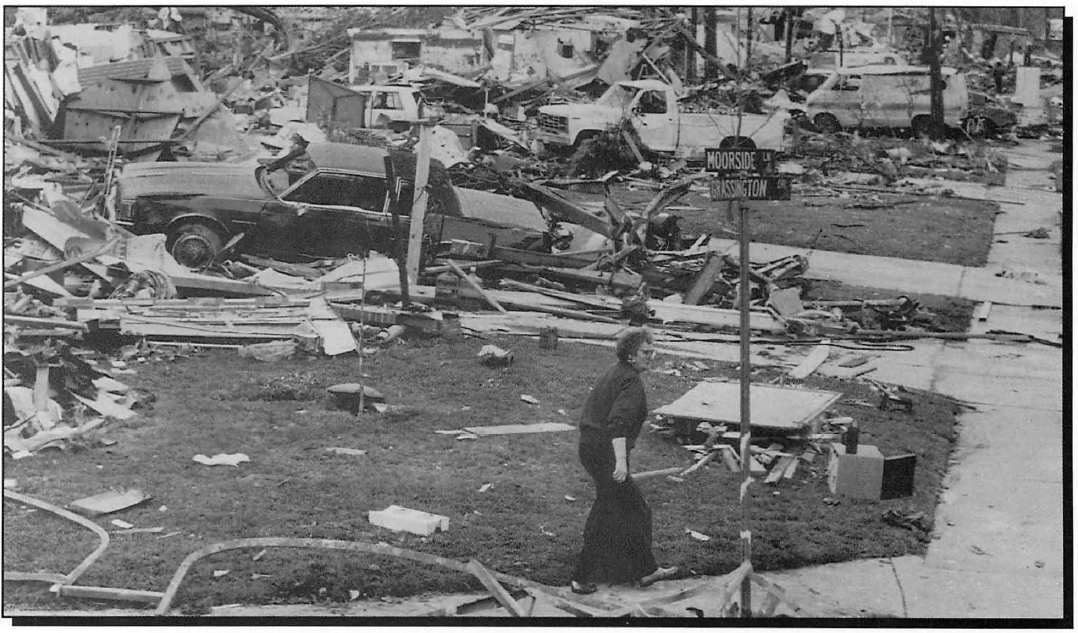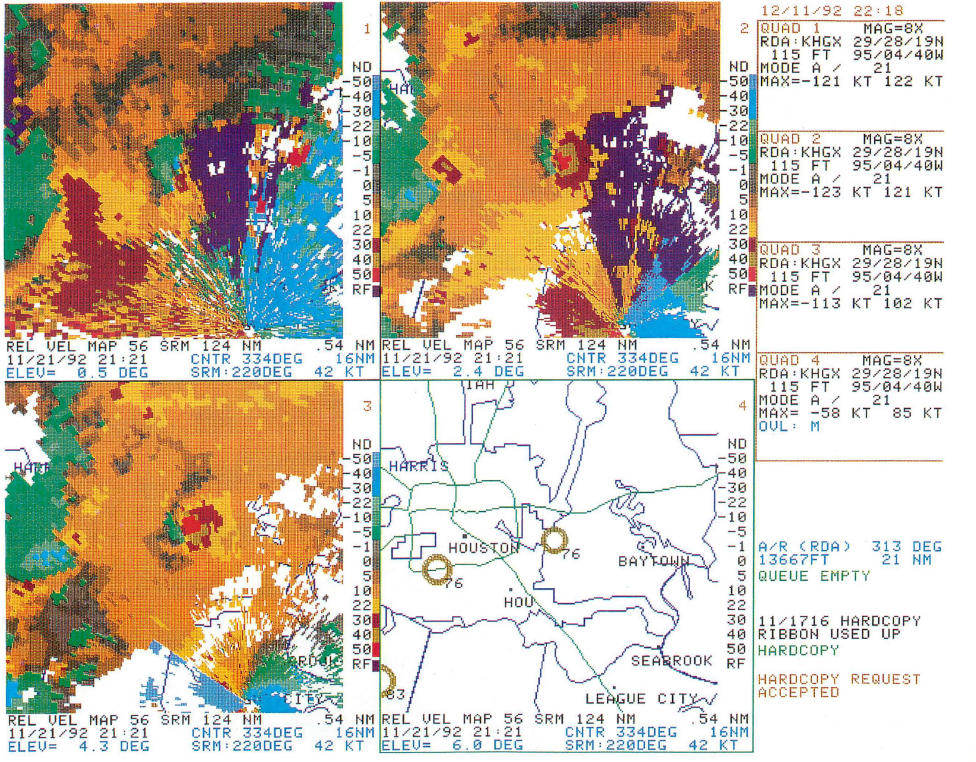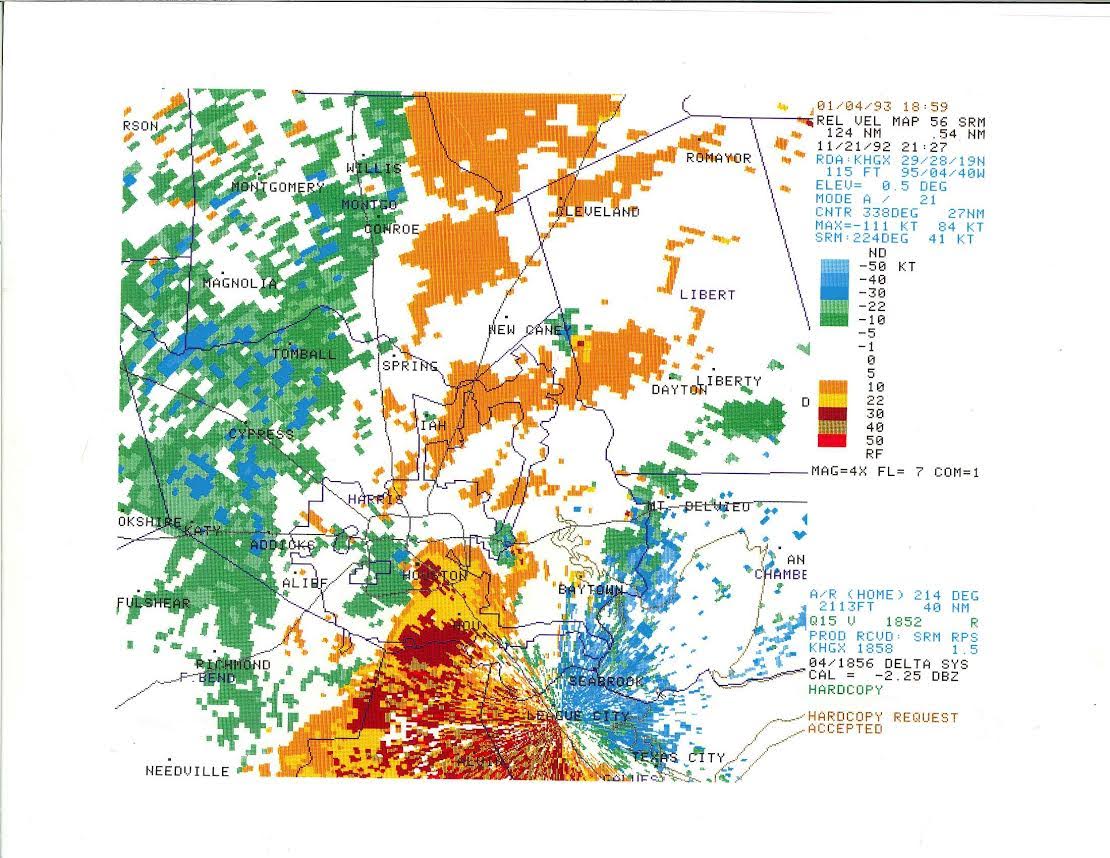 Reading the harrowing accounts of the Channelview tornado underscores how much good luck occurred that day.
(Post continues on next page)