Good morning. Before jumping into today's post, I want to thank our long-time sponsor, Reliant, for their kind words about our new Atlantic hurricanes site, The Eyewall. Please check out their message at the end of this post, which has some good ideas about preparing for the 2023 Atlantic season in Houston. As a reminder, Reliant has sponsored Space City Weather since 2017—helping us keep the lights on literally and figuratively.
Tuesday
Following fairly widespread storms on Monday, the atmosphere remains disturbed today. As a result we should see another round of showers and thunderstorms during the afternoon hours today. However, I think coverage and intensity will be a bit less, with perhaps 50 percent of the region seeing rainfall. Partly to mostly cloudy skies this afternoon should limit high temperatures into the mid- to upper-80s. Winds, outside of thunderstorms, should be light. Lows tonight will drop to around 70 degrees.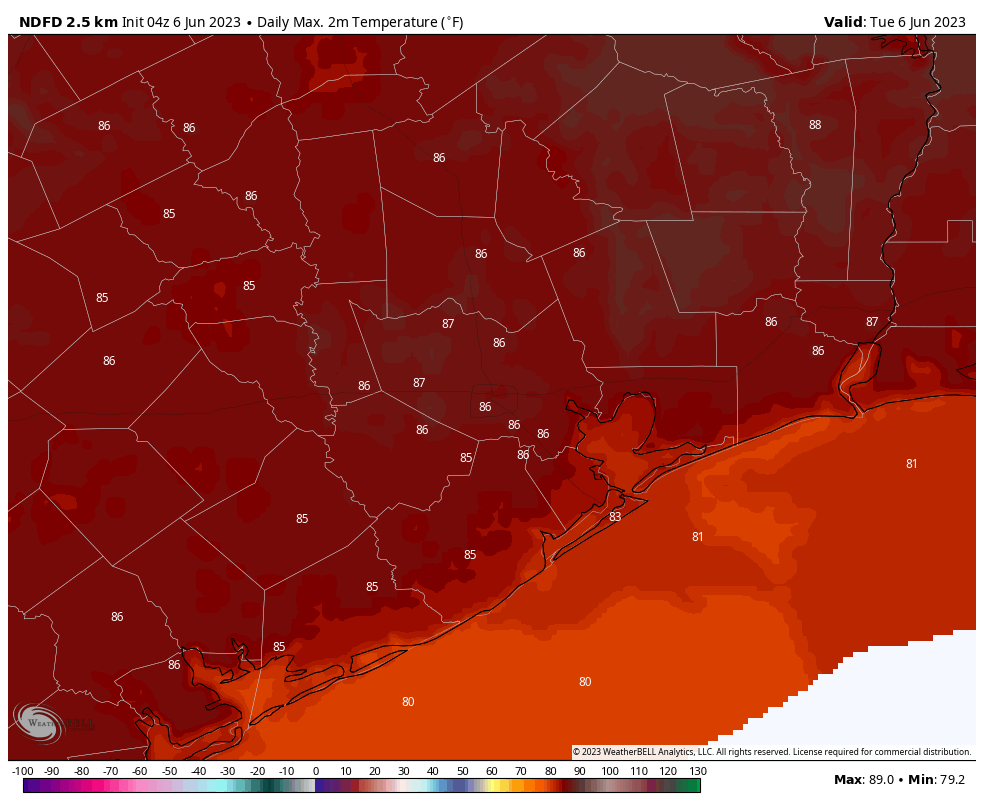 Wednesday
This will be a bit of a transition day, with some scattered showers and thunderstorms, and partly sunny skies. Look for high temperatures near 90 degrees.
Thursday and Friday
As high pressure moves in, temperatures will go up. And truth be told, we're going to flip a switch and go into full-on summer, with mostly sunny skies and highs in the mid-90s. Nighttime temperatures will be noticeably warmer too, bumping up into the mid-70s with that sultry humidity you know and either love or loathe. (Yes, some people do love the Houston humidity). Rain chances each day will be about 10 percent with the afternoon sea breeze.
Saturday and Sunday
More of the same. We're taking highs in the mid-90s, sunny skies, and humidity.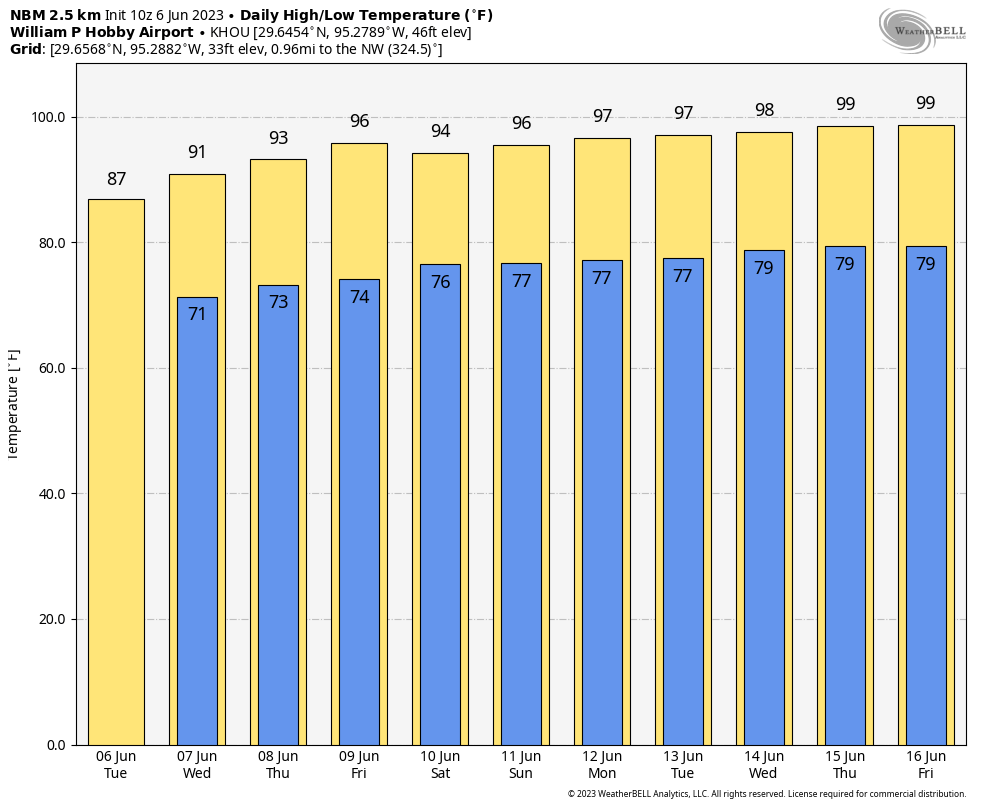 Next week
Not to end this forecast on too much of a downer, but there is some question about how much hotter it might get next week. The upper 90s, probably. It's a tiny bit early for 100-degree heat, but certainly not unprecedented. It will feel like a blowtorch regardless. Welcome to summer 2023, y'all.
Sponsor message
Congratulations to Eric and Matt on the launch of The Eyewall to bring the same no-hype forecasts we value so much here in Houston and Southeast Texas to even more coastal residents. At Reliant, we're honored to have supported Space City Weather since 2017, keeping the site free and available to everyone year-round! Along with our fellow Houstonians and local businesses, their forecasts keep us informed and prepared in both calm and stormy weather.
As we've now officially entered the 2023 hurricane season, we want to remind readers that Reliant stands ready to support Texans and help prepare for any storms that come our way. Especially early in the season, it's important to take the time to protect your family, home, and business in advance. Reliant's Severe Weather Prep Checklist is a good place to start.
Here are a few other tips to keep in mind as you prepare:
Reliant offers a wide range of backup energy solutions to help you ride out the storm. Have power at the ready — at home or on the go — with Goal Zero portable charging products. They can charge everything from phones to fridges and even life-sustaining medical devices.
Be prepared in case of an electricity outage. Your utility company (like CenterPoint in the Houston area) maintains the power lines, utility poles, and other electricity infrastructure necessary to deliver the power you purchase from Reliant to your home. Contact your utility company to report an outage or check the status of a repair.
Check out more preparedness tips and recovery resources at ReliantStormCenter.com. The site provides resources for before, during, and after a storm, including preparedness checklists and evacuation routes, weather and power outage updates, flood maps, safety tips, and more.
Just like the summer heat, storms are a part of life in Texas, so being prepared is critical. Like everyone else, we are hopeful this season will be a quiet one, but come what may, Reliant and Space City Weather will be here for you.