Good morning. After an absolutely stunning weekend we'll begin to see a warming trend this week. Eventually highs will settle into the mid- to upper-80s by Thursday or so, with lows in the upper 60s. Little rain, if any, is expected this week. Our next significant cold front is probably about 10 days away.
Monday
This will be the last "cold" morning for awhile, with temperatures ranging from the upper 40s for far inland areas to low 60s right along the coast. The transition to warmer weather will begin as high pressure begins to move away from the area, off to our east, allowing for light southeasterly winds to return. Today is still going to be splendid, however, with sunny skies and highs in the upper 70s. Low temperatures tonight will be 5 to 10 degrees warmer for most locations than Sunday night.
Tuesday
A weak low pressure system will drift into the coast from the Gulf of Mexico on Tuesday, and it's really only worth mentioning because this will bring the region its only noticeable chance of rain during the work week. And even then, rain chances are probably only on the order of 10 or perhaps 20 percent. Mostly, this should be a mostly sunny day, with highs in the low 80s. Lows Tuesday night will be in the upper 60s.
Wednesday, Thursday, and Friday
These days should all see mostly sunny skies, with highs in the upper 80s. It won't exactly be Houston-hot, as dewpoints should be in the upper 60s rather than low- to mid-70s. But this sure will not be fall-like, either.
Saturday and Sunday
There remains a small chance that a weak front will push into Houston this weekend, but the more likely scenario is that it fails to reach our area. Highs this weekend, therefore, should remain in the mid- to upper-80s, with mostly sunny skies, and slight rain chances on the order of 10 to 20 percent.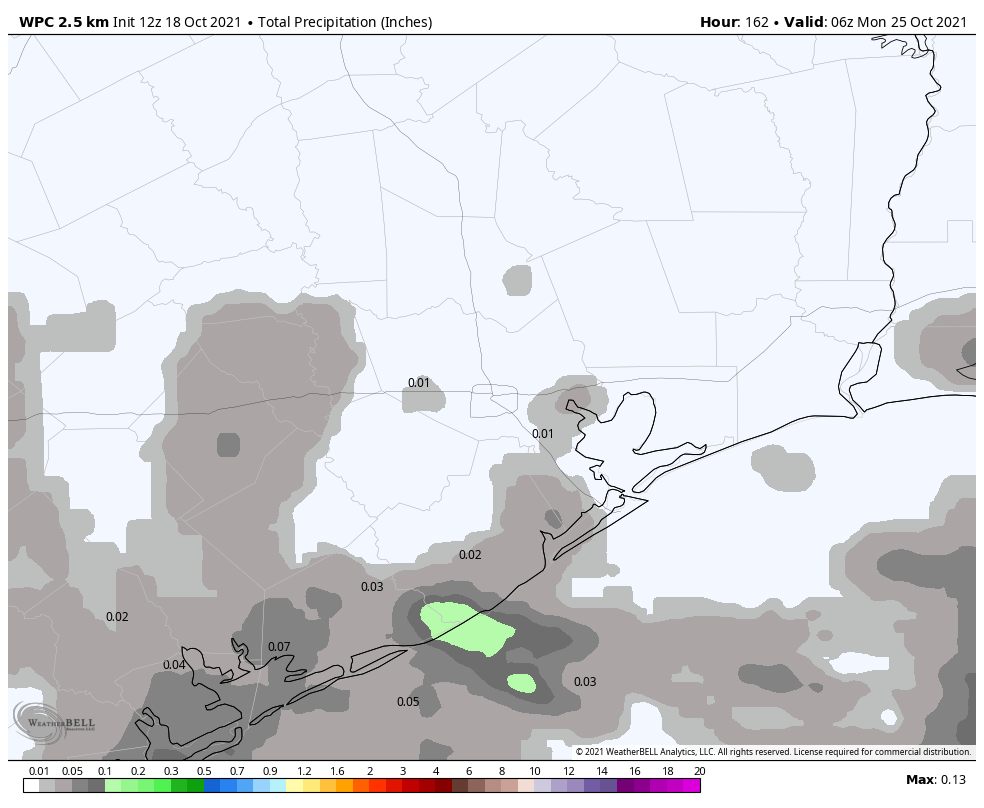 Next week
There appears to be very little in the way of a pattern change for the next 10 days, with the global models both suggesting the next front is unlikely to arrive before around October 28, ten days from now. It's far too early to have any confidence in a forecast for Halloween.