Good morning. Our air remains pleasantly dry this morning, but that will begin to change as the overall flow turns more southeasterly. This will set the stage for a warm, but benign period that should run through the middle of next week, without too much variation. It looks like our next front won't arrive until around Thursday of next week.
Tuesday
Except for central Houston and southern areas, low temperatures this morning have managed to drop into the 50 for most of you. This will be our last night in the 50s for awhile, however, as the flow from the Gulf of Mexico returns today. This will mean increasing humidity levels—although we're not anticipating a return to ultra sultry weather—and rising temperatures. Highs today should reach the low 80s, with a mix of sunshine and clouds. Rain chances are 10 percent, or less. Lows tonight will only drop into the 60s for inland areas, and low 70s along the coast.
Wednesday, Thursday, and Friday
These days will all be similar, with partly to mostly sunny skies. Highs will depend upon how much sunshine peeks out during the afternoon hours, but most locations should wind up in the mid- to upper-80s. Nights will remain warm, in the 60s to lower 70s. Rain chances are basically nil.
Saturday and Sunday
The weekend should bring more of the same, although the onshore flow becomes a little more pronounced. Highs still will likely fall somewhere in the mid- to upper-80s, but nighttime temperatures could rise a degree or two, and increasing dewpoints should make it feel that little bit more sticky outside. Each day will probably see some sunshine, and some clouds, and while rain is unlikely we can't rule it out.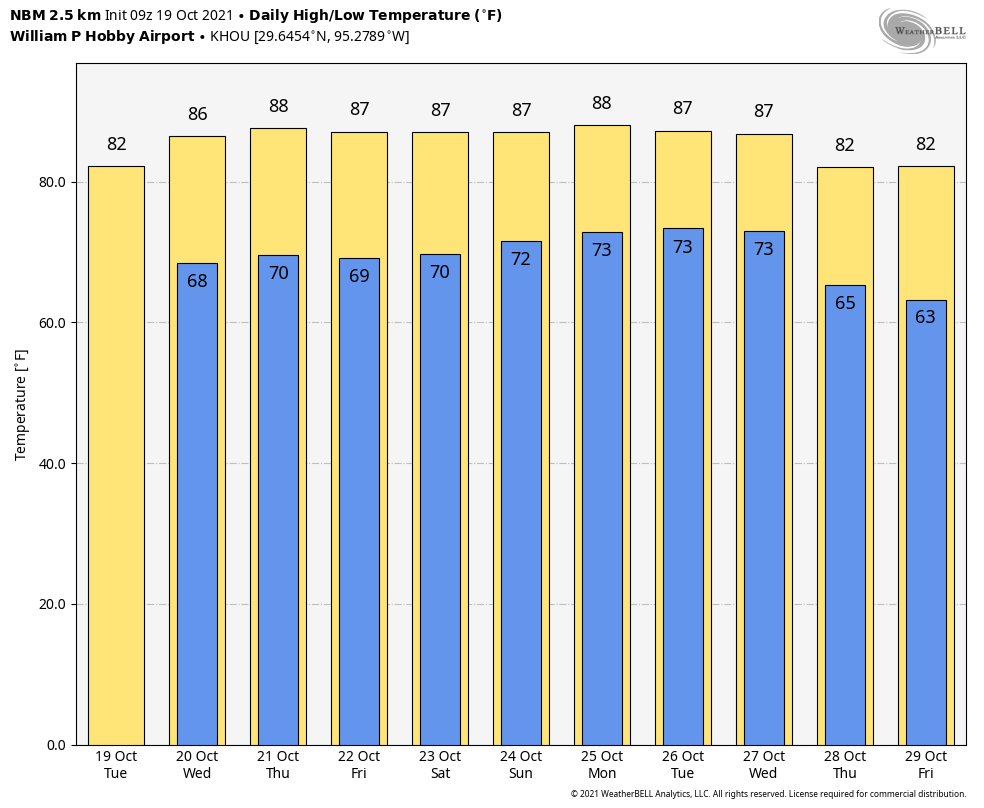 Next week
This warm but not exactly hot pattern should persist into next week. Rain chances finally start to increase about a week from now, but we're not anticipating anyting too wet. The global models are in pretty good agreement about a strongish front arriving by later next week, perhaps around Thursday. While I'd never have too much confidence in a nine-day forecast, the signal for something to shake up this weather pattern has been fairly consistent.