Well, we sure hope you got to enjoy the weather yesterday and hopefully today too. Mid-May fronts with cool, comfortable air masses feel like a rare treat. Our morning low of 62° at Bush Airport this morning is the coolest morning this late in the season since May 25, 2017 (60°). The humidity returns later today, tonight, and Saturday, and then rain chances will follow. Our area looks poised to enter into a prolonged unsettled weather pattern for at least least a week or so. Let's walk through the forecast.
Today
Really, we will just have a nice day ahead today. Look for some sun after these morning clouds in spots dissipate. There will still be a fair number of clouds though this afternoon, and highs will be around 80° or in the low-80s, give or take.
Saturday
Saturday morning will start a bit warmer and a bit more humid than today or Thursday began. Morning lows will be in the 60s, if not 70° or so in most places. Look for a mix of clouds and maybe a bit of sun. If you have the option to choose between weekend days for outdoor plans, we would strongly suggest going with Saturday. While there will be a chance for some showers, mainly west or southwest of Houston, those chances are not especially high or long lasting. It will be warm and turn increasingly humid, with highs in the 80s.
Sunday into Monday
The forecast for Sunday is very challenging. This is mainly due to timing. The last couple days have seen the start time of rain slip in models from Saturday night to Sunday morning to now Sunday afternoon. What we know is that a disturbance is going to cross through our region, and it will likely bring most of us a period or two of showers and thunderstorms on Sunday through Monday.
We may have one area of rain Sunday morning and afternoon move into the area from the west. Rain may then taper off late on Sunday afternoon before another round fires up either Sunday night or Monday morning into afternoon. The exact timing is tricky, but we know most folks will see at least a little rain. You can see from the animation below how precipitable water or how much moisture is available in the atmosphere increases sharply through Sunday morning and afternoon, which will turn a slight rain chance into a fairly healthy one.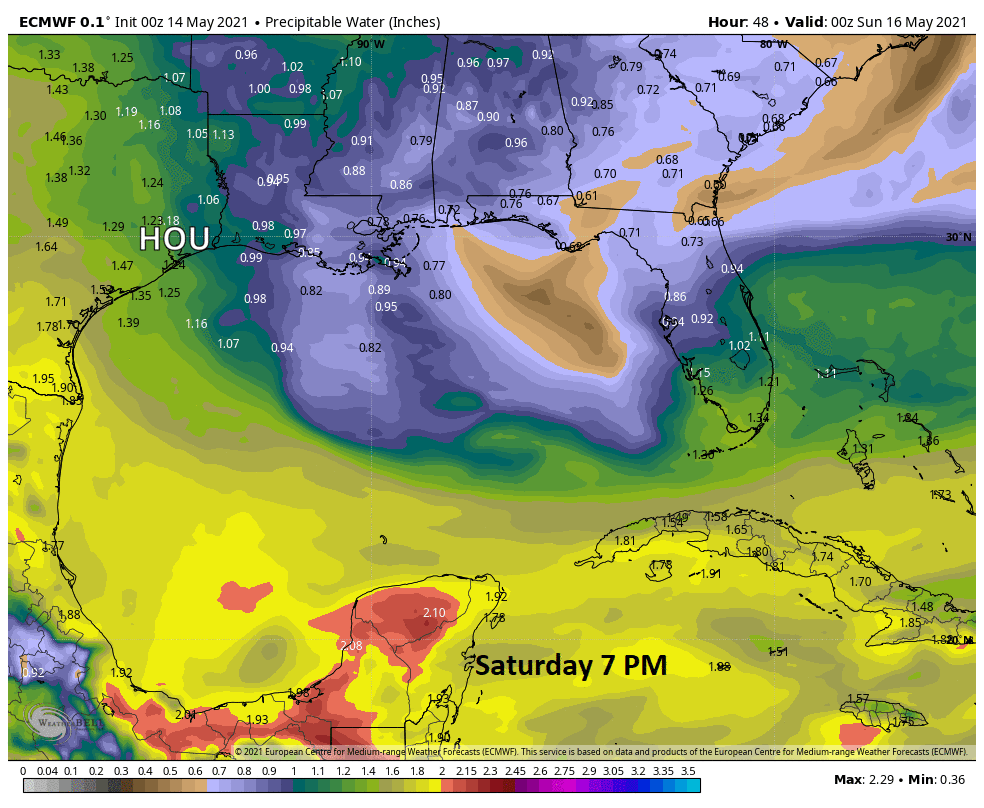 Look for highs near 80° or in the low to mid-80s depending on exactly when it rains. Lows will be in the upper-60s to low-70s.
How much rain to expect Sunday and Monday? Always a difficult question to answer, but right now we could see a half-inch to inch on average with some localized places perhaps seeing as much as 2 to 3 inches of rain or even a bit more. Where those bullseyes occur is difficult to predict more than 12-18 hours out, so I won't speculate on that this morning.
Rest of next week
The rest of next week will feature Texas under the influence of a pattern with lots of moisture around and several disturbances and a dreaded upper low passing across the state. That is a classic spring combination for periods of rain and thunderstorms. Why do I say "dreaded?" Because upper lows are notorious fickle and difficult to forecast. As the saying in meteorology goes "upper low, forecaster's woe."
Here's what we know: The chance of rain will be high each day next week. But, it will not rain all day or perhaps even every day everywhere. More likely we'll have a day with widespread, heavy thunderstorms separated by a day or two of more isolated or scattered activity. As of today, it appears that Sunday into Monday and later Tuesday into Wednesday have the highest odds of more widespread storms. But I've dealt with enough upper lows to tell you that this could easily move around, hence why we're just blanketing each day next week with a rain chance. We'd expect rain chances to tail off a bit by next weekend.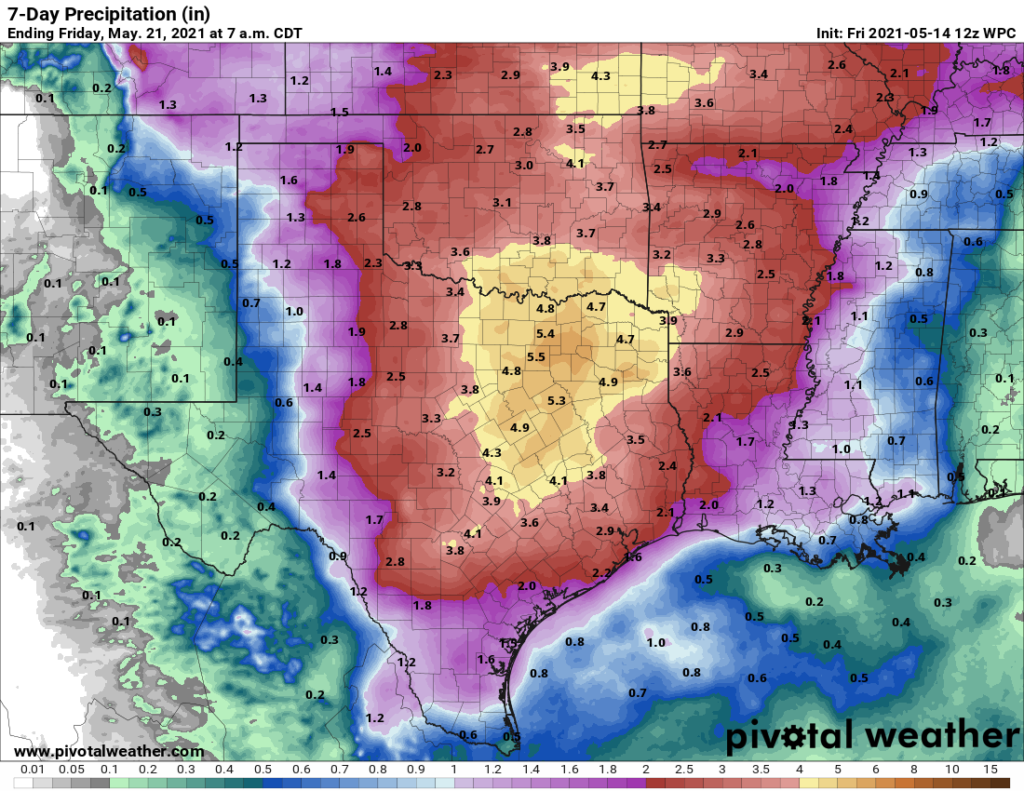 So how much rain should we expect next week? Well, it's probably going to vary, widely. Some areas may see an inch or two, while other areas could easily see 4 to 6 inches of rain or even some more by Friday. On average, we would say about 1 to 3 inches should be expected. We don't think those bigger ticket rainfall amounts will be especially widespread, and we don't expect major flooding issues right now. But this is the type of forecast we'll want to watch closely. If necessary, Eric and I will break out the flood scale, but it's much too soon for that.
Meanwhile, we'll do our best to try and isolate those heavier periods of rainfall that make travel difficult for you, and if we gain some confidence in those or rain amounts, we'll also update this weekend.