After back to back days of misery for many in the Houston area once again, we *may* finally have a quieter day (or more) to exhale here. Today looks drier and calmer. Unfortunately, we still have residual problems to discuss and more storms down the road. But for now, let's revel in the goodness of dry weather. Read on for the latest.
MORE HISTORIC FLOODING
First, let's discuss the past and its impacts. Our newest contributor, Braniff Davis, will have more on why things happened later in the weekend or early next week. But the bottom line is we still have major issues in the area.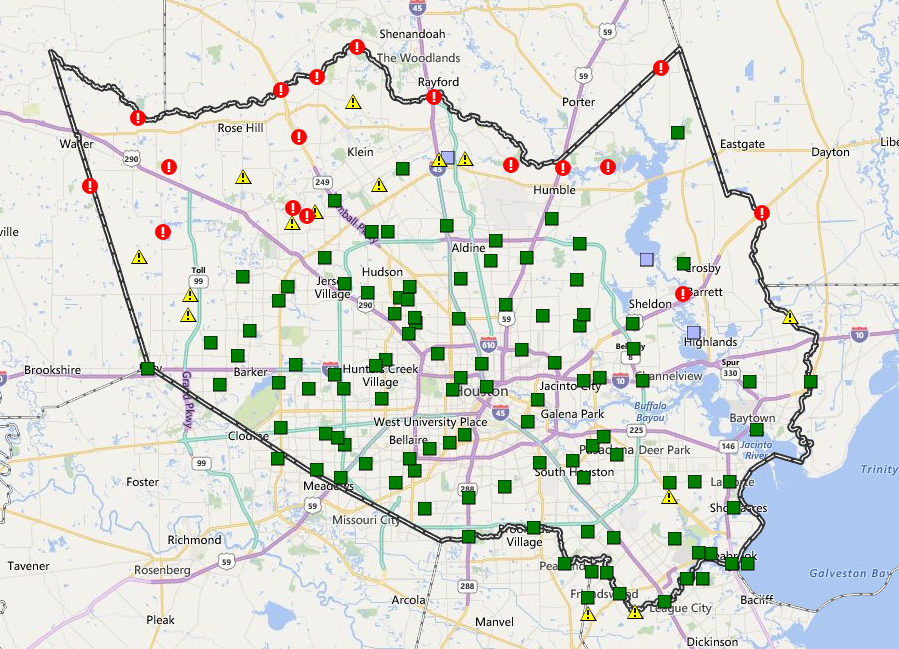 The most severe problems right now are along Spring Creek, which is experiencing flooding levels not seen before (worse than April, worse than 1994, worse than Allison in spots).
Devastating flooding ongoing along Spring Creek. #houwx #hounews pic.twitter.com/YfqMzpE7Mc

— Jeff Lindner (@JeffLindner1) May 28, 2016
As Jeff said, this is a truly devastating event, made worse by the fact that so many of these folks saw such severe flooding one month and change ago. Spring Creek at Spring will crest later today or early tomorrow. Flooding also continues along Cypress and Little Cypress Creeks, some of it bordering on major, but under levels we saw in April. Those areas are close to cresting this morning if they haven't already.
Lake Conroe is closed (at least temporarily) this weekend due to dangerous conditions. The West Fork of the San Jacinto River at Humble is expected to crest just under 59′ later Sunday or early Monday, which means that major flooding there will still worsen a bit.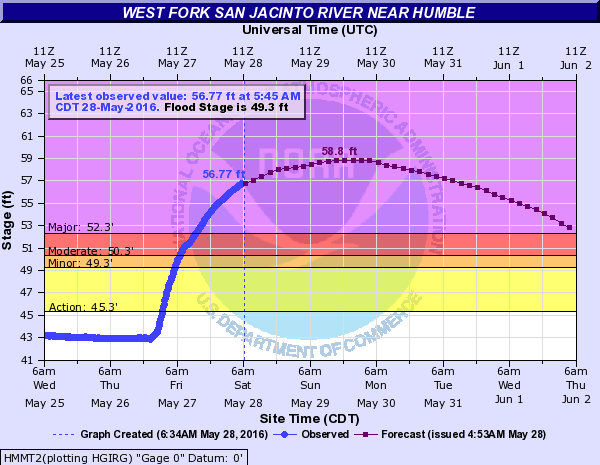 The other big issue is going to be the Brazos River west of Houston. With all the runoff from the College Station-Brenham area flowing into the river, it will rise steadily all weekend. At Richmond, the Brazos should crest over 3 feet higher than the previous record (yes, this means higher than any of the past events since last Memorial Day). The crest is expected later Monday or early Tuesday.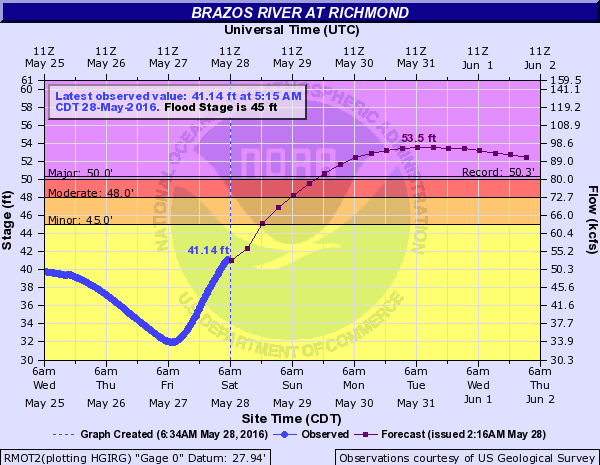 Bottom line: While this is a holiday weekend, you will need to use caution and possibly need some extra patience, especially if your travels take you north and west of Houston. Never drive around barricades, even if things look safe, as this sort of flooding can cause a lot of structural damage to roadways. They're there for a reason.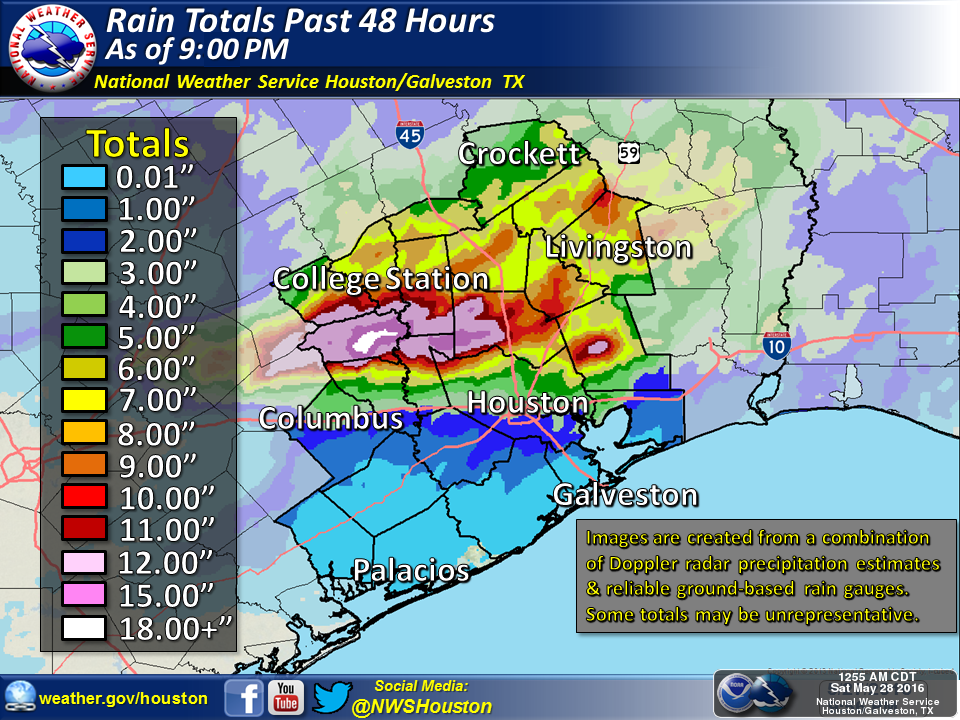 TODAY
Any fog around this morning will dissipate. And we'll turn mostly sunny if it isn't already. Is this ever a welcome sight. Though we expect a much quieter day today, with all the moisture we've received and perhaps a lingering boundary or two (and a late day Gulf breeze perhaps), a few of you may see a downpour or strong thunderstorm this afternoon. They will just be much more hit and miss than what we've seen lately. There will be a better chance this afternoon or evening out in Hill Country. High temperatures today reach the upper 80s (cooler at the coast).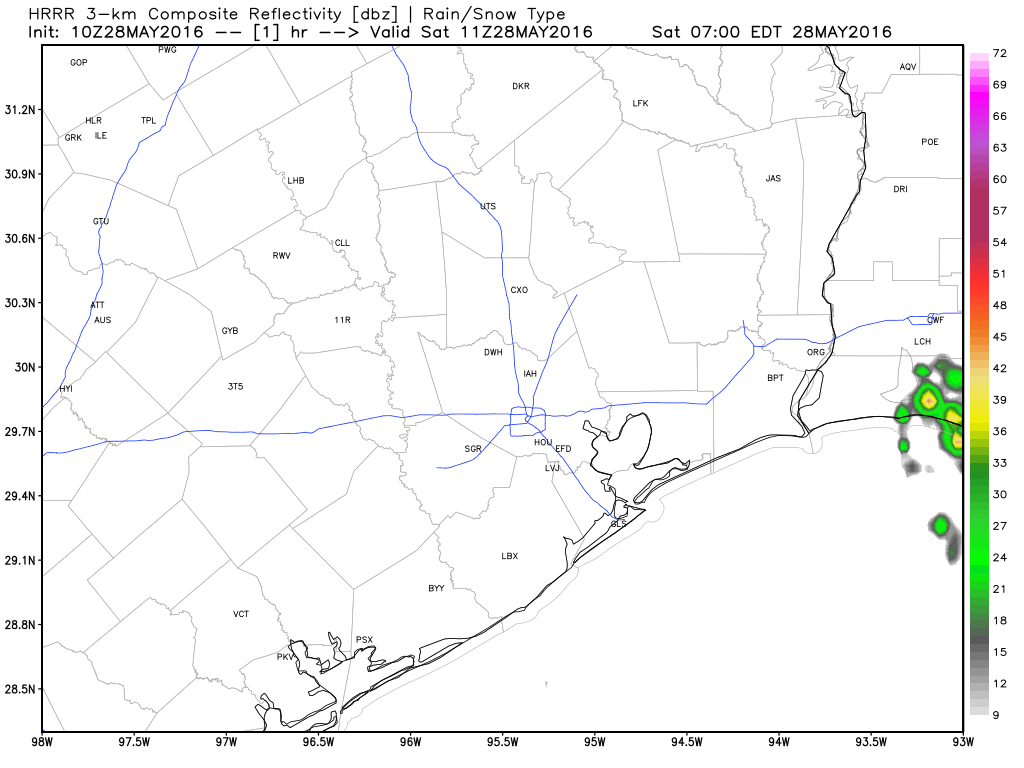 Sidebar: We still have yet to officially hit 90 degrees at IAH. Last year, May 28th (today) was our first 90 degree day. If we can avoid too many clouds and storms this weekend, we have a shot at pushing it. If not, it may wait til next weekend.
SUNDAY/MONDAY AND NEXT WEEK
Sunday and Monday may behave similarly with some pop up thunderstorms here and there (at this point, nothing widespread is expected). High temps will be in the upper 80s to near 90 degrees both days. We'll keep an eye on things for you this weekend.
Unfortunately, the weather pattern is likely to turn active again in East Texas next week, with several rounds of showers and thunderstorms likely Tuesday through Friday. The timing and specifics are impossible to say much about yet, but it's something we're watching.
If there is good news it's this: Light at the end of the tunnel. I'm seeing signs that a more stable, summer pattern may finally emerge by next weekend or so over much of Texas. Yes, this means summer heat, but it should also mean drier weather. And while in Texas you need to be careful what you wish for, a dry period is desperately needed right now.
Posted at 7:20 AM by Matt Lanza