Houston is about to move into a drier pattern for awhile. As Matt has been joking-but-not-really on Twitter, it seems like every day of this month has had a "rain o'clock" when storms moved into some portion of the area. But today is probably the last day for rain o'clock in Houston, after which the rains will end at least through the weekend, if not longer. You might say time is running out for rain o'clock.
Before that happens I want to share with you a graphic showing rainfall accumulations on Wednesday in our region.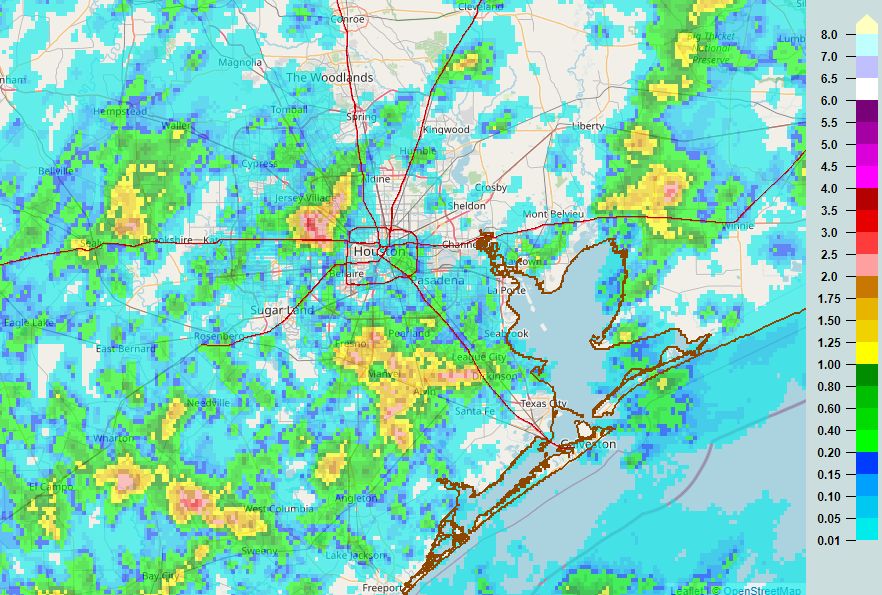 What I want you to note is that while some significant chunks of Houston saw no rain at all, a few isolated areas saw 3+ inches (darker reds), and a larger part saw 1 to 2 inches. Also, you can see that there is no real pattern to these rains—there's an area near Pearland, one far to the southwest of Houston, one northwest near Jersey Village, and an area in Chambers County. In hindsight, I guess you could say rains were more likely to the west of Interstate 45.
The bottom line is that rain o'clock has been good for our lawns this month, and it's helped to keep temperatures down. But it's been a challenge for forecasters!
Thursday
While we're anticipating rain o'clock later today, probably between the hours of Noon and 6 pm CT, I don't think showers will be quite as widespread as on Wednesday. Yes, these storms will be capable of producing downpours, but they should have a little more northward motion, so they won't just sit over an area like on Tuesday. So rains are possible, certainly, but they should be more spotty and produce lower accumulations today. With partly sunny skies, we can expect high temperatures to reach the low 90s for most areas. Winds will be light, out of the south at about 5 mph.
Friday
As high pressure begins to assert itself, rain chances should drop back significantly on Friday, with perhaps 10 percent of the area seeing a brief, passing shower. Otherwise, we will see mostly sunny skies with highs in the mid-90s. Winds will again be light, out of the south.
Saturday and Sunday
The weekend is going to be hot and sunny, with highs likely in the upper 90s for most of the region except for the immediate coast. Nighttime temperatures will be in the mid- to upper-70s for most. If you've forgotten what a proper summer feels like in Houston, you're about to be reminded. Please do take care in the heat.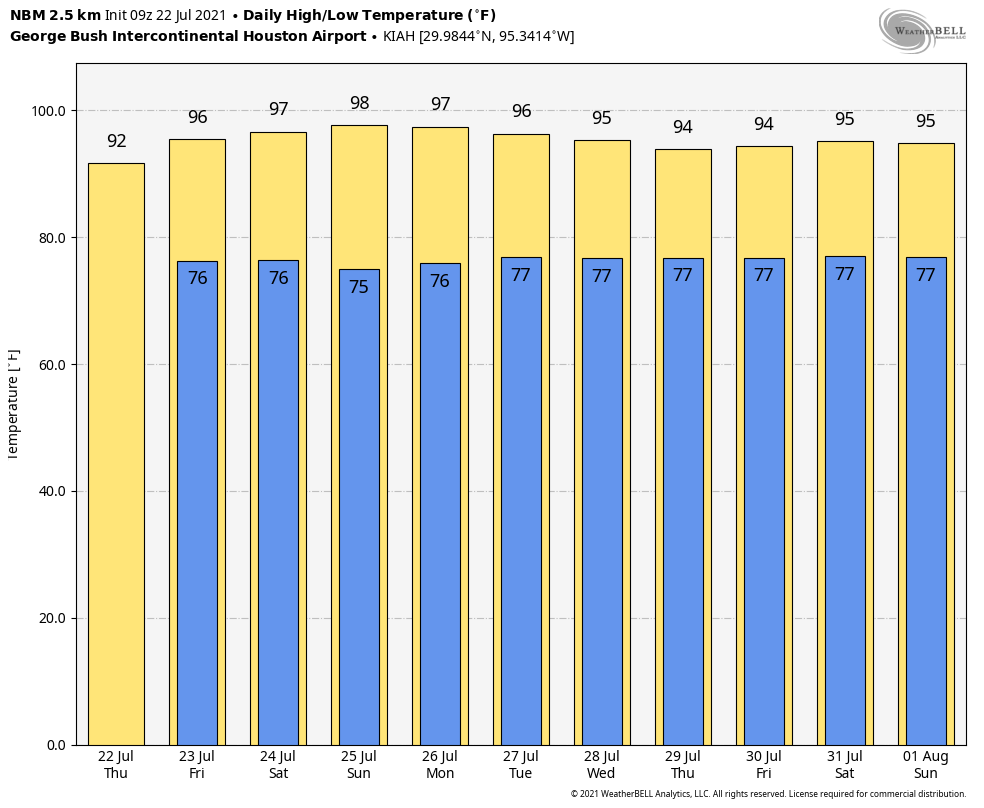 Next week
After another sunny day on Monday, the forecast becomes more muddled. The influence of the ridge should begin to weaken, and our overall atmosphere may moisten some. This may allow for the return of some rain chances, but right now it's difficult to say whether that will be enough to push us back toward a wetter pattern. My bet would be on continued hot and sunny weather, but I'm not overly confident in that. Perhaps Matt will have some answers in his post tomorrow.