We are definitely beginning to transition from a wetter pattern to a drier one across our region, but before sunny skies dominate our weather we'll see two more days with at least scattered chances of rain showers. Then, the heat really settles in this weekend, with some of our warmest weather this summer.
Also, some birds near Jersey Village were apparently having some fun this morning around sunrise, as you can see on the video below.
Wednesday
Conditions are warm this morning, with lows across much of the city barely dropping below 80 degrees. Mostly sunny skies will allow highs to rise into the low- to mid-90s this afternoon. This daytime heating combined with the sea breeze will allow for showers and thunderstorms to develop from about 2 pm to 8 pm CT, with briefly heavy rains possible. About one-third of the area is likely to see rains today, with the most likely locations along and near Interstate 10, I'd guess. Winds will be very light, and showers should abate as the sun sets.
Thursday
Thursday should be a lot like Wednesday.
Friday
By Friday we should begin to fall under the influence of high pressure. While some isolated showers will still be possible, chances are probably less than 20 percent that you'll see rain. Highs will be solidly in the mid=90s.
Saturday and Sunday
For those of you who have bemoaned the lack of hot and sunny weather in Houston this summer, you're in luck. This weekend should bring the burn as high pressure settles over the area. We should see ample sunshine and high temperatures in the upper-90s. You'll want to take care outside during the hottest parts of the day.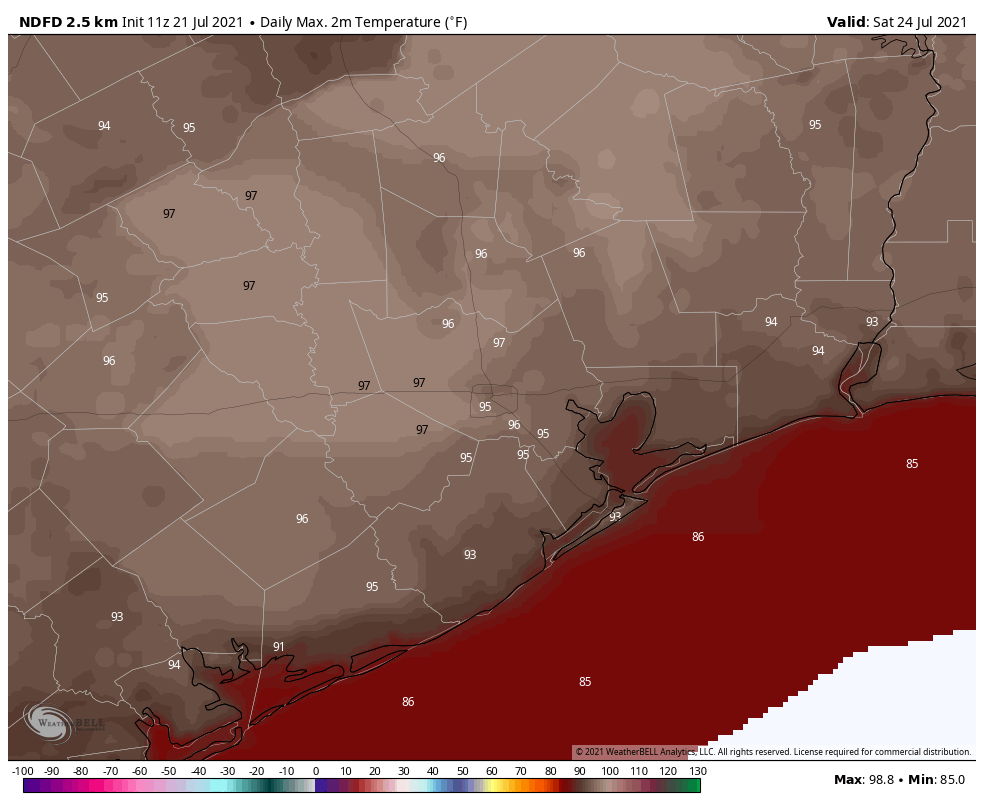 Next week
The aforementioned high pressure ridge may begin to back off a bit as we head into next week, and this would allow for highs to drop back into the mid-90s. We may also start to see the return of some slight rain chances by Tuesday or Wednesday as the sea breeze jump starts a bit of activity, but for now the timing of this remains uncertain.