My family and I were driving through Houston on Tuesday evening, after a long day in the car returning from a family reunion, when the heavens opened up. I certainly did not expect to hit that kind of storm, with winds in excess of 40 mph at some locations, and relatively brief heavy rainfall. But it goes to show you what summertime Houston can do in absence of dominant high pressure and with a sea breeze during the afternoon and evening hours. Today could see similar activity, although I don't think it will be as widespread.
The other two big stories are the heat and the potential for a tropical depression in the Gulf of Mexico. I'll discuss the latter below. But in regard to the heat, Matt shared this sobering statistic with me. Before the storms fired up on Tuesday, Bush Intercontinental Airport hit 98 degrees for the fourth straight day. Since 1888 that has happened only three other times this early in summer: in 1902, 1998, and 2011. All three of those years ended up in the top-15 warmest summers, and 2011 was the warmest summer on record.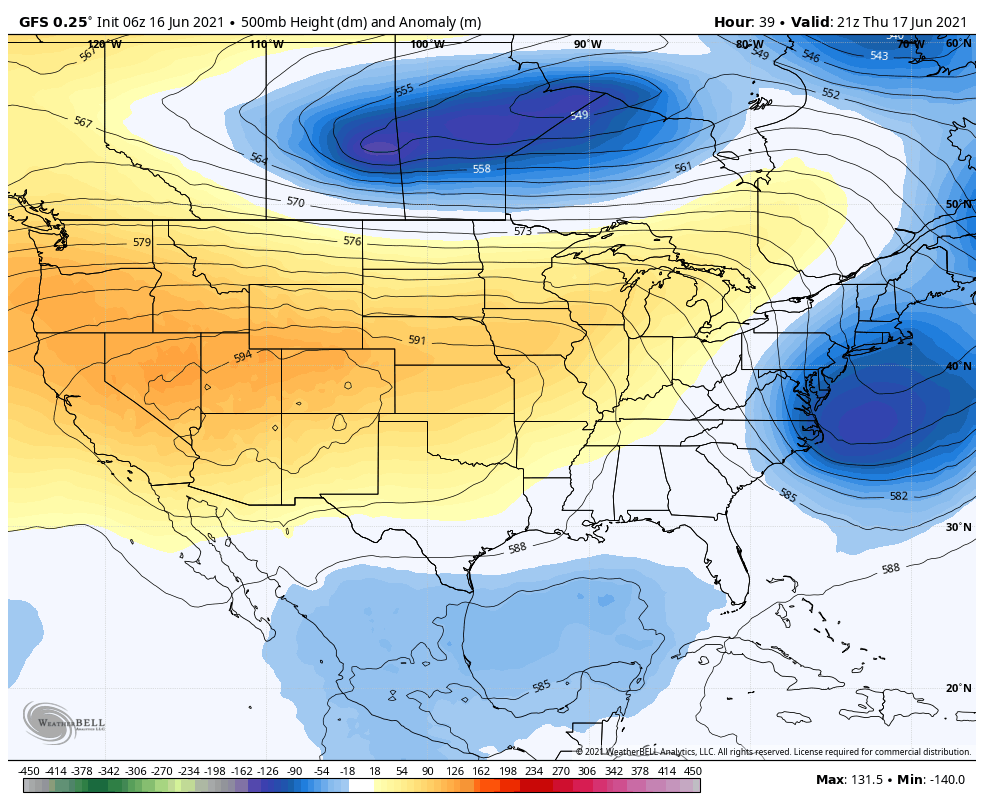 Wednesday
Houston remains on the periphery of an intense ridge of high pressure situated over the Western United States. Effectively, this means that we'll see hot weather, as well as a chance of showers and thunderstorms this afternoon and evening driven by the sea breeze. Coverage should be less than on Tuesday afternoon. Otherwise, look for highs again in the upper 90s, with sunny skies. Lows tonight will remain around 80 degrees, or just below.
Thursday
Another day like Wednesday, albeit with temperatures perhaps a degree or two cooler, and rain chances a little bit lower as well. For most of us, this will simply be a hot and sunny day.
Friday, Saturday, and Sunday
Beginning Friday our weather will be largely dependent on the development of the tropical system in the southern Gulf of Mexico, and its eventual track northward. I'll discuss the system in the section below, but for now our forecast—which is very much subject to change—is as follows.
Friday will likely see mostly sunny conditions, with highs in the mid-90s, and increasing rain chances along the coast. These showers may spread inland overnight. However, as Matt has discussed, this likely will be a lopsided tropical system, likely with the vast majority of its effects on its eastern side. So if the "center" makes landfall even slightly east of Houston, we'll fall on the dry side of the storm. I think this will happen. So while there is definitely a chance of heavy rainfall in the Houston region on Saturday, it now seems more probable that we'll see little to no precipitation.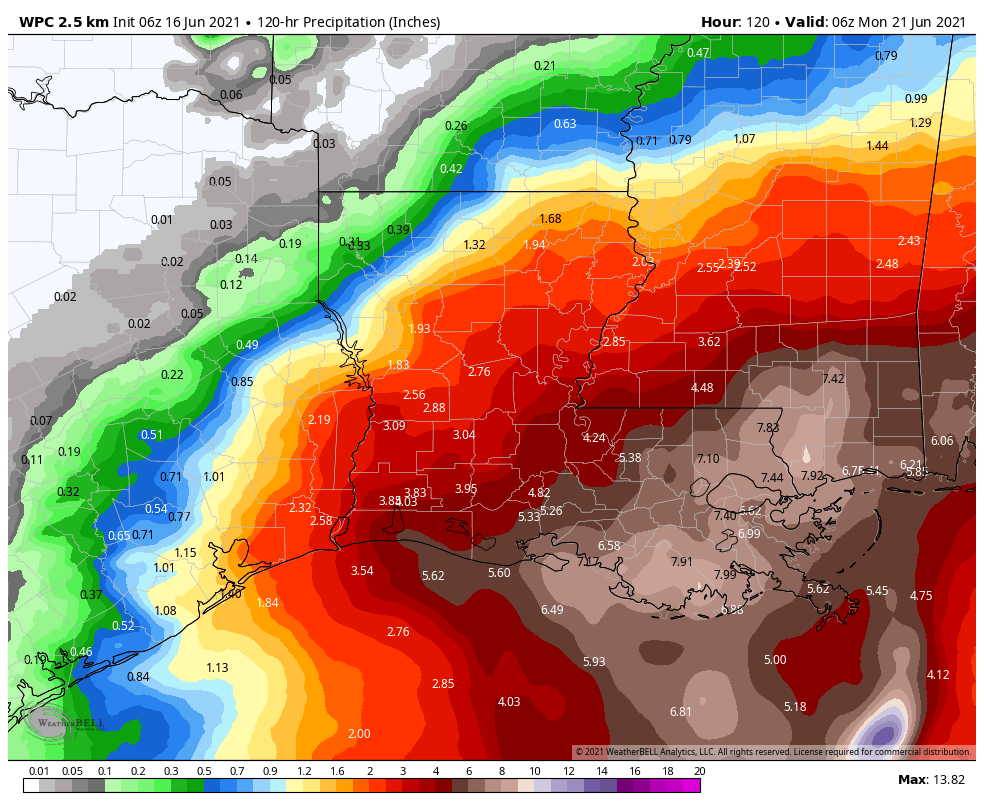 Regardless of what happens on Saturday, by Sunday the system should be moving away from the region, leaving us with mostly sunny skies, a lingering chance of showers and thunderstorms, and highs in the mid-90s.
Gulf of Mexico disturbance
The disorganized system of showers and thunderstorms is still expected to coalesce into a tropical depression or storm this week, and the National Hurricane Center gives it 90 percent chance of doing so. As this system presently lacks a center, there is the usual uncertainty in track and intensity forecasts. With that said, the overall pattern now favors a more northward track, and this likely would bring the low pressure system toward southern Louisiana, rather than Texas. This is why I'm leaning against heavy rainfall in Houston this weekend, but not ready to make a definitive call. I definitely have more concerns about Louisiana, however, especially the New Orleans area which may see 10 to 15 inches of rainfall.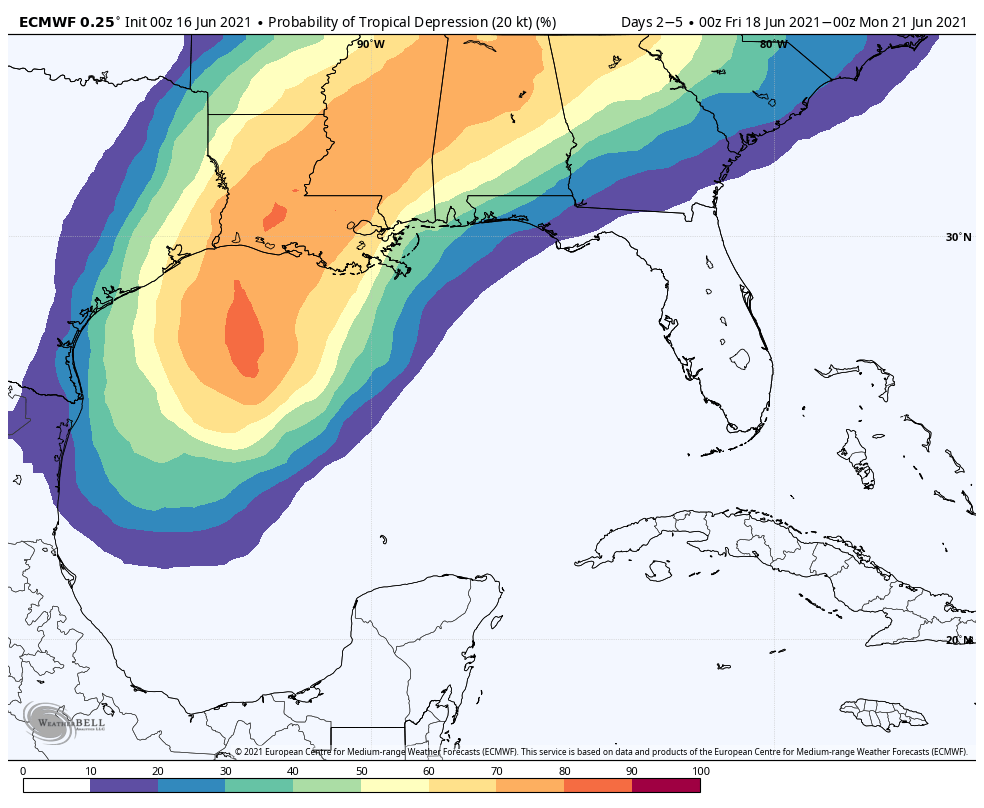 In terms of intensity, the combination of wind shear and ingestion of dry air will likely limit this system's potential to that of a low-end tropical storm. But again, it's difficult to say anything definitive at this time.