Posted by Eric Berger at 7:13 AM
The big story this morning, and for the next couple of mornings, is fog with warm, muggy air lingering over colder waters. A dense fog advisory is in effect until 10am for Monday morning. We're also ready to declare that Houston will see more no more freezes this season, and that despite some cooler weather during the second half of this week, winter is effectively over for our region.
Monday
After the fog burns off, today will be a mostly cloudy, warm day with temperatures likely rising to around 80 degrees. Some very light rain will be possible across the region, but chances are only about 10 to 20 percent. Rain chances will be a bit better tonight, but again anything that falls should be light and misty.
Rodeo weather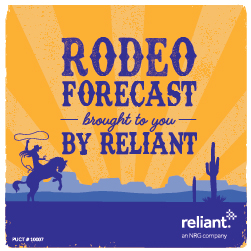 Temperatures going into the show this evening will be in the upper 70s, and while rain chances aren't zero, they are quite low. Expect light southeasterly winds and high humidity. Post-show temperatures will be down around 70, with misty rain possible, but unlikely. Don't expect to see many, if any stars—at least outside NRG Stadium.
Tuesday
Fog will very likely be a problem again this morning. Then, we'll be in for another warm, mostly gray day, with highs again near 80. Rain chances will be slightly better, again with misty rain mostly likely what falls from the sky. Southerly winds will pick up later in the day, gusting up to 20mph by the evening.

Read More…