Good morning. Matt has posted an excellent recap of Tuesday's wild weather, which included what we believe to be the Houston area's most destructive tornado since November 1992. Our thoughts are with those who suffered damage from this catastrophic event. Fortunately, calmer weather lies ahead. The story over the next two or three days will be the cold, with lows dropping into the 30s. After that we'll return to a wetter and warmer pattern this weekend.
Wednesday
High pressure has settled over the area, and that means we will see clearing skies after a mostly cloudy start. Winds will be gusty, out of the north at 10 mph, with gusts up to 20 mph. Temperatures are starting out in the low 40s this morning, and we're not going to get much above the mid-50s. These readings, combined with the winds, necessitate a sweater or a jacket today. Lows tonight will drop into the upper 30s in Houston, with cooler conditions inland. Winds will slacken some.
Thursday
Expect a sunny, chilly day with highs in the mid- to upper-50s. Winds will be light, at 5 to 10 mph. This will lead to ideal cooling conditions for Thursday night, with lows dropping into the upper 30s in Houston, and colder further inland. Some areas in places like Montgomery County could possibly see a light freeze.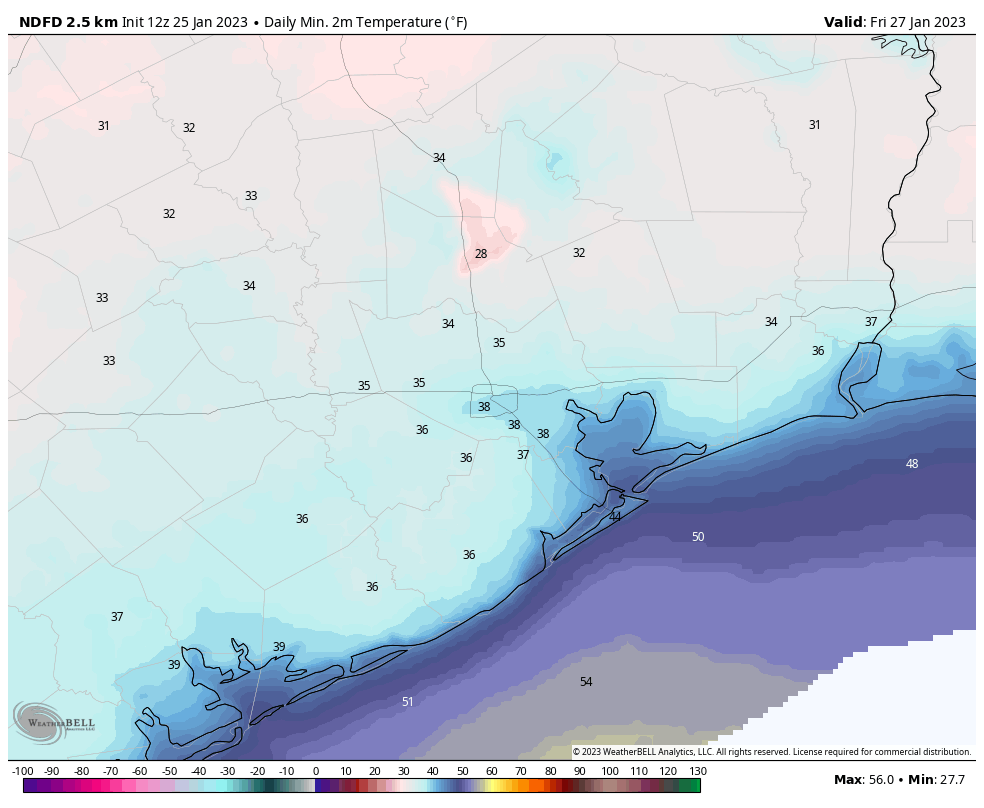 Friday
Another mostly sunny day, with highs around 60 degrees. However, as winds shift to come from the southeast, our dry and cold air mass will start to modify. Lows on Friday night will probably only drop into the low 50s.
Saturday
So long, sunshine. After the departure of high pressure and resumption of the onshore flow, we'll see a cloudy day. Some light, scattered showers will be possible during the daytime, becoming more numerous during the evening and overnight hours as a disturbance moves overhead. With this southerly flow, temperatures will reach about 70 degrees during the daytime, with lows only dropping slightly, into the low 60s on Saturday night.
Sunday
Alas, rain chances will remain elevated at least for Sunday morning before the atmospheric disturbance finally departs to the east. Highs will likely reach the low 70s. In terms of accumulation, I expect most of the area to see roughly 1 inch of rain, give or take, during the weekend. Areas to the east, including Beaumont, could see 2 or more inches. A weak front arrives on Sunday to push overnight lows into the 50s, probably.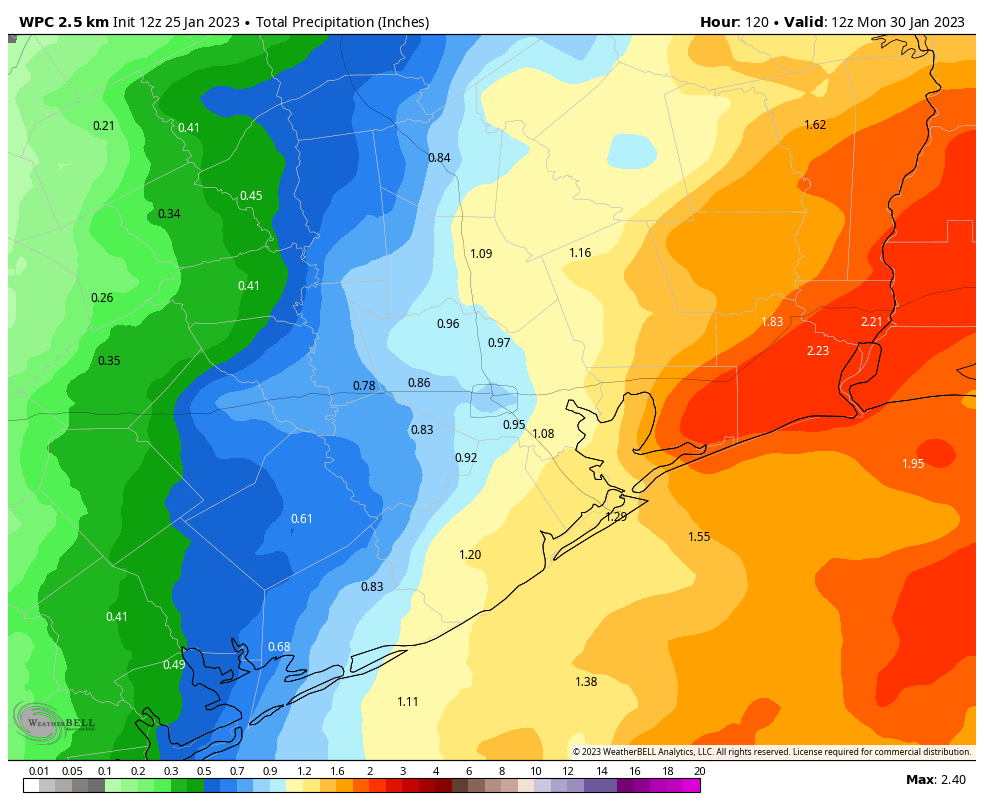 Next week
Monday may only see highs in the 60s, but Tuesday and Wednesday will probably be in the 70s, with muggy and warmer conditions. After that there is general agreement in the forecast models on a stronger cold front pushing into Houston. As this is at least a week out, the details are understandably lacking. I think lows in the 30s are probably likely, and I would not rule out a freeze. If you're thinking about planting your garden I would hold off a little bit longer, just in case.