Happy Friday! We continue to see humidity running a little below average for this time of year in Houston, which may be <laughs mockingly> hard to believe, but it's true! This weekend, we'll see shower chances slowly re-enter the forecast, especially Sunday, as we heat up temps to 90 or a bit hotter.
In the tropics, yesterday started hurricane season and right on cue Tropical Depression 2 formed. It is not a concern for Texas and will just help to offer enhanced rainfall in Florida and Cuba. Read all about it on our new companion site, The Eyewall. Thanks to all who commented, liked, shared, and subscribed to our posts there. Keep spreading the word. We'll be using The Eyewall to cover the entirety of the Atlantic basin just like we cover Houston here, a duty to which we remain fully committed!
Today
Look for sun, minimal rain chances, and temperatures around 90 degrees, give or take. We continue to battle air quality issues, and today is (again) an ozone action day, so please use caution if you're in a sensitive group. We may see some improvement over the weekend. I don't know that this is abnormal, but it sure has felt excessive since early May, something we know you've noticed.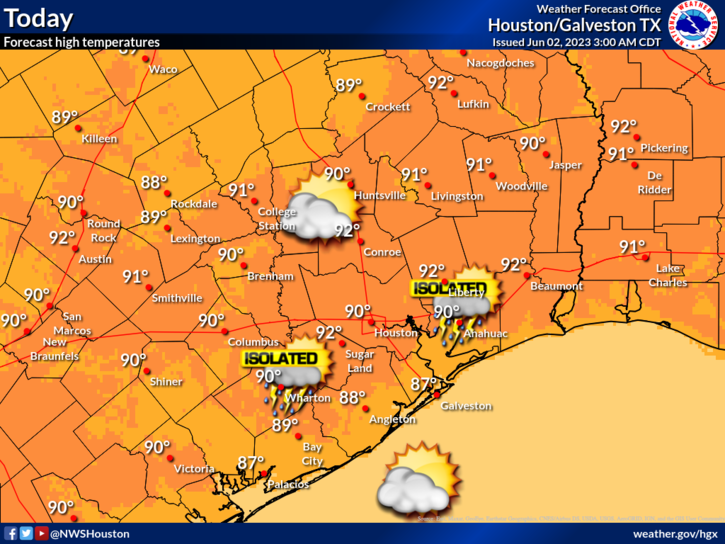 Rain chances are not zero, but they are rather low today. Still, you can never entirely rule out an isolated downpour in June.
Saturday
For the most part, Saturday should be a repeat of today. However, rain chances may be more like 10 to 15 percent versus the 10 percent or less that they are today. This may be especially true north of Houston. Expect morning lows in the upper-60s to low-70s, with a daytime high of 90 or better in most spots.
Sunday
Rain chances bump up for Sunday late morning or afternoon. Look for sun, some clouds, and temperatures near 90, after a morning low near 70 degrees or a touch warmer. Isolated to scattered showers and storms are likely to fire through the day, with some areas seeing an inch or two of rain and others seeing nothing. Coverage should be somewhere at least in the 30 to 40 percent range.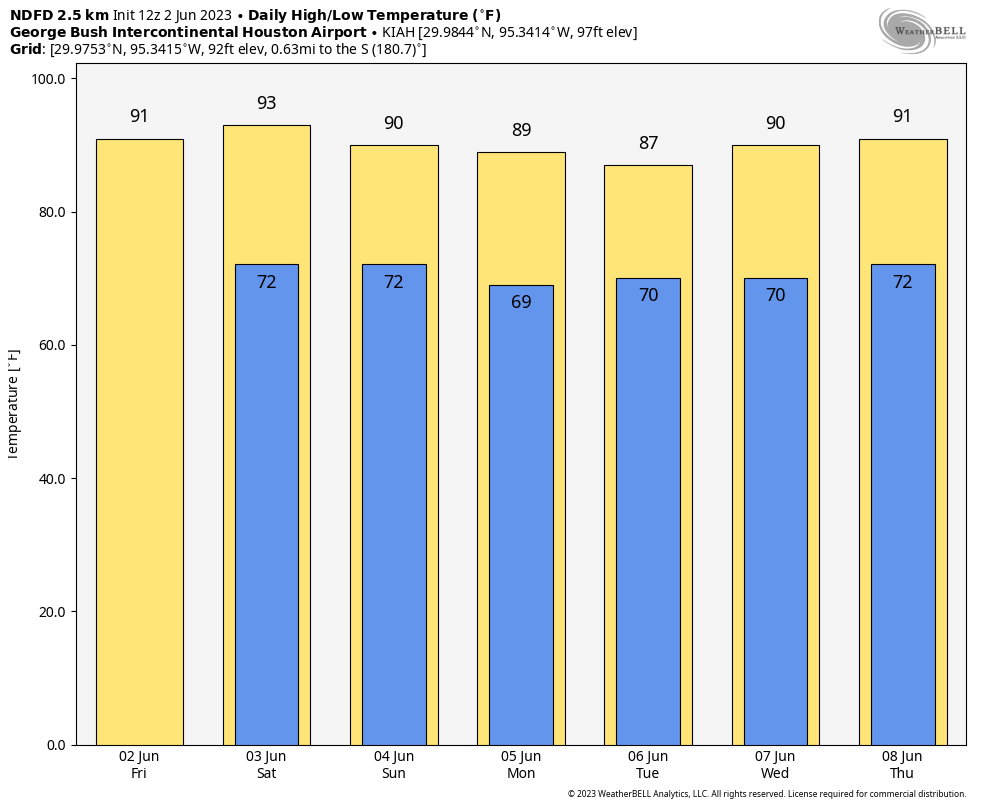 Next week
Look for additional isolated to scattered showers and storms on Monday and Tuesday. Things should gradually ease back to slight, hit or miss rain chances by later in the week. So your best odds of rain right now are Sunday through Tuesday. But even then, some of us may not see much, while others may get a few rounds of showers or storms. It will be an irregular pattern of rain. Look for temps to lull a bit early in the week due to clouds and showers, before warming back up later in the week. Rain chances should back off some after Tuesday or Wednesday, but we'll see if that trend holds.