Welcome to the weekend, everyone. We'll be updating the site both on Saturday and Sunday out of an abundance of caution, rather than because we're particularly concerned about the potential for flooding this weekend. The overall story remains the same: heavy rain potential increases on Sunday and Monday, with the biggest threat some localized high rainfall rates. As Houston floods go, this is not likely to be a memorable one.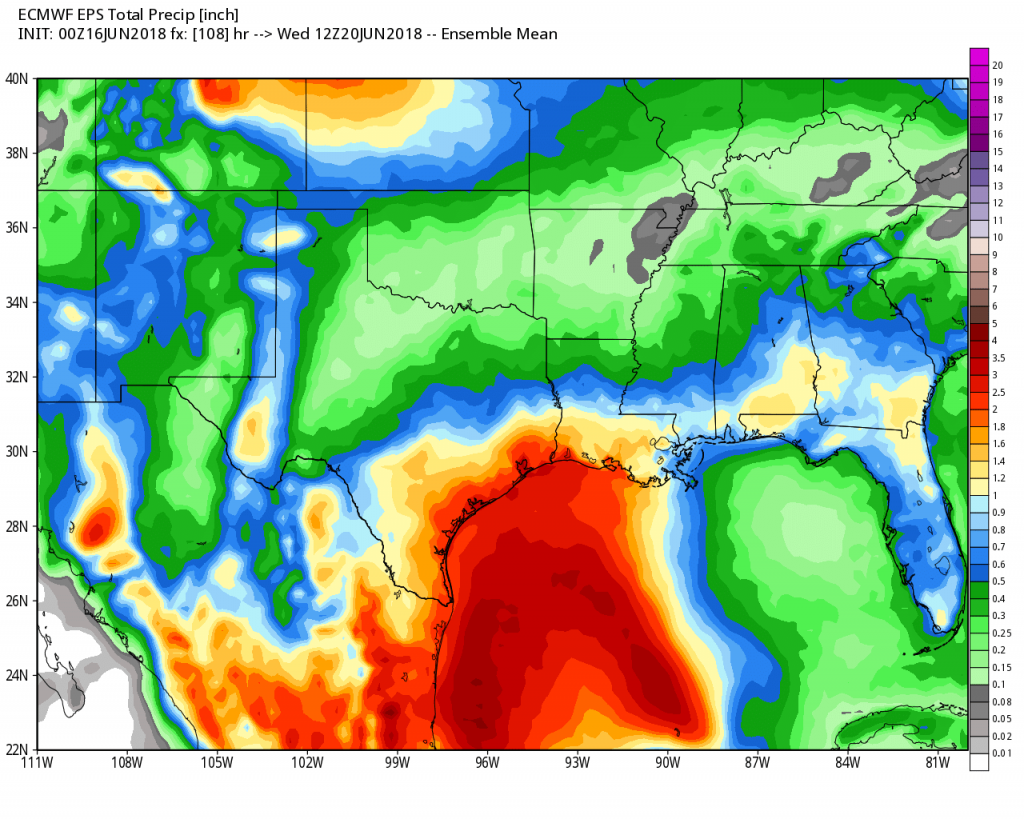 Saturday
The weekend will start out mostly sunny, with a high in the low 90s on Saturday. Rain chances should increase later today, with 30 to 50 percent chances near the coast, and lower chances inland. Because moisture levels won't spike until Sunday, we don't anticipate any concerns from heavy rains. If you have outdoor plans today, I'd press ahead.

Sunday, Monday, and Tuesday
As the disorganized tropical system over the southern Gulf of Mexico gets closer to land, we'll see increasing winds, and tides increasing a foot or so—but neither of these should pose any kind of significant threat. The bigger concern remains moisture, as the tropical system pumps it into the coast. However, over the last couple of days we've been downplaying the threat of flooding, and we continue to think that will be the case, as the greater amounts of moisture will likely be going into south Texas.
For Houston, then, I think we can expect 1 to 4 inches of rainfall over the three day period, with the potential for some localized, higher rainfall rates that can generate some street flooding. If this forecast holds true, this will overall be a beneficial event, as it will knock our searing temperatures down into the 80s for a few days, and help break an emerging drought over the region.
Matt will be back Sunday morning with an update on weather conditions, just to make sure our "low concern" forecast remains on track.