Please allow me a few words of reflection this morning before we get to the forecast. (It really hasn't changed much—2 to 4 inches of rain for much of the area, with the potential for greater amounts possible in some locations. We have some concerns, which we discuss below, but don't anticipate major, widespread problems at this time).
Amazingly we have been talking about the rainfall for "this coming weekend" for nearly a full week. This began late on the afternoon of Friday, June 8, when a couple of local forecasters looked at the GFS operational model (re-posted below) and called attention to the fact that it showed a hurricane moving into Texas on Sunday, June 17. I was taking a family vacation at the time, but received several messages from readers concerned about this, so I asked Matt to write about it. He authored an excellent update titled, "Yes, we saw the Friday PM GFS model; we aren't stressing." This kind of perspective is precisely why we started this site.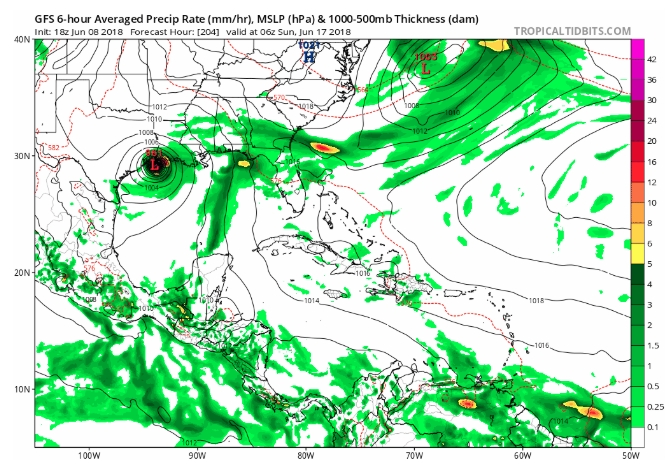 What concerns me is that we have now been writing about this event for a week, and there is a non-trivial chance that for much of Houston this will not be more than a few significant thunderstorms. This sort of rainfall does not warrant the amount of attention it has received. And if Houston does receive the 2-4 inches of rain over a few days that we anticipate, it will degrade public confidence in meteorology as the hype will not match reality—i.e. the boy who cried wolf. I understand that people are highly sensitized after Hurricane Harvey, but every storm is not Harvey (or even close). So I just wanted to reiterate what I wrote at the outset of hurricane season: "Social mediarology" plays on the fears of people, and therefore tends to get shared widely. If you'll promise to not fall for these kinds of fear-mongering posts, we'll make a pledge to you: If we believe there is a credible threat to Houston, we will report that immediately. And if we haven't written about it, the post you've seen on Facebook is probably garbage. Fortunately we have a sponsor like Reliant, which doesn't value clicks, but rather reliability. Now, on to the forecast.

Friday and Saturday
More of the same that we've seen this week. Moisture levels are high enough to squeeze out some showers mostly during the daytime hours, with highs in the low 90s under partly sunny skies. Rain chances are better Saturday than Friday. If you have outdoor plans there's a decent chance showers will pop up to disrupt your outdoor activities, but probably not for too long—except for areas immediately along the coast.
Sunday and Monday
By later Saturday night or Sunday, tropical moisture will surge into Texas, and produce some heavy rainfall. For most of Houston this probably means accumulations in the 2 to 4 inch range, with the lower end of that range for inland areas, and higher totals near the coast. We also can't rule out some bullseyes of 4 to 8 inches of rainfall, but these should be mostly to the south of Houston (we think the threat for heavier rainfall is now closer to Corpus Christi than it is Houston). Our big concern with this system is rainfall rates. Tropical moisture is unpredictable, and has the potential to really pump out rainfall, so we could see a few areas hit by 3-inch-per-hour rainfall rates. This will definitely cause localized flooding, but we can't say where this will be.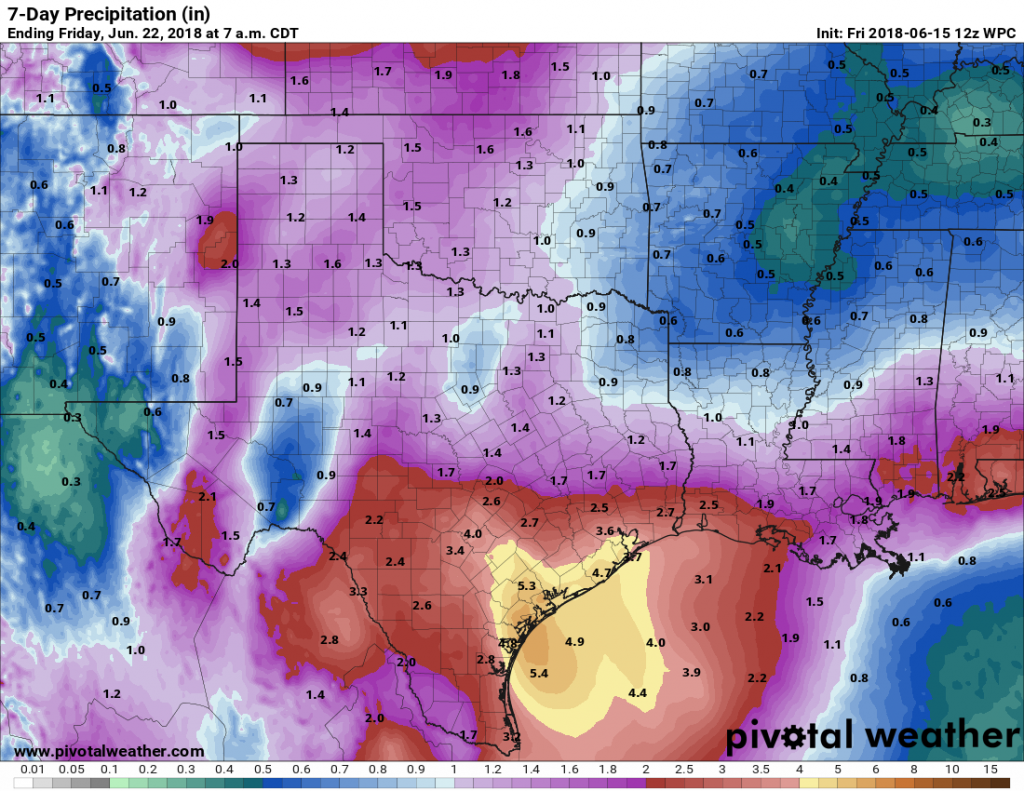 Our bottom line remains the same: You should be wary of this weekend's potential for rainfall, but don't be too worried. Check the radar before you venture out on Sunday and Monday. We'll be keeping close tabs on it, and if you want our latest updates when they happen, a good way to get them is by subscribing to e-mail updates in the box on this page.
Tuesday and beyond
Rain chances remain healthy on Tuesday, but the potential for heavy rainfall should begin to ebb. Highs probably will rebound into the low 90s by the end of the week, with drier, mostly sunny weather by the end of the week.