After a mostly benign afternoon, with the exception of some street flooding in Galveston, we are back in the thick of things now, as Imelda's Wednesday night show is underway.
We just had a reported tornado west of Mont Belvieu, and a funnel cloud sighted in Deer Park. Other storms across the area are exhibiting at least some weak rotation, and it would not be surprising to see at least one or two more tornado warnings get hoisted before all is said and done.
We just got this photo of what appears to be a tornado on the ground. Brian Lockwood told us he snapped this near N. Main and 1942 headed towards Mont Belvieu. pic.twitter.com/ipA6S0bAg5

— Brett Buffington (@BBuffingtonHTX) September 18, 2019
Tornado confirmed. This is looking north from Baytown toward Crosby. 📹: Deepa Singh

More to follow at https://t.co/r8H6nC3fG3. pic.twitter.com/B58ijKEdcr

— Travis Herzog (@TravisABC13) September 18, 2019
https://twitter.com/Monsterbuddy__/status/1174449694338113536
In terms of rainfall, a transient heavy rain band is setup along and south of I-10 from near Fulshear through Baytown as of 5:35 PM. That does not appear to be a "training" band at this time, but we're watching to see if additional development will occur on the western flank. A secondary band is setup over Wharton County moving toward hard hit Matagorda County and parts of Brazoria County as well.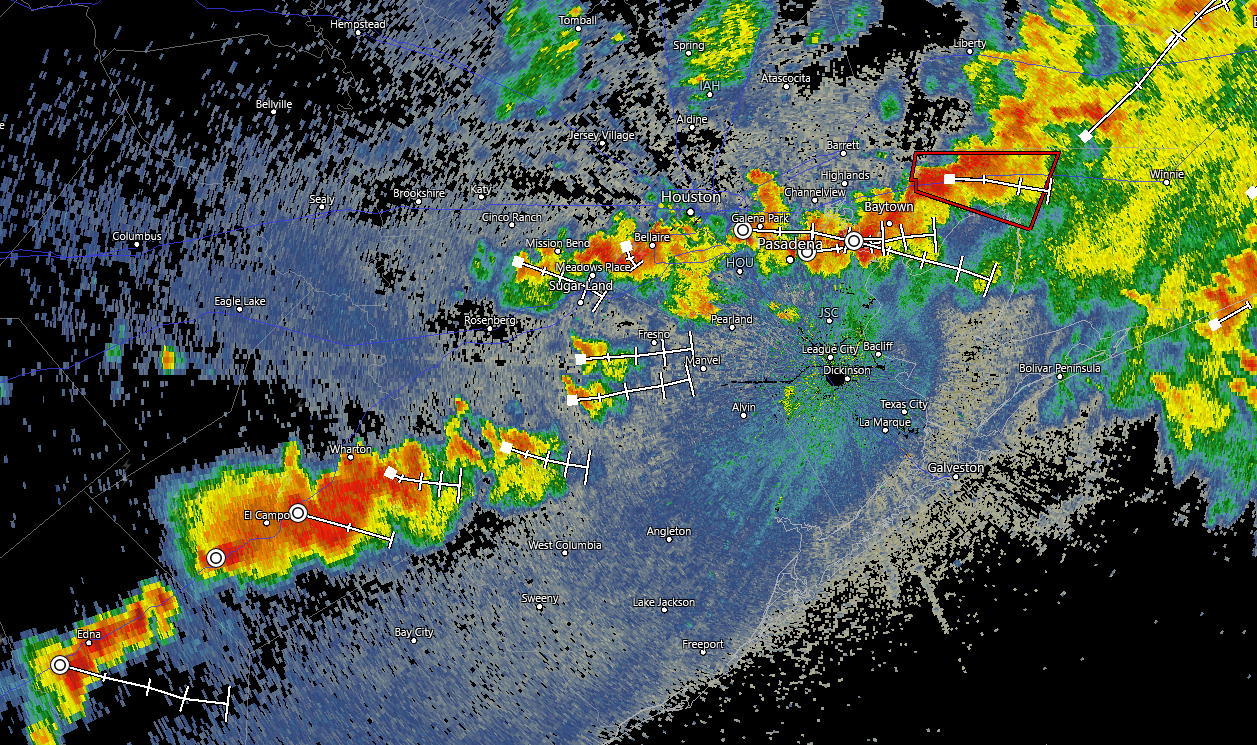 So what are the expectations for the rest of tonight? I've tried to digest as much observational and model data as I can, and here are the key bullet points I think we can emphasize.
For Downtown Houston and points north and west (including The Woodlands, Conroe, Katy, Sugar Land, Kingwood, and Humble): Periods of heavy rain through the night. It may be more dry than wet in many locations, and at this point, I don't see much reason to be too worried about things in those areas. We will watch late tonight for some heavier rain perhaps in the city of Houston or up toward Spring, Kingwood, and Humble.
South of Houston (including Pearland & northern Brazoria County) and southeast to Galveston County (Texas City, League City, Webster, and Friendswood): Periods of heavy rain early, perhaps becoming a bit more intermittent as the evening goes on. Given heavier rains here earlier today, some flash flooding is very possible.
Far south of Houston (Matagorda County, Lake Jackson, Freeport): Heavy rain this evening, with potential for another period or two of heavy rain overnight. Rain totals should be significantly lower than earlier today though.
Eastern parts of Harris County (Baytown, Mont Belvieu, Crosby): Heavy rain at times this evening, and then occasional periods of rain overnight. More concentrated, heavier rain possible toward daybreak. Flash flooding is a possibility.
Far eastern parts of the region toward Beaumont (Liberty, Hardin, Chambers Counties east to Beaumont): Frequent periods of heavy rain this evening and overnight. Flash flooding likely in spots. Significant flash flooding possible closer to Beaumont and perhaps points north.
I tried to cover as much as possible there. Folks farther northeast, in San Jacinto, Polk, and Tyler Counties will also see periods of heavy rain tonight and potentially some flash flooding.
Weather modeling has been all over the map in terms of how things finish late tonight and Thursday morning to the point of agitation, to be honest. However, some newer data is indicating that a more concentrated band of heavy rain could develop across Grimes and Montgomery Counties into northeast Harris and Liberty Counties, extending east, again, toward Beaumont. Should that occur, significant rain and potential flash flooding would occur, which could include The Woodlands, Spring, Humble, Bush Airport, and Kingwood. I want to just urge caution on that, as we still have some uncertainty surrounding how that will unfold. We will either update you later this evening or very early tomorrow morning.