I remember a time back in February or January, where we had a string of like seven or eight weekends in a row with rain chances and clouds. We have gone ahead and mostly made up for those lately. And this weekend will add to that recent legacy.
Today
Today will probably be one of the last nicest days until autumn, unless we can sneak another decent front in here in early May. Expect wall to wall sunshine. We'll warm up from the 60s this morning into the mid-80s this afternoon. Humidity will remain on the low side. Air quality may be poorer than usual today, and today has been declared an Ozone Action Day, so keep that in mind if you'll be heading out to enjoy the weather.
Saturday
It looks as though Saturday will be almost a carbon copy of Friday. It will be just a touch more humid, though probably not enough to really notice. Expect temperatures to warm from the low-to mid-60s Saturday morning into the mid-80s once more. If you're riding in the BP MS 150, expect a fairly steady 5 to 10mph tail or occasional cross wind.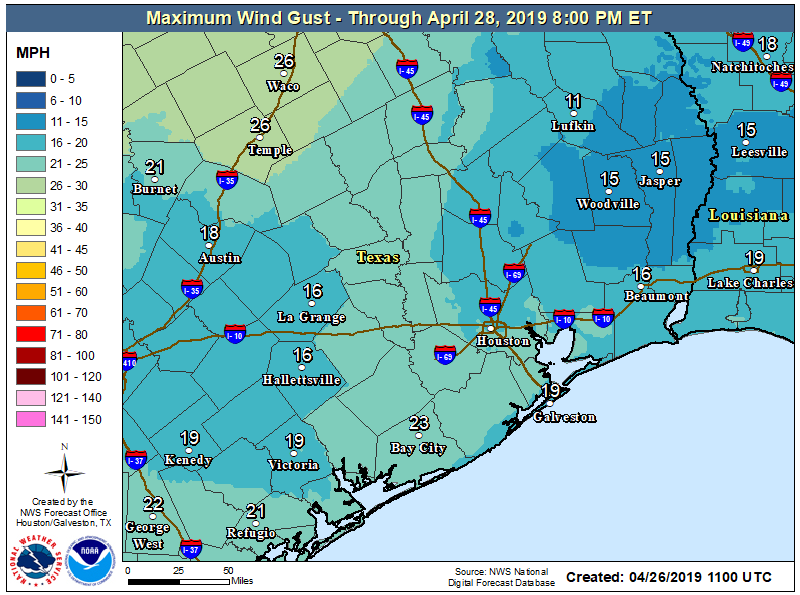 We could see a few gusts up to 15 or 20mph on some of the more exposed ridges along the route. Look for similar conditions Sunday.

Sunday
At this point, I could probably just insert the audio of Minute Maid Park when Josh Reddick comes up to bat, because Ric Flair best describes the weather into Sunday as well. Woooo! Look for sunshine to continue Sunday, with high temperatures reaching the mid-80s, after starting in the mid-60s. The humidity will be a little higher again Sunday but still not quite oppressive.
Next week
We don't see any serious issues into Tuesday, so expect at least partial sunshine to continue. I do think we will see some clouds creep back into the picture at times here though. Temperatures should continue to top off in the mid-80s, but each morning should start a little warmer. Expect upper-60s on Monday morning and around 70 degrees or warmer by Tuesday morning. It will feel a little more like early summer.
Our next meaningful rain or thunderstorm chances arrive Wednesday or Thursday as another disturbance passes through.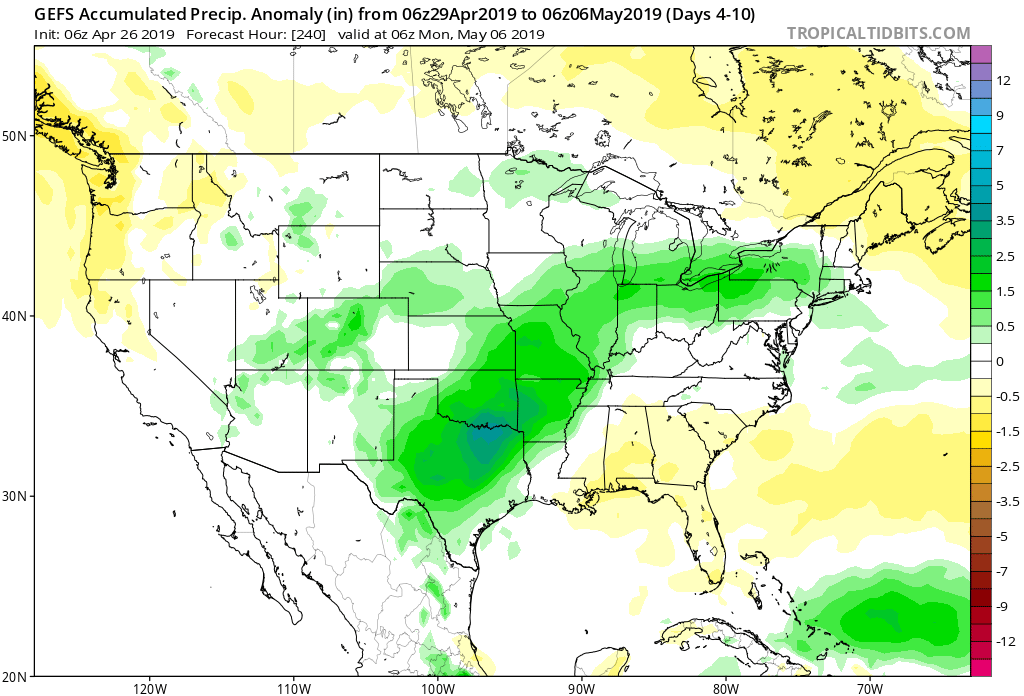 While details are tough to pin down today, the map above shows the rainfall anomaly (above normal in green, below normal in yellow or brown) for the 7-day period ending Monday, the 6th of May from the GFS ensemble. This strongly implies above normal rainfall from Hill Country into Oklahoma and Arkansas. This means that the pattern we have become used to, with disturbances pushing through and the worst of the rain and storms staying northwest of the Houston area may very well continue. We'll have more on that for you on Monday.