Good morning. The primary weather issues we're watching this week are the approach of Tropical Storm Sally toward the Louisiana and Mississippi coasts, local rain chances, and the potential for a modest cool front to arrive this weekend. The latter should bring slightly cooler temperatures and some welcome drier air.
Monday
The area of low pressure off the Texas coast that drove widespread showers and thunderstorms on Sunday has moved south, and thus the chance for rain today will be less. Some coastal areas, and locations far west of Houston, may still see scattered showers but for the most part we should be dry. High temperatures should otherwise get into the low- to mid-90s with partly sunny skies. Yes, it will be another hot, summer-like day. Winds will be out of the north at about 10 mph—but this isn't due to a front or anything, it's because we'll be on the backside of distant Sally. More on this storm below. Lows tonight will probably drop into the upper 70s.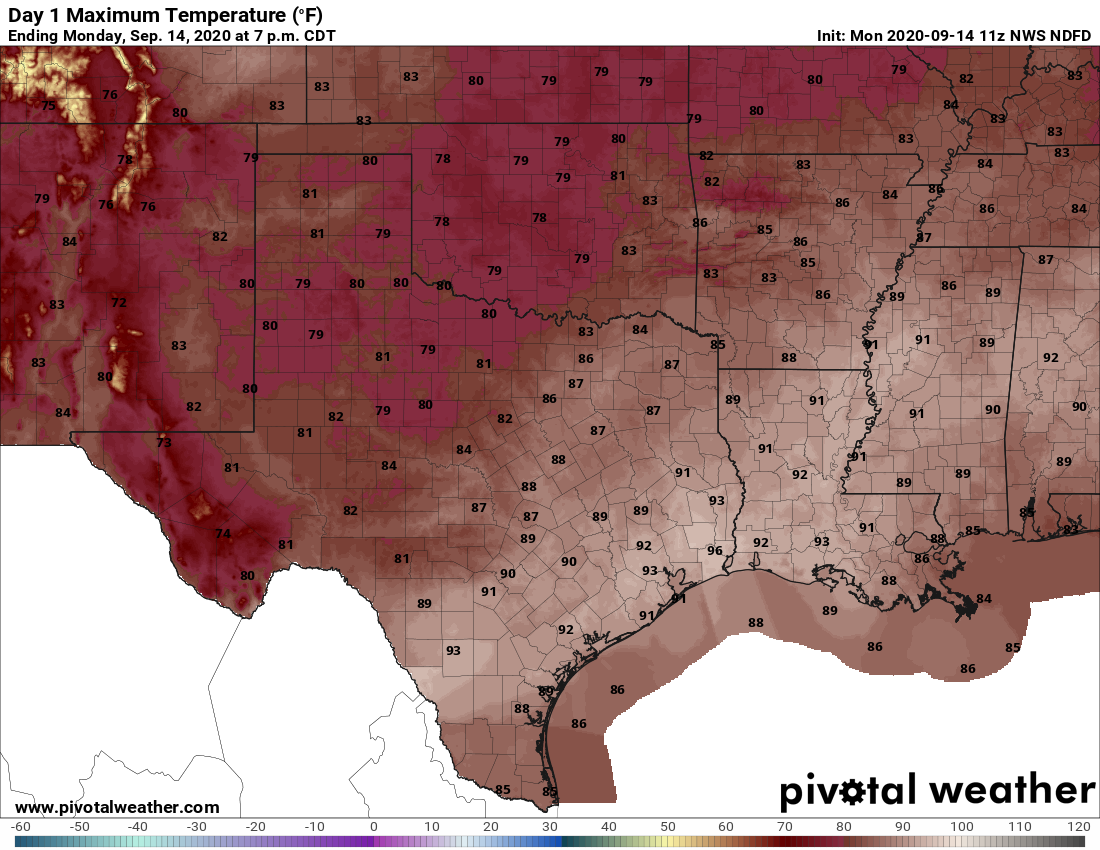 Tuesday and Wednesday
As the region remains on the backside of Sally, we should see a persistent, if light northerly wind. This should help to limit cloud cover during the middle of the week. This, in turn, will allow highs to push into the mid-90s on Tuesday and Wednesday with the potential for only some isolated showers. So yeah, hot.
Thursday and Friday
The end of the work week should see a slightly more perturbed atmosphere, and this could push rain chances into the 40 percent range, or so, for both days. We will expect that partly sunny skies will allow highs to reach 90 degrees, or the low 90s.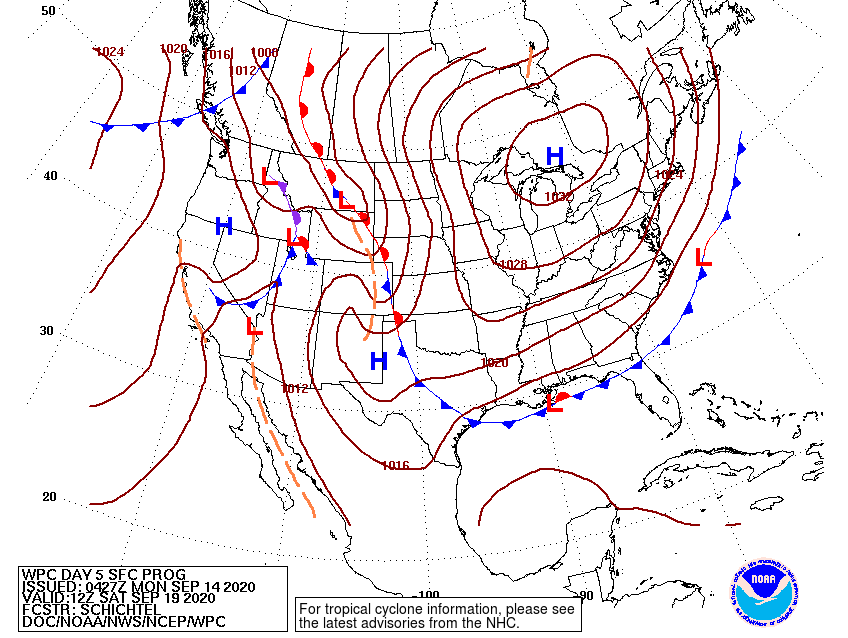 Saturday and Sunday
It will be a fairly close thing, but for now we generally think a front will reach the coast on Saturday. Our weekend forecast will depend upon the timing and strength of the front, as well as on whether it actually makes it. But overall, we'd anticipate highs somewhere in the upper 80s, with lows of around 70 degrees—areas inland may see 60s but it's hard to say for sure. The drier air should be noticeable, however, making for pleasant mornings and evenings this weekend. Skies should be partly to mostly sunny.
Tropical Storm Sally
Fortunately we have not seen too much intensification with Sally overnight—this is something we feared might happen. It is now a 65-mph tropical storm. Although Sally still has about a day to intensify, this relative lack of organization means it is mostly likely the system comes ashore as a Category 1 hurricane. The current track, just east of New Orleans, would spare the city the worst in terms of storm surge and winds. Our primary concern remains the potential for very heavy rainfall from southeastern Louisiana through the Mississippi and Alabama coastal areas. Later in the week, the slow-moving Sally could produce very heavy rains across much of the state of Alabama.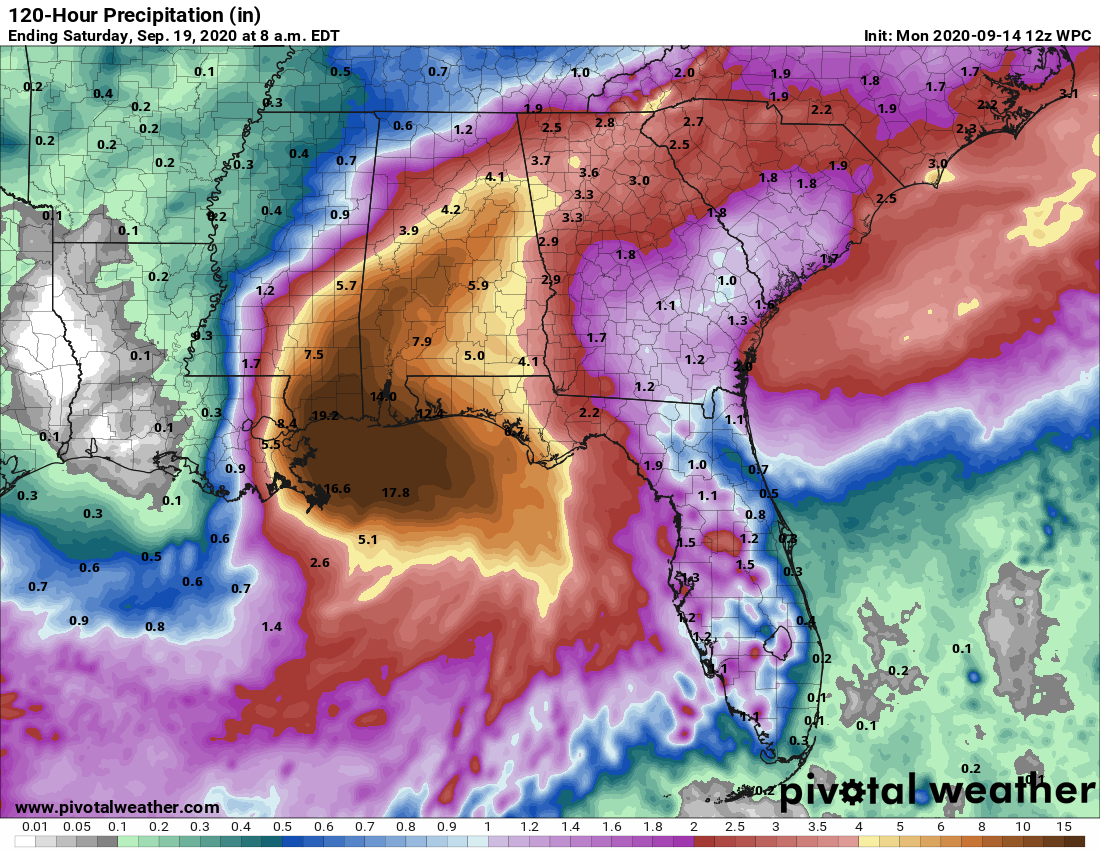 The tropics remain incredibly active at this time—Tropical Storm Teddy has formed far out to sea, where it will curve north away from the United States—and we'll continue to watch things closer to home in the Gulf of Mexico where the waters are quite warm.