Good morning. Tropical Depression 19 was upgraded to Tropical Storm Sally yesterday, and this morning it has 60 mph maximum sustained winds off the west coast of Florida. While we continue to expect no real impacts here in Texas, this will be a problem for the central Gulf Coast.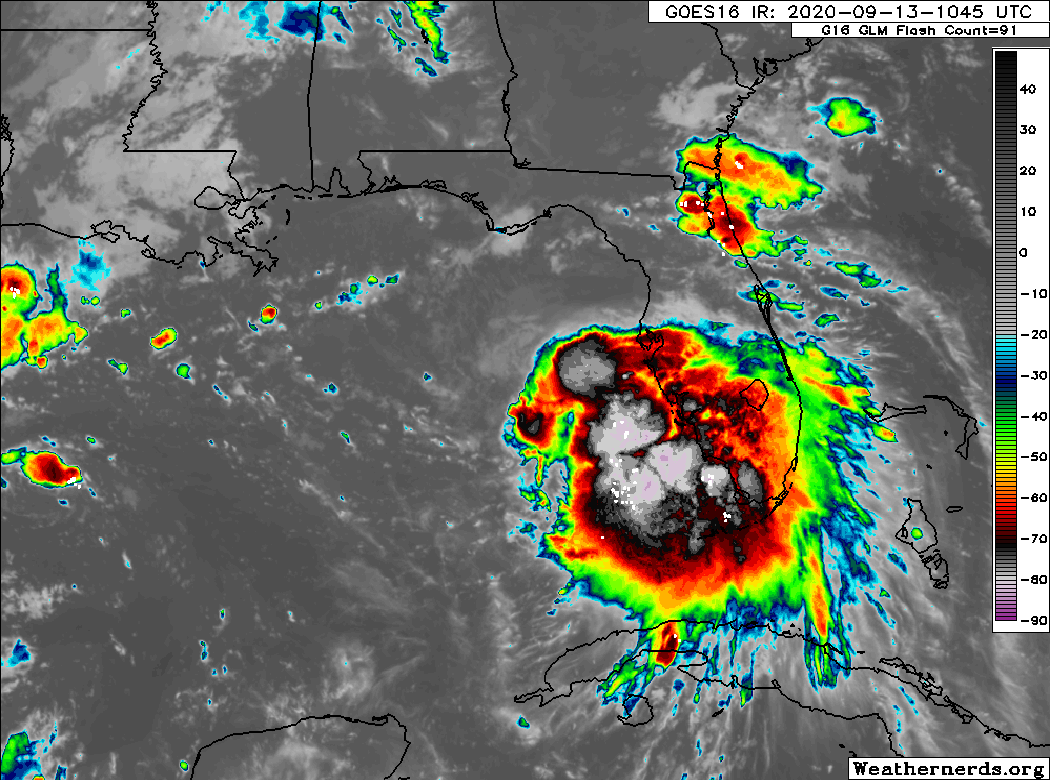 On satellite, Sally is quite impressive, but it's evident that the storm is not yet well-organized. It still seems to be battling some wind shear. That is expected to diminish today, leaving Sally in kind of an ideal space for strengthening. The various weather models we look at are widely varying in terms of how much Sally strengthens over the next day or two as it approaches the central Gulf Coast. The National Hurricane Center (NHC) is forecasting a borderline category 1/2 hurricane at landfall, with maximum sustained winds of 90 mph, but there have been solutions stronger than that and quite a few options that are a good deal weaker than that as well. So suffice to say, there's a high degree of uncertainty as to whether Sally approaches land as a borderline major hurricane or strong tropical storm. That will have some impact on what central Gulf locations see in terms of wind and surge obviously.
While the intensity forecast is still full of uncertainties, the track forecast is coming into pretty solid agreement on a landfall between about (or just west of) Port Fourchon, LA and central Mississippi.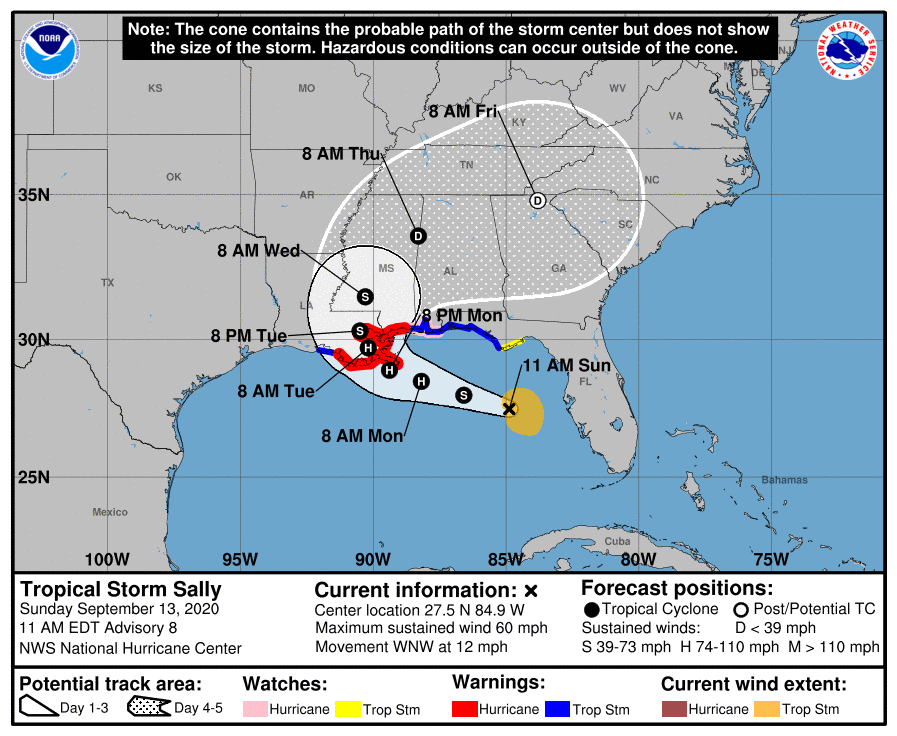 The NHC track takes it ashore just southwest of New Orleans. Tropical models are generally near or east of that forecast. The ECMWF model is generally west of there, closer to or west of Port Fourchon (where have we seen this before?), although the disparity is a bit less glaring this time. So there's still a bit of uncertainty, which is pretty important, especially when dealing with a place like New Orleans. Timing-wise, impacts should begin late tonight or early tomorrow.
Obviously, the first thing that many people will think of (including me since I've been reading a book about it for the last 3-4 weeks) is Hurricane Katrina. Just to be abundantly clear, this is not Katrina. This is an entirely different storm with differences ranging from size to intensity to angle of approach to a newly fortified levee system. So let's just not even go there.
That being said, this storm is likely to produce a considerable storm surge (in addition to heavy rainfall) that will offer a test of the flood protection infrastructure in southeast Louisiana. The current NHC surge forecast (recall, this product is showing the reasonable worst case scenario of a surge (inundation above ground level) with landfall at high tide outside of levee protected areas) shows some significant values for Mississippi and southeast Louisiana.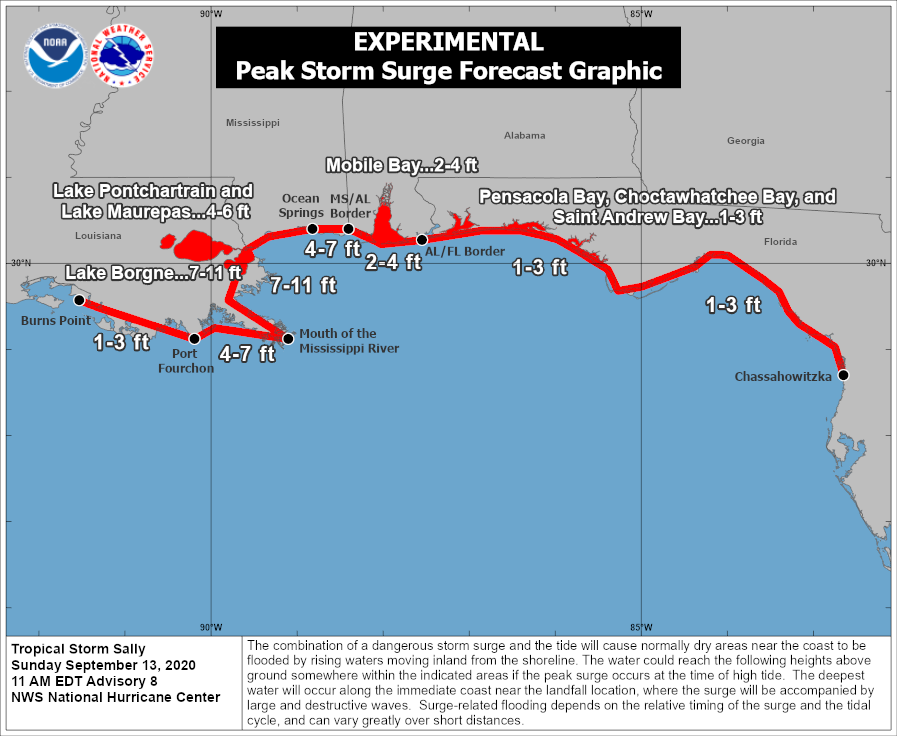 Again, this assumes a high-end category 1 hurricane making landfall at high tide just southwest of New Orleans. There will likely be some modifications to this forecast before landfall depending on exactly how things unfold.
The next hazard is rainfall, and this may be the most significant problem in the end. As Sally approaches the coast, you notice in the NHC track forecast above, it shows the dreaded deceleration and turn. That means that there will be areas dealing with repeating rounds of heavy rainfall in southeast Louisiana, Mississippi, Alabama, and Florida. Sally is likely to become a considerable flooding threat for those areas.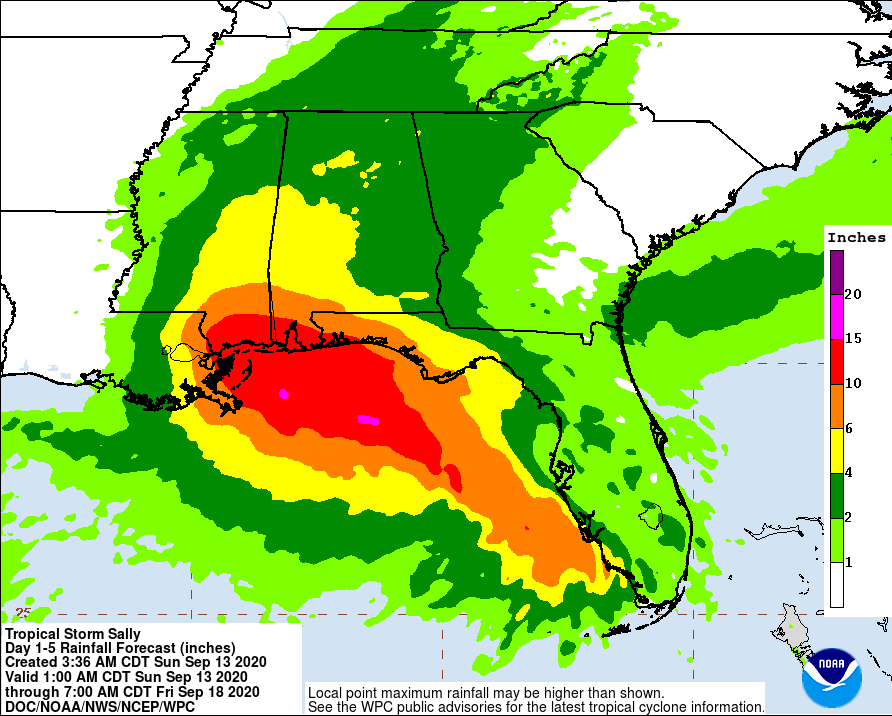 Total rainfall is likely to be on the order of 5 to 15 inches between the New Orleans area and about Destin, FL. Higher amounts are absolutely possible. As evidence of this, Key West saw 9.37″ of rain on Saturday, which set a new monthly record for September and was the fifth wettest day on record there going back to 1871. So, while the surge and hurricane aspect of this storm are justifiably important and likely to generate a significant amount of attention, the rainfall flooding of Sally may be the most serious problem in the end.
Elsewhere in the tropics, we have Hurricane Paulette heading directly for Bermuda, Tropical Depression Rene dissipating, and Tropical Depression 20 likely to become Teddy over the next day or two. None of these systems are concerns for the Gulf. Another "invest" to the north of TD 20 may develop but stay out at sea. Another weak tropical wave is emerging off Africa and could also develop as it moves west. But for at least the next 10-12 days, we don't expect any issues in the western Gulf. We continue to see the potential for a cold front next weekend, so as always, there's a non-zero risk that could pull something unforeseen on us in the Gulf. But no reliable model is implying anything like that at this time. So rest easy here in Houston. We're good for the time being.