Houston's Hobby Airport set a record high temperature, with a mark of 81 degrees, and many other locations across the region hit 80 or higher on Tuesday. We'll be warm again today ahead of a front that should push into the metro Houston area shortly after noon. This will be the first of a series of fronts that keeps us on the cooler side of things for at least the next week, and probably longer.
Wednesday
Highs today will likely reach the mid- to upper-70s ahead of the front, with partly sunny skies. A broken line of showers and thunderstorms will form late this morning to the northwest of Houston, and then move through the region toward the coast during the middle of the day. While I can't rule out some severe weather, it does not appear as though the ingredients for stronger storms will line up over Houston. These remain more likely for areas such as Cleveland, Texas, and areas to the northeast. Drier and cooler air moves in behind the front, ending rain chances this afternoon. Lows on Wednesday night will drop to around 50 in Houston, with colder conditions inland.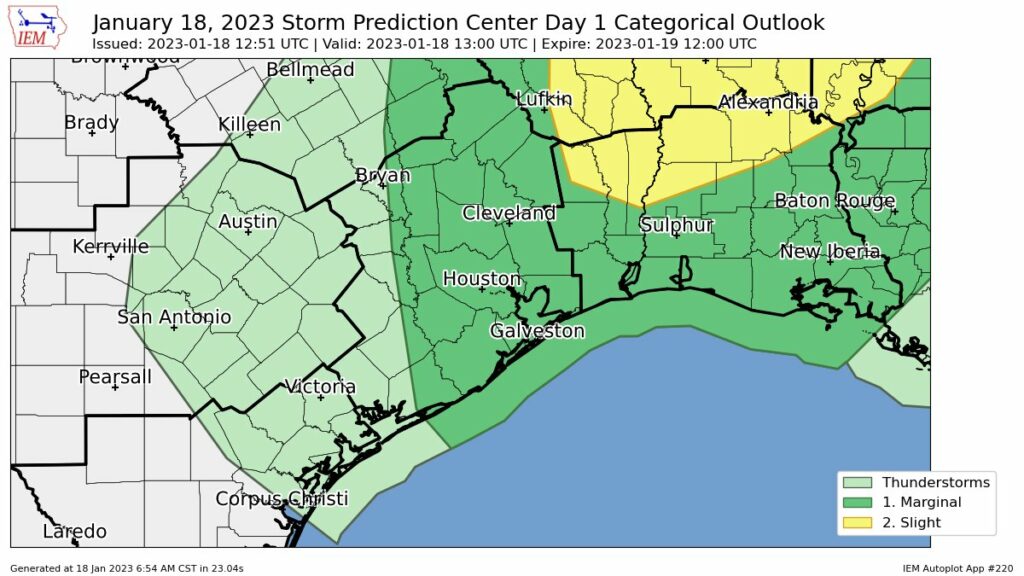 Thursday
This will be a partly to mostly sunny day with highs in the upper 60s to 70 degrees and much drier air. Winds will be out of the north at about 10 mph. Lows Thursday night should drop into the upper 40s in Houston.
Friday
Skies will be mostly cloudy on Friday, with highs of around 60 degrees. As the flow turns more southerly, we'll see atmospheric moisture levels start to ramp up. As a low pressure system starts to work its way northward along the Texas coast, this will start to introduce a chance of showers on Friday evening or Friday night. These should be mostly light, however. Lows will fall into the low 50s.
Saturday
This will be a cloudy day with intermittent rain showers. Highs, again, will be in the low 60s. We're not looking at anything too extreme in terms of rainfall, but pretty much every part of the metro area should see on-again and off-again showers, with accumulations of 0.25 to 1 inch of rain for the most part. I cannot rule out a few scattered thunderstorms, but I think these will stay offshore for the most part. Rain chances start to back off on Saturday evening as the low pressure system moves away and we see a drier northerly flow. Lows drop into the upper 40s on Saturday night.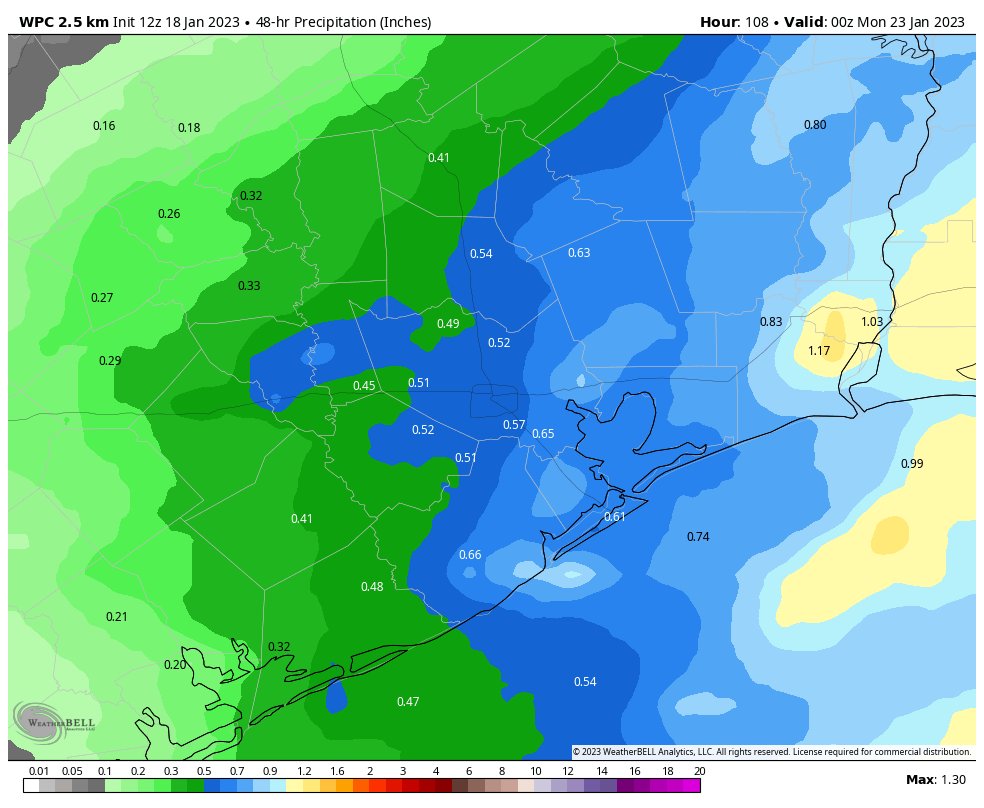 Sunday
We can be reasonably confident in nice weather on Sunday, with mostly sunny skies and highs in the low 60s. Lows on Sunday night will be cooler, dropping into the low 40s in Houston, and colder still further inland.
Monday
This probably will be another partly to mostly sunny day with highs in the low 60s.
The rest of next week
We start to warm up a bit on Tuesday, with a more southerly flow. However, another front is on track to arrive Tuesday, bringing with it a decent chance of rain and keeping conditions on the cooler side for the remainder of next week. Most likely we're looking at highs in the low 60s, and lows in the low 40s, or thereabouts for awhile.