Good morning. A front pushed into Houston on Wednesday afternoon, dropping temperatures and humidity in its wake. After a mostly sunny day today, with highs near 70 degrees, it would not surprise me if we don't see the 70s again for the rest of this month as a series of fronts keep us on the cooler side. At the same time, I also don't expect anything too extreme, in terms of cold, with lows mostly in the 40s and no freezes on the near-term horizon.
Thursday
If you were up early this morning like me, you will have appreciated the clear skies and the waning crescent of the Moon. Skies will be mostly sunny today, with a northerly flow that may see winds gusting up to 15 or even 20 mph this afternoon. Dewpoints will drop into the 30s, which means that our air will become pretty dry this afternoon. However, we'll start to see the development of some clouds this evening, and mostly cloudy skies should hold overnight lows to around 50 degrees in Houston, with cooler conditions further inland.
Friday
The aforementioned clouds will continue to build on Friday as a coastal low pressure system moves up the Texas coast. These clouds, combined with a northeasterly breeze gusting to 15 or 20 mph, should act to hold high temperatures in the upper 50s on Friday. Lows will drop a few degrees overnight, and we may see some scattered showers as the low approaches the greater Houston region.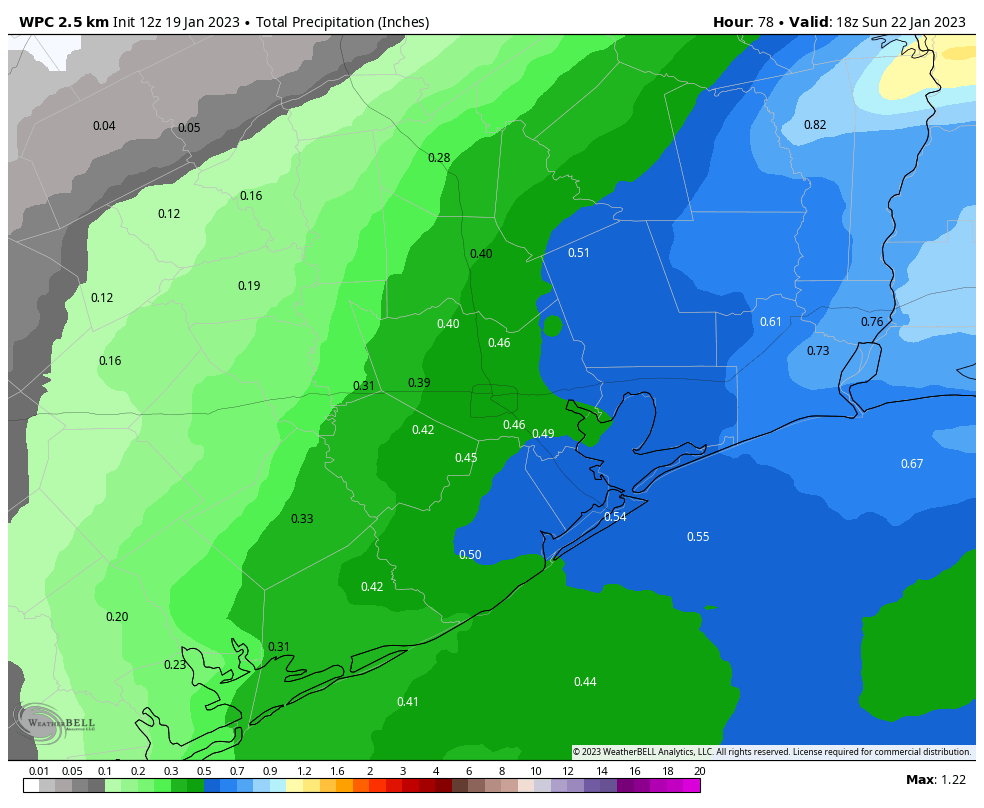 Saturday
As we've been saying for awhile, the first half of the weekend looks wet. Not disruptively wet, in terms of flooding, but annoyingly wet in terms of on- and off-showers that perhaps drop on the order of one-half inch of rain throughout the day. The favored time for these showers will be the daylight hours, with rain chances slackening as evening comes on. Most of the area will see highs of around 60 degrees. A reinforcing cold front arrives Saturday evening, or so, to help drop overnight lows into the upper 40s.
Sunday
The second half of the weekend should be sunny and splendid, with highs of around 60 degrees. Winds may be a little gusty during the morning hours, but they should back off some during the afternoon hours. Low temperatures on Sunday night will drop into the mid-40s in Houston, with colder conditions further inland.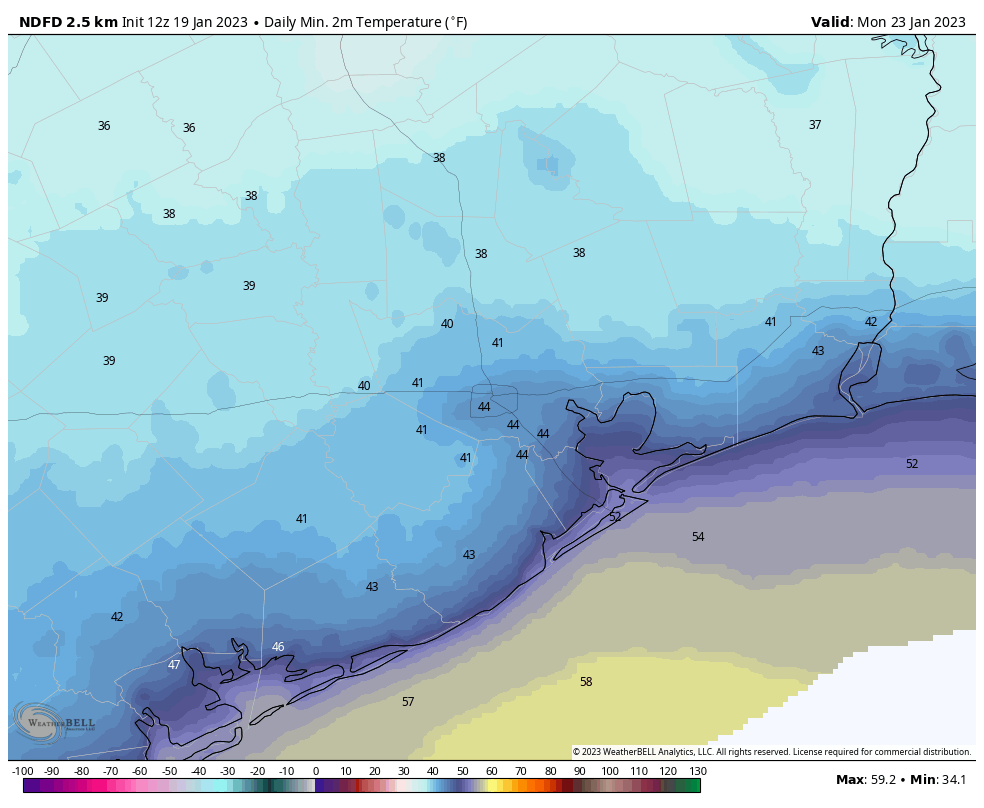 Monday and Tuesday
We're going to see a brief warmup to start next week, with highs on both of these days perhaps in the mid-60s or so. However, in what will seem like a recurring pattern, some moderate rainfall will be possible during the daytime on Tuesday as yet another front moves through. Lows drop into the low 40s on Tuesday night, probably.
Remainder of next week
Most of the rest of next week, at least through the work week and possibly into the weekend, will see chillier weather. I'm thinking highs in the low 60s and lows in the low 40s, but of course there will be some variation. After the first two thirds of January were very warm, it looks like the last 10 days of the month will see a return to normalcy.