Let's start today's post with some numbers as of yesterday, the 16th of December.
68.4°: The average temperature for December so far in Houston, a record for the warmest first 16 days of the month.
11: The number of 80° days recorded at Hobby Airport so far this December. (tying a record; it should be broken today)
9: The number of 80° days recorded at Bush Airport so far this December. (the record should be tied today)
5: The number of record warm low temperatures set or tied in Galveston this month.
Yes, it has been the warmest start to December on record in Houston. That doesn't necessarily mean it will finish as the warmest December in our recorded history, but clearly this is an abnormal month. If you've had enough, you'll get a chance to enjoy cooler weather beginning tomorrow. If you want more of this, there is a non-zero chance you'll have an opportunity for that again in about a week.
Today
We have some dense fog across parts of the area this morning, particularly near the bays and Gulf and in the outskirts of the suburbs. Look for clearing this morning, and that will likely lead to one more day of low to mid-80s across the area with very high humidity.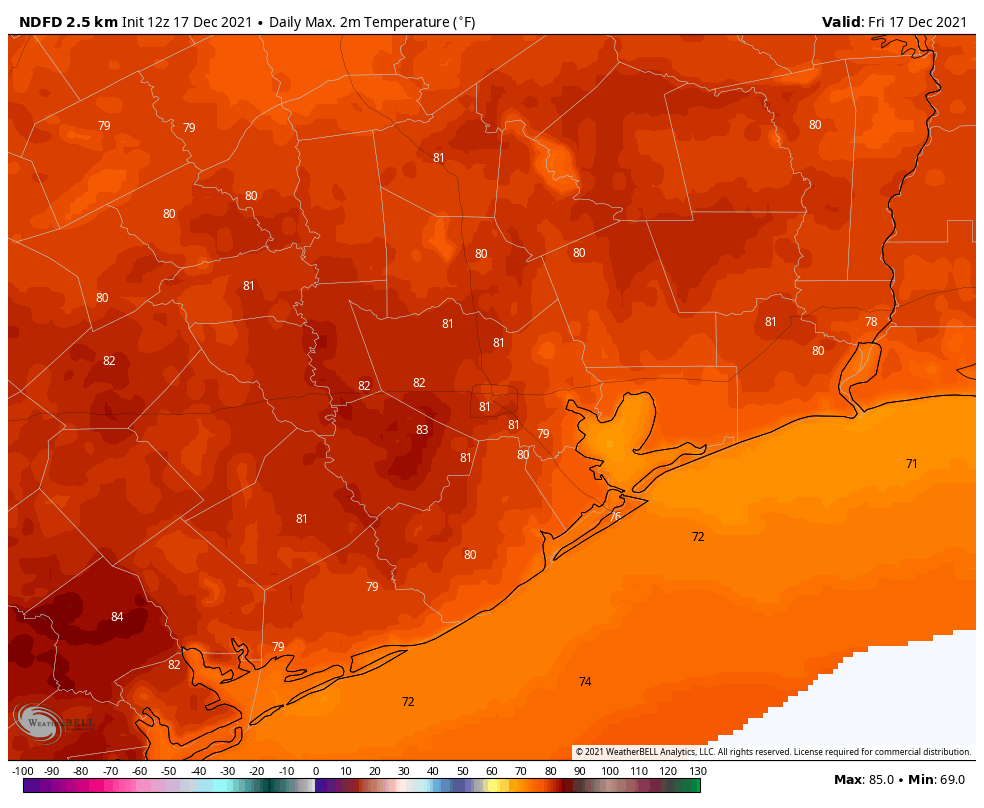 Records today are 81° at Bush, 82° at Hobby, and 77° at Galveston. All three seem likely to be tied or fall.
Saturday
For those of you planning something outdoors on Saturday, the news is not great. Rain should develop in the morning, possibly heavy at times and accompanied by thunder. Rain will likely shut off from northwest to southeast through the early to mid-afternoon. We may manage a dry stretch after 3 PM. This will be especially true north and west of Houston. How much rain are we expecting?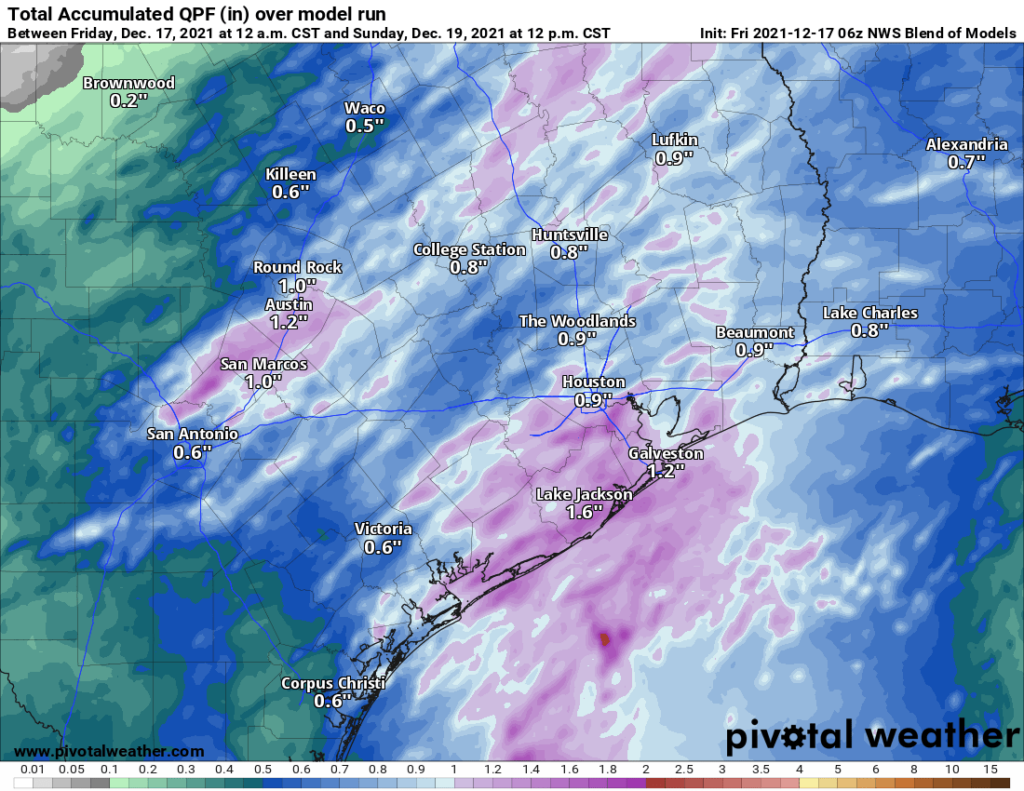 We should see on the order of a half-inch to an inch of rain across the area, welcome moisture for an area slowly trying to nudge into drought. Some areas will see more than that, however. An isolated strong to severe storm cannot be ruled out either, particularly from Houston south and east.
The front should get through the northwest suburbs of Houston by mid to late morning, the central part of the area by midday and the coast by early afternoon. Temperatures will drop from the 70s into the 60s, if not the 50s as the front passes, and they'll stay there or slowly drop off a few more degrees through the day. In addition to cooler temperatures, a brisk north wind gusting to 20 mph or so will add some chill to the air.
Sunday
We'll likely see a mix of clouds and sun on Sunday with temperatures warming from the 40s into the 50s, maybe upper 50s to near 60 with enough sunshine. It will remain at least a little breezy on Sunday.
Monday
A weak system will pass to our south Monday morning, perhaps passing close enough to deliver a few showers or even a rumble of thunder to the area before skies clear out late. The best chance for showers will be the closer you get to the coast. Look for morning lows again in the 40s with highs likely only at best in the mid-50s, possibly even a bit cooler.
Tuesday through Thursday
Look for very nice weather for the middle of next week. Both Tuesday and Wednesday should be partly to mostly sunny. High temperatures should be in the 60s after morning lows in the 40s. Tuesday morning could even see some 30s in spots. Onshore flow should begin to kick back in on Thursday, but we'll likely see a mix of sun and clouds and lower 70s with morning lows in the upper-40s and 50s. If you're looking for some optimal holiday-ish weather for Galaxy Lights, Zoo Lights, Lightscape at the Houston Botanic Garden, or just walking around the neighborhood, you'll have it here.
Christmas Eve & Christmas Day
Based on the best available modeling to us today, we have a cold front that will at least flirt with us on Christmas. There remains a very wide spread in possible outcomes. If you compare just the Euro and GFS operational models this morning, you get about a 15 degree spread in temperature outcomes for Christmas morning.

Ensemble models don't offer much clarity, with about 60% of the European ensemble members pushing a front through by Christmas and maybe 5% of GFS ensemble members. So, it will either be pleasantly cool (close to normal) or warm & muggy. One thing we can say with some confidence: It will probably not be truly cold this Christmas.
Eric and I will keep you posted next week.