Thursday saw the beginning of the transition from our wet pattern this week to a much drier one as we head into the weekend. Recent rain totals have varied widely across the area. Let's quickly just look at rain totals for the last 7 days.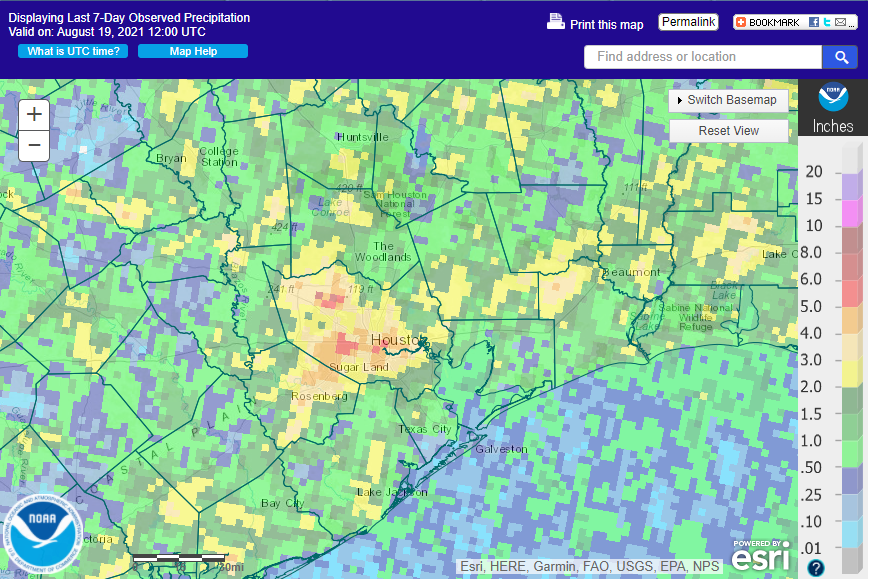 Since last week, we've seen as much as 6 and a half inches of rain between the Galleria and Beltway, with the highest observed total I can find being 6.68″ at Buffalo Bayou and San Felipe. New Territory out by Sugar Land has seen over 5 inches over the last week, as have parts of Pasadena and Cypress as well. On the flip side, Katy, Galveston, and League City have all registered maybe a half-inch or less. So that map above may not be entirely accurate for your specific backyard. That's the challenge of Southeast Texas rain. Literally one side of the street can see rain while the other side is dry. Speaking of rain, it will be a rare commodity over the next 4 to 5 days or so, as summer revs back up.
Today through Sunday
The chance of rain between now and Sunday is certainly not zero, but it's probably as close to that as you can get this time of year in Southeast Texas. Expect mostly sunny skies the next several days. Here's the good news, sort of: While it will be hot this weekend with highs well into the mid, if not upper-90s, it will not be exceptionally humid. That said, it will still be hot enough for heat index values to easily top off at or just above 105° each afternoon, which is hot enough to take it easy and drink plenty of water.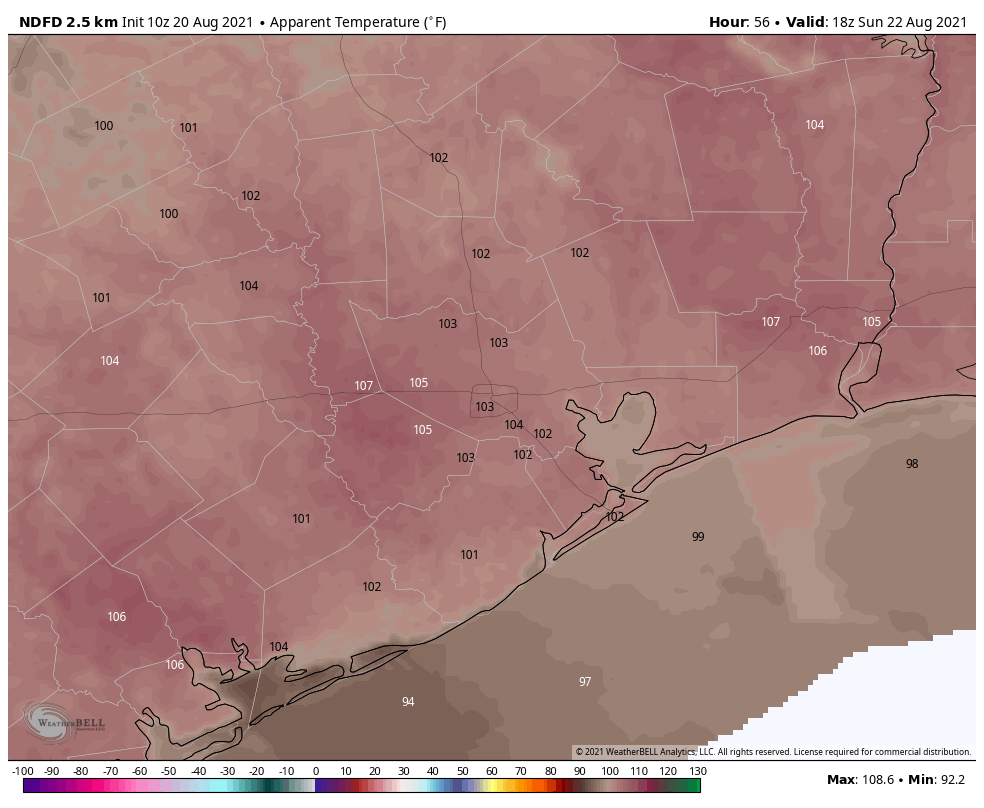 Morning lows will be in the 70s. There should be a little breeze each day, but nothing too refreshing or intrusive.
One thing to keep in mind this weekend: As Tropical Storm Grace approaches Mexico, well to our south, some rough surf and strong rip currents should make it to the coast here in Texas. Please use caution if you'll be swimming in the Gulf. Also, there could be some minor tidal flooding with wave runup, particularly near Surfside Beach or Crystal Beach. Nothing too serious, but we don't want you to be caught off guard by that.
Monday and Tuesday
Look for a gradual increase in onshore flow. Coupled with a rather hot air mass still overhead, this should yield slightly more unpleasant heat index values, with some areas perhaps sneaking up closer to 110° or so in the afternoon, especially after the sea breeze comes through. That said, the return of onshore flow should mean the return of at least some minor rain chances. Look for a couple showers or storms in the area on Monday and Tuesday afternoons. But most of us will probably continue dry.
Later next week
The pattern should return to one that's at least slightly cooler with more typical rain chances for this time of year. Still, expect generally mid-90s each day.
Tropics
Tropical Storm Grace is in the Bay of Campeche this morning, and it will arrive in Mexico tonight as a hurricane (Editor's note: It strengthened back into a hurricane just after this post was published).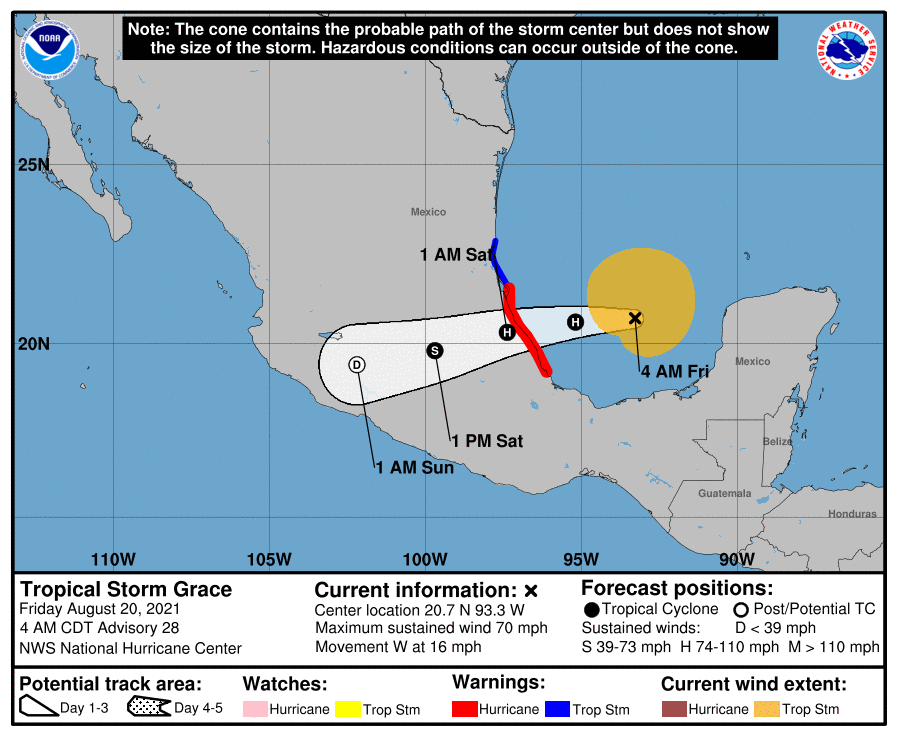 Grace may actually cross Mexico and wind up in the Pacific Ocean, becoming a new storm next week. Grace would have to maintain organization all the way across to keep the name Grace on the other side. That probably won't happen, so it's more likely that Grace will dissipate and reform as a new system in the Pacific. Their next name on the list is Marty. The last storm to fully maintain itself from the Atlantic to the Pacific was Hurricane Otto in 2016. Last season's Hurricane Nana crossed Belize, dissipated, and reformed in the Pacific as Tropical Storm Julio.
Anyone with friends or family or travel plans in New England will want to keep an eye on Tropical Storm Henri this weekend. Henri has failed to get really organized as of yet, which is good news, as a stronger storm likely would make it farther west before turning. Still, it's expected to become a hurricane this weekend, and it is now likely to make landfall in New England or perhaps Long Island as a hurricane.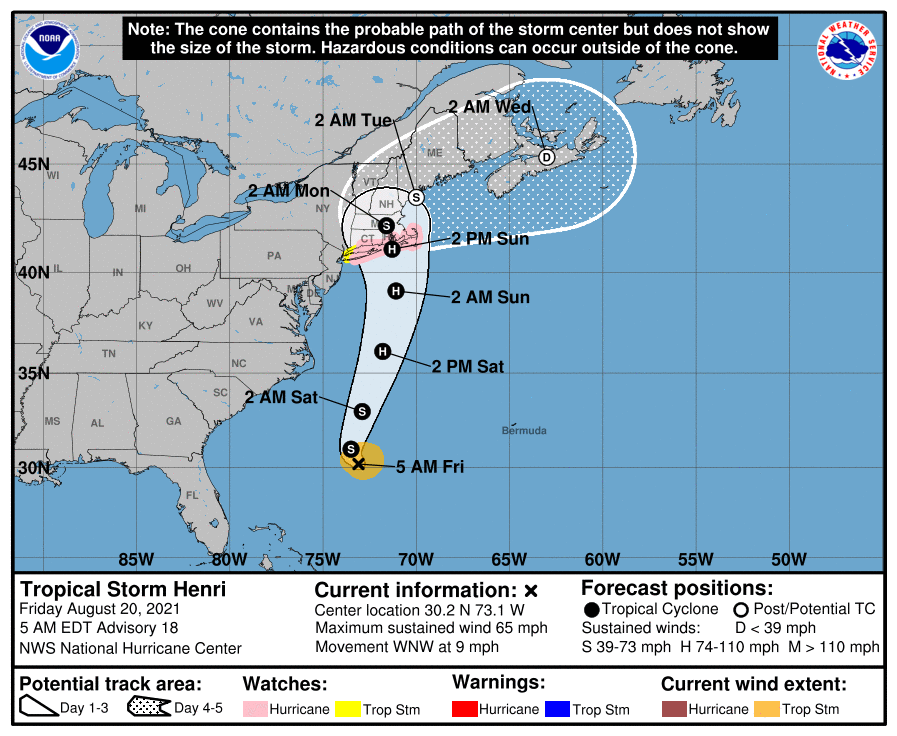 As a result of this, hurricane and tropical storm watches are in effect from just east of New York City to just south of Boston. There are still some uncertainties as to exactly how strong Henri will be and where it will make landfall, but given how wet the Northeast has been this summer, flooding could be a significant problem where it does track.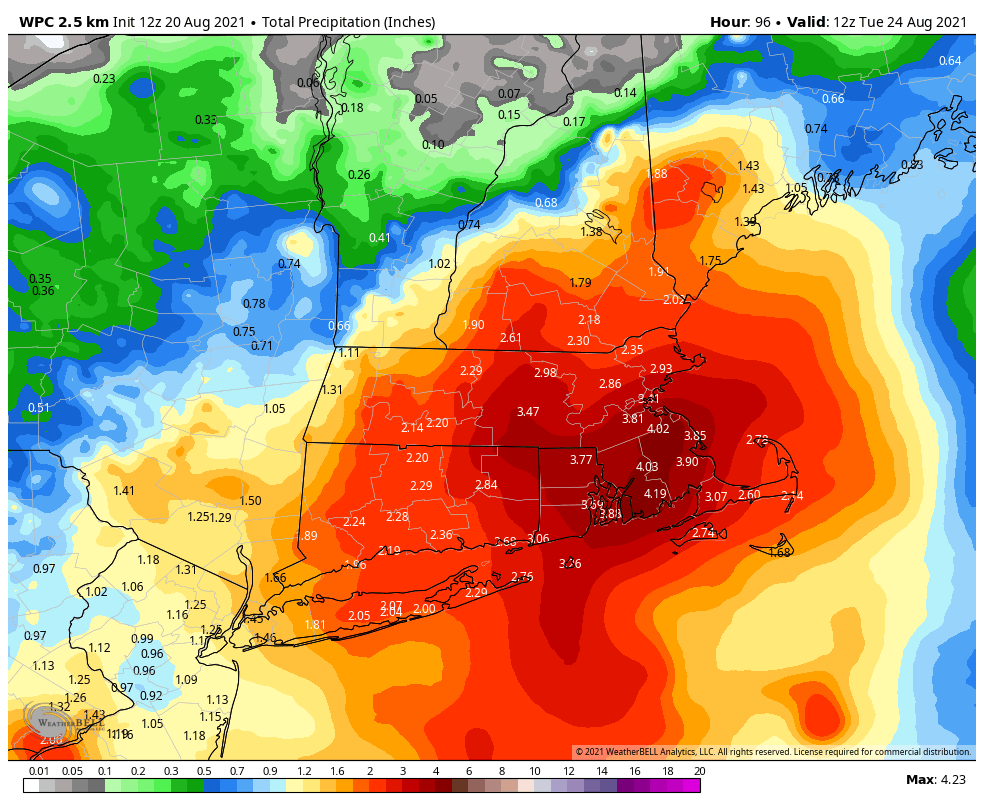 While 3 to 5 inches of rain sounds almost laughable to us in Houston, given the terrain of New England that can cause trouble up there.
Lastly, while we expect a quiet Gulf over the next week, there are at least some hints that tropical moisture or a disturbance could sneak into the western Gulf late next weekend or the week of the 30th. While there's not a ton of support for anything specific or particularly strong, I think that is the next period we'll be keeping tabs on in the days ahead. Nothing we need to worry about at this juncture though.