Good morning. Houston will see a healthy chance of storms during the overnight hours, setting up a couple of cooler days on Tuesday and Wednesday. Then we're going to warm up heading into the weekend. The forecast by then starts to become hazy, as it's unclear whether a front will push all the way into the metro area.
Monday
The major story this morning is dense fog, which may linger until 9 or even 10 a.m. before air temperatures warm. Beyond the fog, skies will be mostly cloudy today with highs in the low 80s. Like on Sunday, dewpoints will be sticky all day, with light easterly winds. There will be a few isolated showers today, but overall rain chances are only about 10 percent. Conditions will be warm again tonight, with lows dropping into the mid-60s.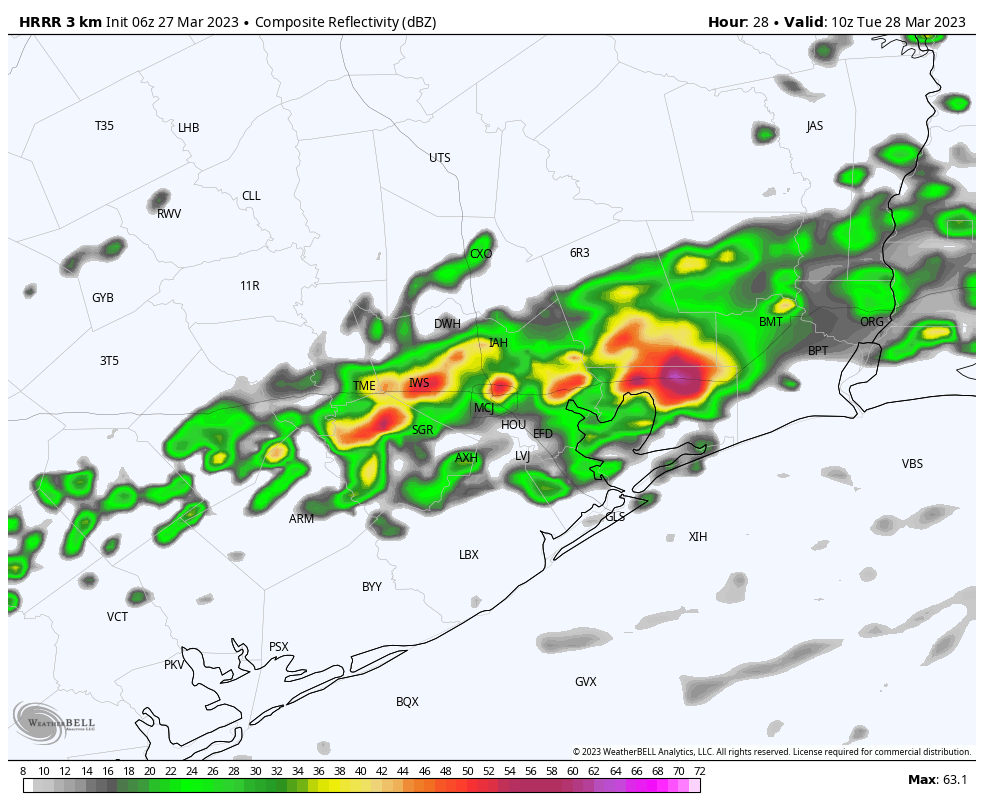 A front will approach the area tonight, and bring with it a healthy chance of showers and thunderstorms. The bulk of this activity should occur between midnight and 8 a.m. My sense is that these showers will be fairly hit or miss in that some parts of the region may see a few tenths of an inch of rain, whereas a few parts of town pick up 1 to 2 inches of rainfall. In any case, these totals should not produce any notable flooding, and the worst of this activity should be over by sunrise on Tuesday.
Tuesday
After the showers move on, we may see a bit of sunshine on Tuesday. Highs will be in the mid- to upper-70s, with northerly winds gusting at 25 mph or even a bit higher. These northerly winds will herald an influx of drier air that will be with us through Wednesday. Tuesday night should be the coldest of the week, with lows dropping into the 50s for most of the region.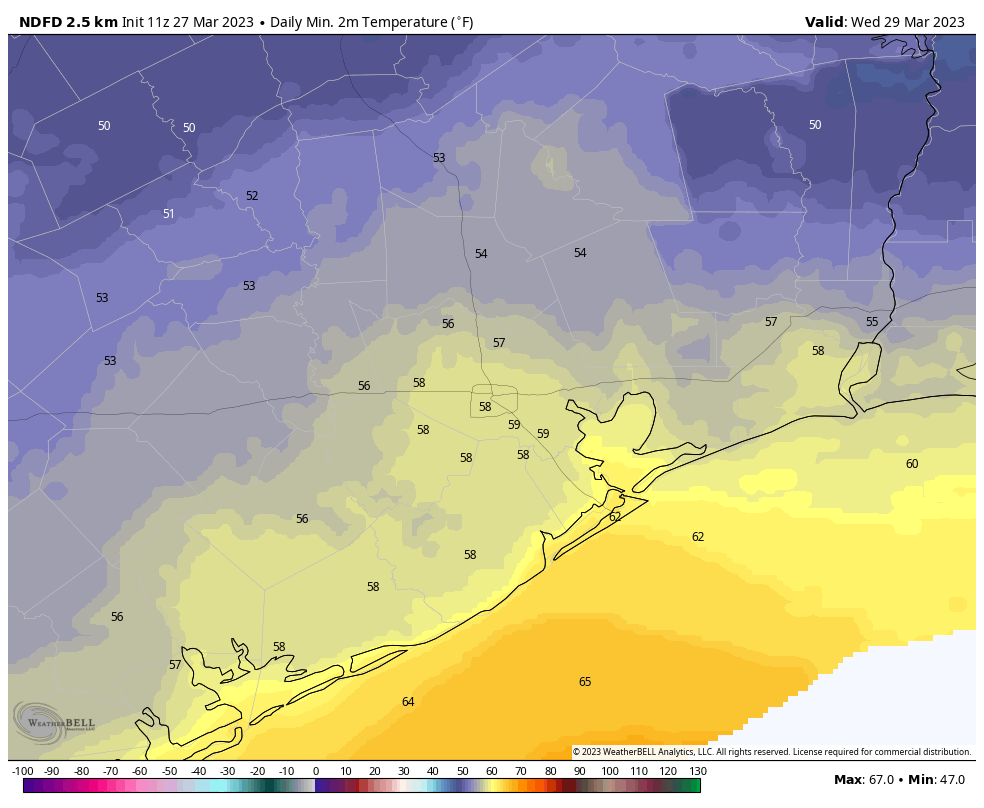 Wednesday
Skies will remain partly to mostly cloudy on Wednesday, with highs only reaching about 70 degrees. With the upper atmosphere remaining moderately disturbed it is possible that we see a 10 to 20 percent chance of light rain. Lows on Wednesday night will be a bit warmer, in the low 60s, as a southerly flow returns.
Thursday and Friday
The end of the work week looks warmer with highs in the upper 70s to lower 80s, and mostly cloudy skies. These will be fairly sticky days, with warm nights. Rain chances won't be zero, but they'll be quite low, on the order of maybe 10 percent each day.
Saturday and Sunday
The forecast for the weekend is, shall we say, up in the air. At issue is whether a weak front has enough oomph to push all the way through Houston. My solution to this uncertainty is to wave my hands and say temperatures will be in the upper 70s or lower 80s, with lows in the 60s, and a slight chance of rain. If you have outdoor plans, at this point, things looks fine. But give me a day or two to firm up the forecast, please.