Today was supposed to be just a stunning day. Ultimately, it will be, but thanks to some controlled burns in southwest Louisiana it's starting off poorly. I didn't intend to start with a science lesson this morning, but here we are.
Why is the air quality bad this morning?
In a nutshell: There's smoke trapped near the ground leading to poor air quality. It will improve later this morning. If you want the rest of the forecast, scroll down. If you want to understand why there's smoke this morning, read on.
Air quality this morning is abysmal, in the unhealthy for sensitive groups or even a bit worse.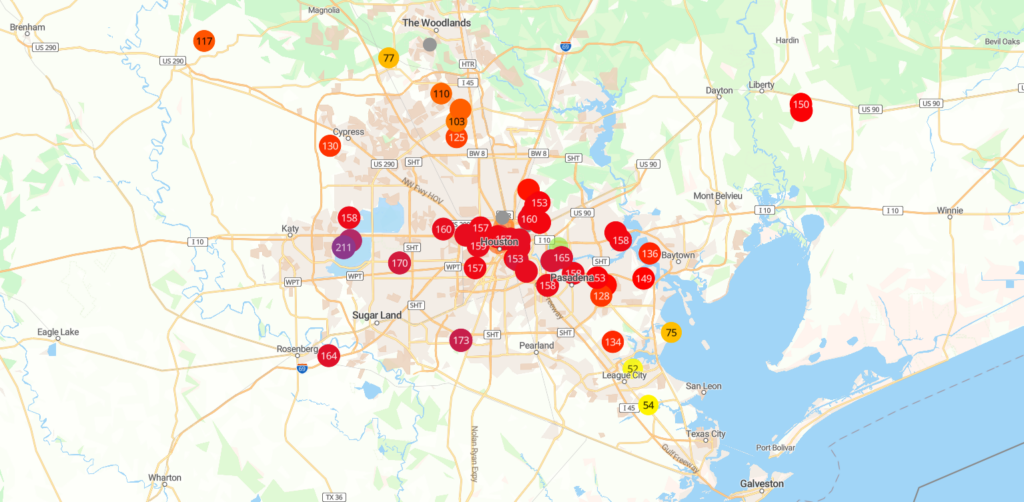 Why? Yesterday afternoon, there were several controlled burns noted on radar in southwest Louisiana.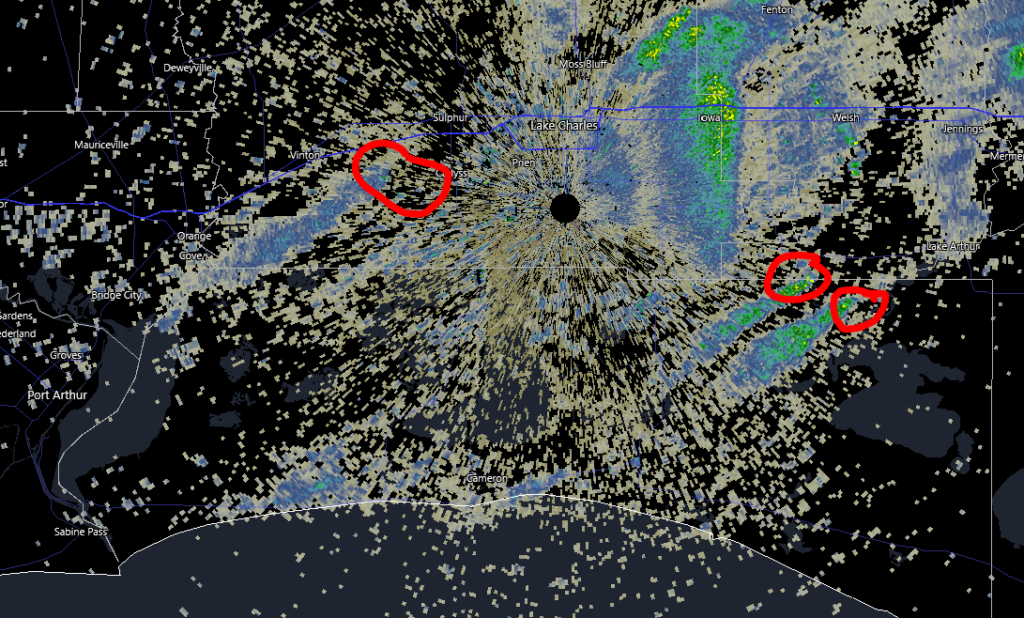 Because our low-level winds are coming from the east and we have an inversion in place (more on that below), that smoke cannot escape into the upper atmosphere and disperse, so it stays at ground level. I ran a backwards trajectory model (called HYSPLIT) starting at 3 PM on Tuesday and ending at 7 AM this morning. In simple terms: I wanted to see where the air we have now came from yesterday afternoon. On the map below, Houston is the black star and the red line indicates where the air came from. The plot below shows how high up in the atmosphere it came from. You can see that the air down near the surface this morning originated from northeast Louisiana, descending to only a few hundred feet above ground level in southwest Louisiana and ending up over Houston this morning.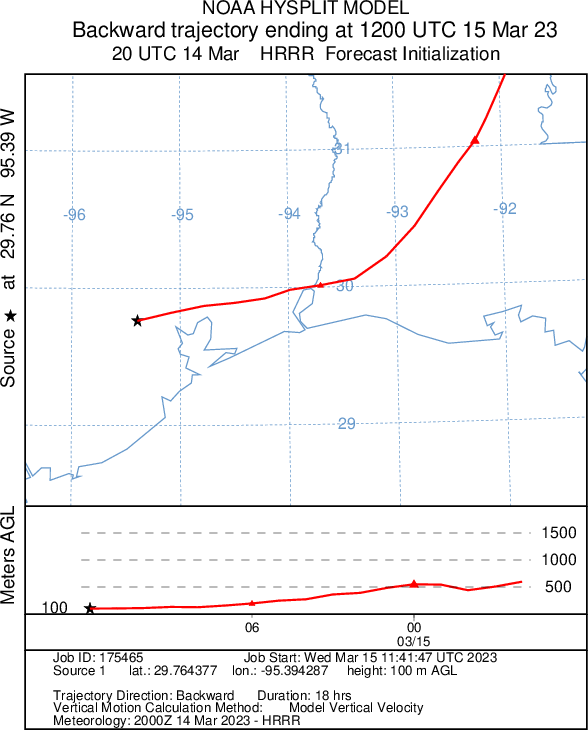 All that smoke is "trapped" under an atmospheric inversion. Normally, you hear us talking about a "capping inversion," or just cap during days where severe weather is possible. The "cap" basically puts a lid on how tall clouds can grow. It's the same concept here, except the inversion is close to ground level. In other words, what ends up near the surface stays near the surface instead of being able to escape into the higher atmosphere.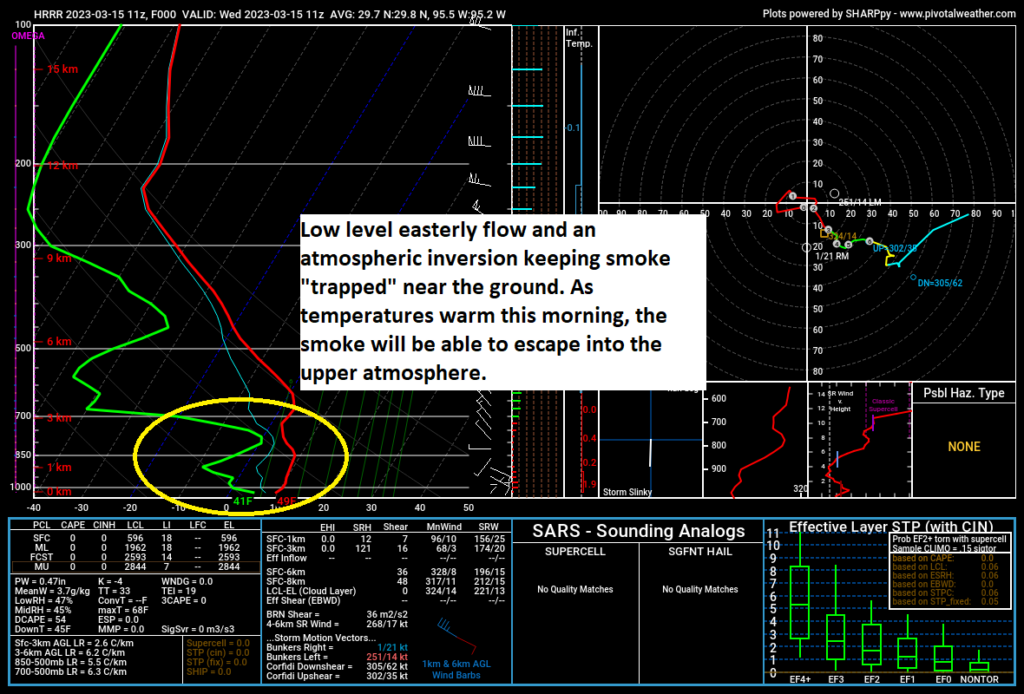 As temperatures warm up after sunrise, that inversion will dissipate, and the smoke will dissipate with it, leading to a much nicer setup by late morning.
Today (rest of the forecast)
Sunny. Once the smoke clears, it'll be great. Low-70s. Modest, relatively low humidity for Houston. Tough to argue that. If you want something to complain about today besides smoke, look to the wind. Gusts of 20 to 25 mph will be possible, especially along the coast, so that may annoy some people. Tough to argue that also.
One thing I want to briefly highlight today in concert with our friends at the NWS Houston office are rip currents. Many of you may be in Galveston or other coastal locales for spring break. Please, please use caution if you head into the water.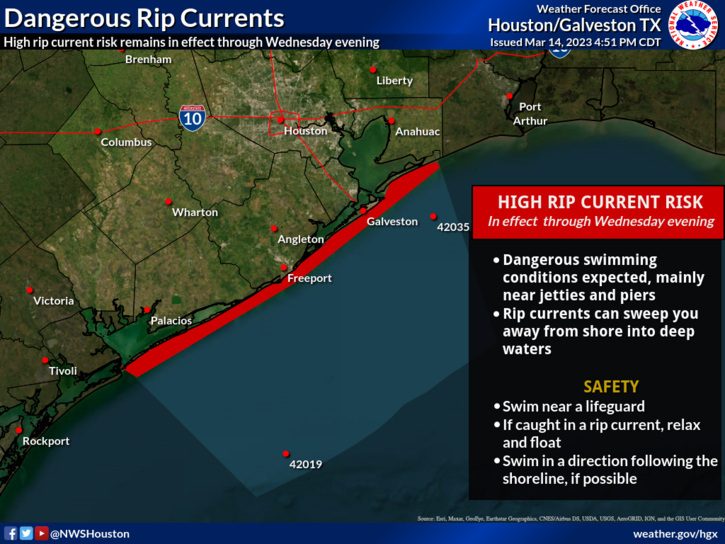 Rip currents can catch even the most experienced swimmers off-guard, so please emphasize safety over the next couple days.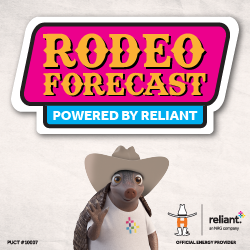 Meanwhile, at the Houston Livestock Show & Rodeo, you're in luck. Again. If you'll be heading to see Kenny Chesney tonight, you can expect around 70 degrees on your way in, with temperatures only falling a bit during the show. Look for no worse than mid-60s on your way home. That breeze will continue a bit as well.
Thursday
Tomorrow poses some forecast challenges. The morning looks fine. We'll have a good bit of cloud cover around, but no real issues are expected. Temperatures will probably bottom out before sunrise, warming through the 60s and into the 70s by mid-morning. During the afternoon, we'll likely be in a favorable spot for showers and thunderstorms to develop well out ahead of Friday's cold front.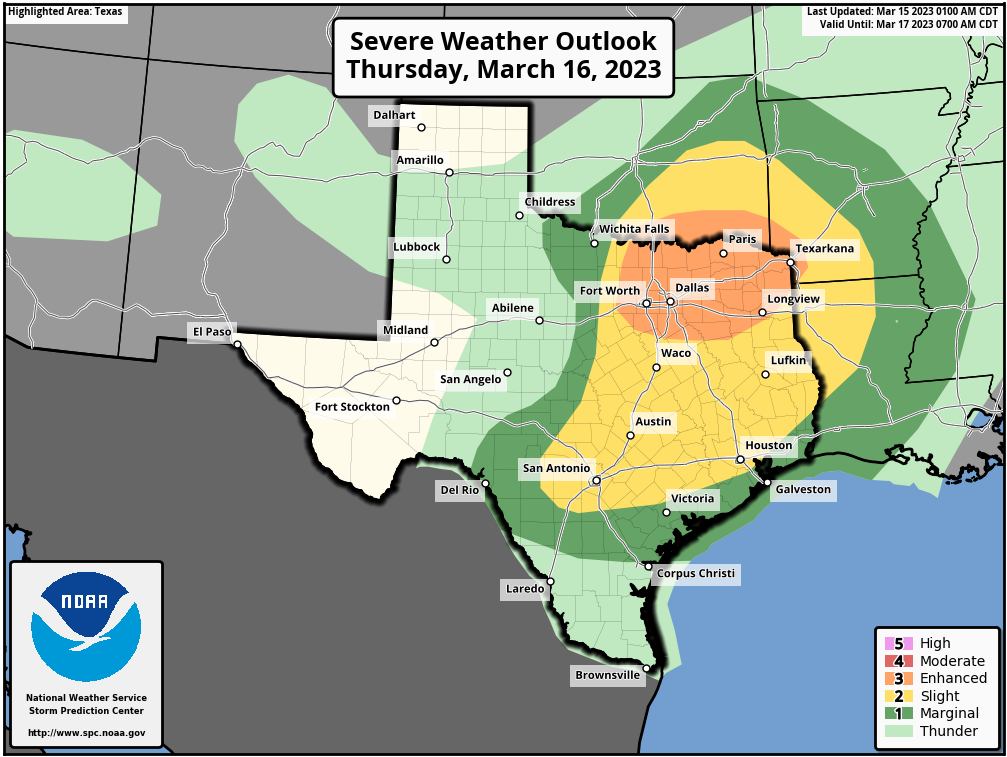 What does that mean for us? Well, there is a bit of a cap (see the smoke section above if you don't know what that means) still in place tomorrow, so that will limit our severe chances a bit, especially south of I-10. To the north, less capping means a better chance that storms can fire up tomorrow afternoon. Any storm that can get going tomorrow has a chance to become strong to severe with strong winds, hail, or even a brief tornado possible. Again, the highest odds of this occurring will be north of the Houston area but close enough to keep an eye on things.
In addition to storms, it will be another breezy day tomorrow, even more than we see today. Look for onshore winds of 20 to 30 mph through much of Thursday afternoon.
Thursday night and Friday
Once Thursday afternoon's storms exit, we'll await the front. That is likely to push through between midnight and sunrise on Friday. During Thursday evening, we'll likely have some showers around. But around midnight or a bit after, a squall line of heavy rain and thunderstorms will push through. You can never entirely rule out a severe storm with those, thought our main issues will be lightning, heavy rain, and gusty winds I think. More on this tomorrow.
Friday itself will be much cooler and continued breezy, with northerly, offshore winds of 20 to 25 mph and temperatures generally holding in the 50s from predawn through most of, if not all of the day.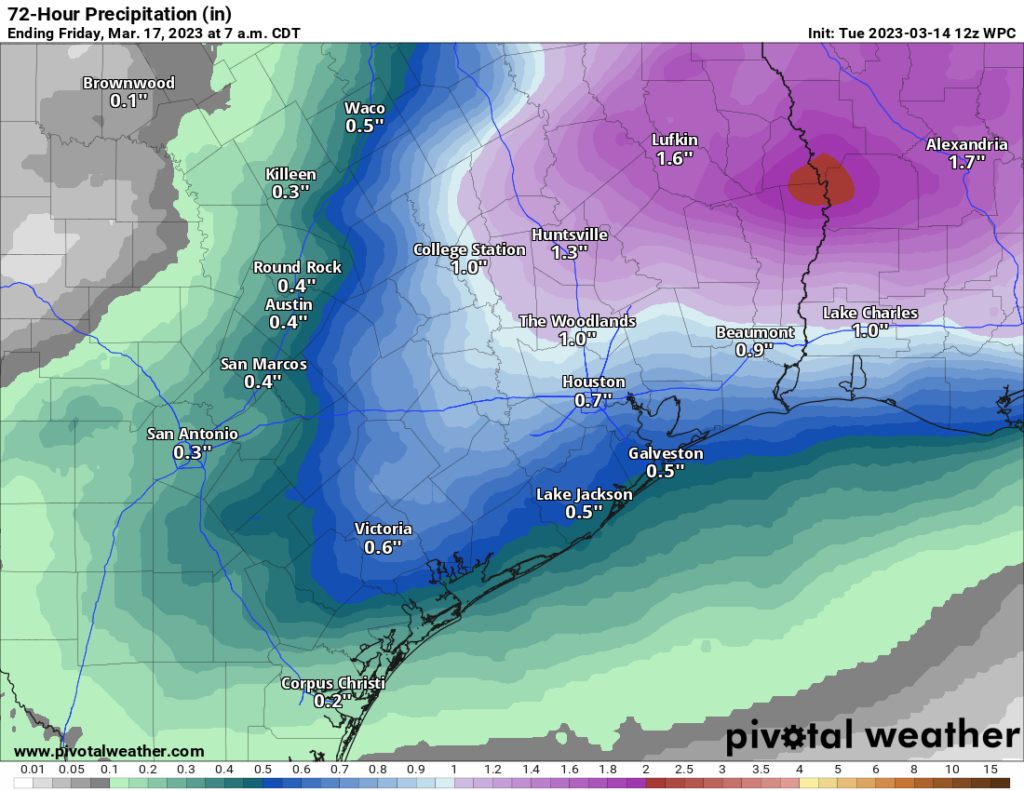 Total rainfall from our front and storm system looks to be about an inch or less for most, but it will vary with higher amounts north and lower amounts south.
Weekend
So, this weekend looks intriguing. In terms of weather impacts, it looks minimal: It's going to be mostly cloudy, chilly, and breezy most of the weekend. Expect lows in the 30s and 40s and highs in the 50s both days. If that's all you need, skip ahead. Otherwise…
Meteorology geek-out: I am interested though to see if we can't squeeze some showers out the passing rising air over our area, especially on Sunday. We've got some leftover "noise" and a stronger than normal jet stream in the upper atmosphere in the wake of Friday's front. If we can produce enough lift in the atmosphere, we may be able to start squeezing out some precipitation. Given how cold it is aloft (temperatures at 5,000 feet over our heads will be running 20 degrees colder than normal) and how dry the air is, it's entirely possible that we see ice pellets falling in any better organized showers on Saturday or Sunday, even with temperatures in the 40s or 50s. We'll speculate more on that tomorrow or Friday.
Early next week
It would appear that we get one more reinforcing shot of cold air via another storm and front on Monday. Modeling has been indicating that in parts of interior Texas, even some snow or sleet could mix in with the rain. Again, we'll cover that more later this week should it become more of an issue. But that's probably not for the Houston area. Just expect a dreary, chilly Monday, followed by a milder and more pleasant Tuesday. We have a shot at 80 degree weather again by Thursday.