Yesterday was a big swing and a miss for many. Ultimately it ended up being a lovely late day, but the morning smoke that took a bit longer to disperse than hoped really added a sour taste to yesterday's weather. The good news is that the air quality this morning is great. No issues at all in the area. We do have some weather coming later today in parts of the area, however. And given the wind forecast, you may want to bring in any loose objects that have ended up outdoors during spring break week.
This morning
For most of us, the early morning should be fine. Some showers have begun breaking out north and west of College Station, and they will move east over the next couple hours though. An isolated heavier downpour is possible. Outside of that, watch for the wind to begin gradually picking up as well. In fact, wind may be the most notable story today for everyone, with frequent 25 to 35 mph gusts.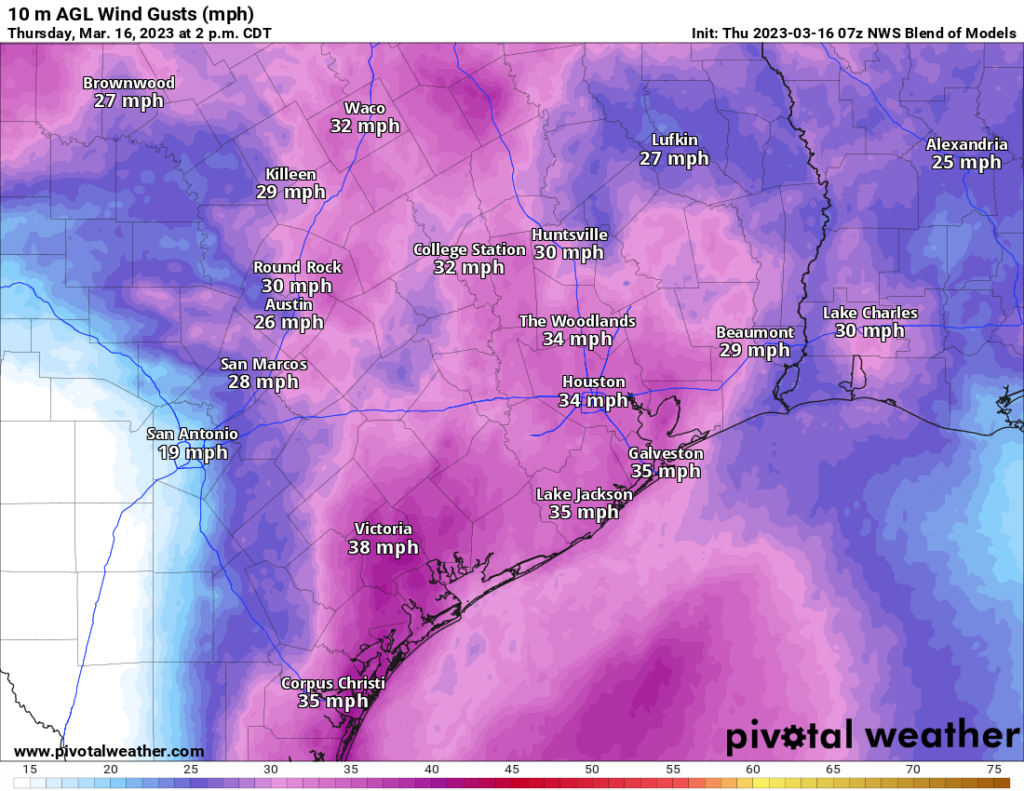 Winds will remain gusty into the afternoon and tonight.
This afternoon
Once that little wave of showers moves through, we'll begin to setup the chances for some strong to severe storms. The primary risk today will be north of I-10, possibly well north of there, where capping is the weakest. Recall, capping usually means that the atmosphere is able to suppress the growth of thunderstorms a bit. South of I-10, capping is likely to remain fairly strong deep into the afternoon, limiting severe risk. Ultimately, it may be areas along and north of Highway 105 that have the best chance for some severe thunderstorms later today.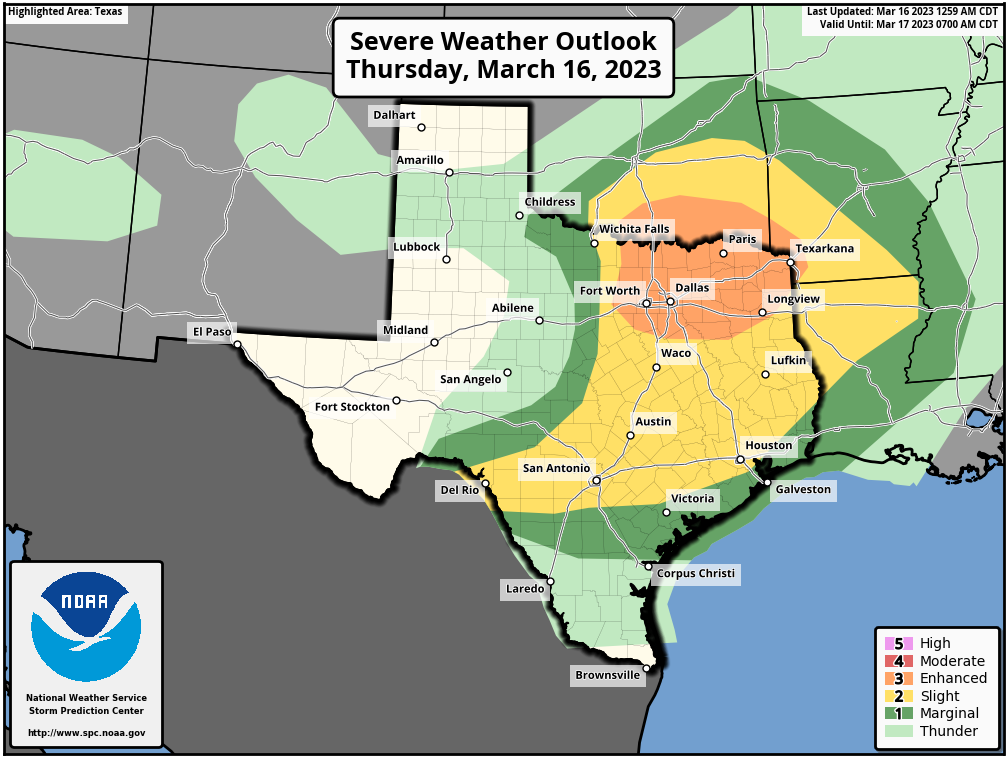 The Storm Prediction Center has us in a slight risk (level 2/5) for most of the Houston area and a marginal risk (1/5) along the coast. If any storms can develop, strong winds, hail, or an isolated tornado will be possible. Again, in the immediate Houston area, this seems unlikely, but the chance is enough to make sure you pay attention today. You'll certainly want to watch north of The Woodlands, where the risk increases.
Outside any severe weather, there will continue to be a few showers or pockets of light rain. Warm temperatures though, with highs pushing 80 south and west of Houston. And yes, continued windy.
Tonight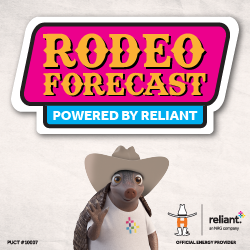 Things may actually break this evening for a time. Honestly, if you're headed to the Houston Livestock Show & Rodeo for Chris Stapleton tonight, you may be fine. Again, keep tabs on the situation and heed any weather alerts from Rodeo officials in the unlikely event they materialize. Look for 70s on your way in — and out.
The next phase of weather will be the cold front itself. The good news is that the timing is likely to occur while most of the area is asleep. That may also be bad news if you have a pet or child that wakes up during thunderstorms. You've been warned.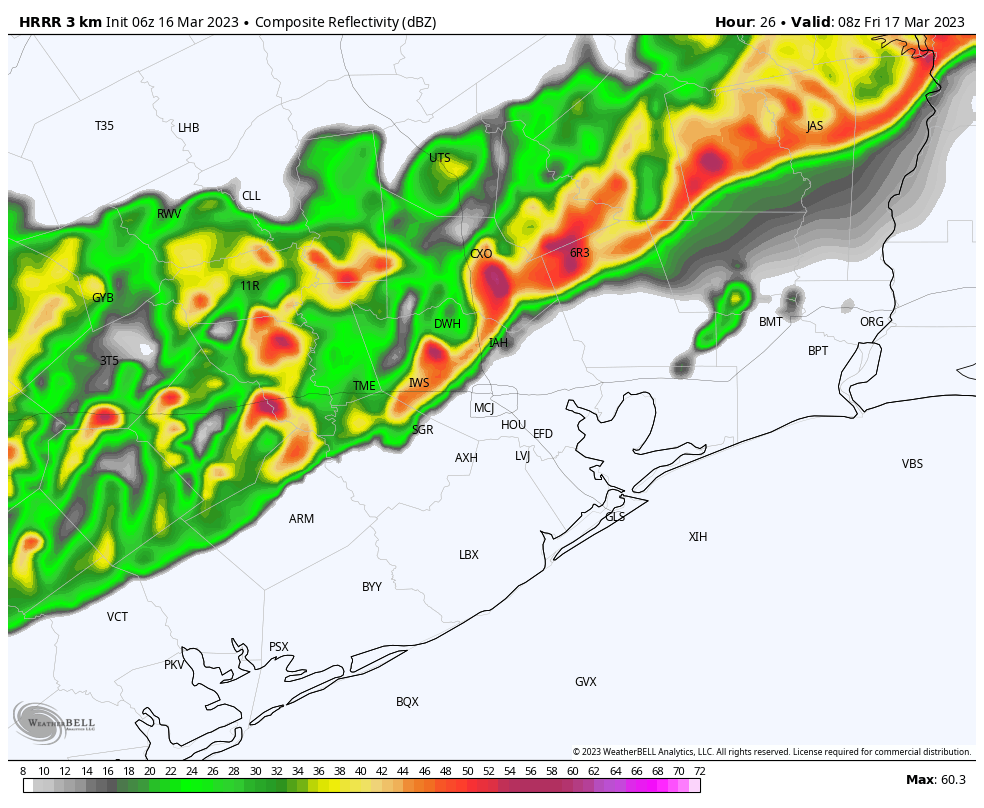 The front itself will arrive around midnight in the Brazos Valley, 1-3 AM in the northwest Houston/Montgomery County area, 2-4 AM in Houston and the immediate southeast, and 3-5 AM at the coast. With it? A line of showers and gusty thunderstorms seems likely. Locally heavy rain will also be possible. The real nasty weather should only last 30-45 minutes or less, but the rain showers will linger well into Friday morning. While severe weather is not necessarily expected with this squall line, there is the chance for a couple warnings due to strong wind gusts. Outside of storms even, strong, non-severe wind gusts will persist tonight.
Friday
The front will be offshore Friday morning, and it's going to feel a heck of a lot different than Thursday. Temperatures will plunge behind the front into the upper-40s or low-50s and only rise a little bit through the day Friday. Wind gusts will probably peak on Friday morning and then slowly drop off Friday afternoon and evening. But it will feel quite raw.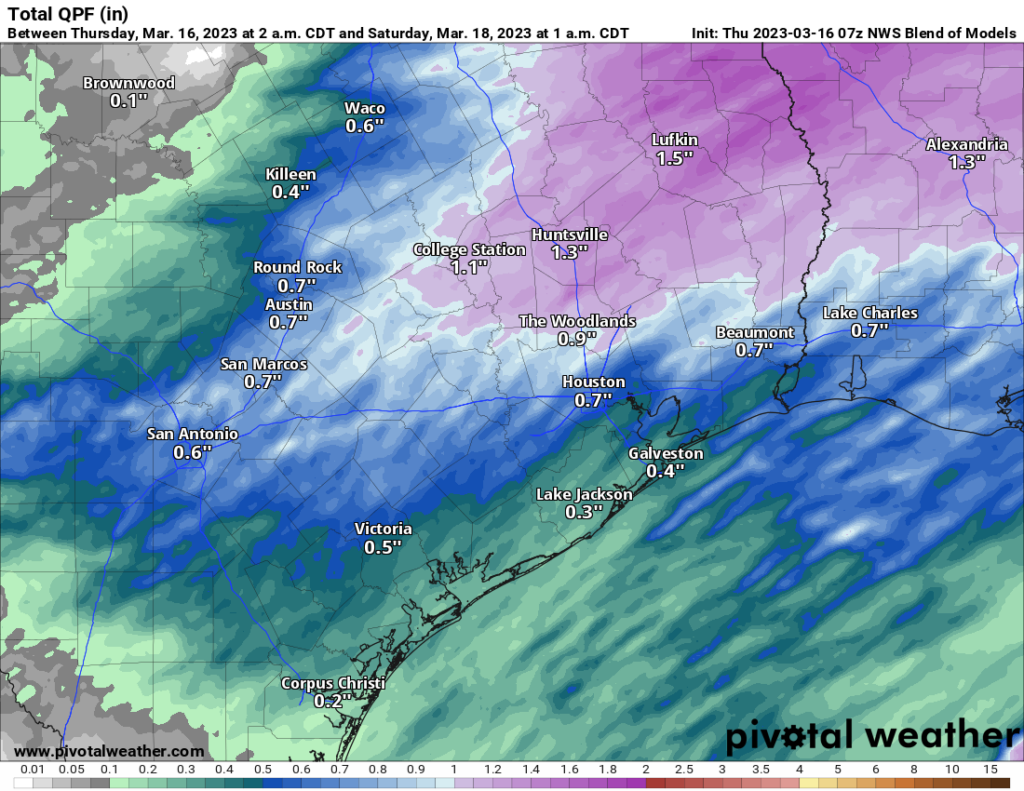 In terms of weather, rain is likely to continue at varying intensity (light to moderate) through the morning hours, possibly diminishing from west to east by early afternoon. Overall, tomorrow looks like an indoors type day if you have any spring break plans.
Saturday through Monday
The weather looks to be some version of the same thing on both weekend days and Monday. Both Saturday and Sunday look to be mostly cloudy, cool, and breezy. Expect lows in the 40s, highs in the 50s, and at least a slight chance of some pockets of light rain as some weak disturbances pass through in the upper atmosphere. I mentioned ice pellets as a possibility yesterday, and while unlikely, I will not be shocked if someone reports brief, light sleet on Saturday or Sunday, especially west of Houston.
Monday's forecast is a little trickier as models are shifting around on potential impacts from one more disturbance passing by. We'll call it pretty similar to Saturday and Sunday with highs in the 50s and morning lows in the 40s, but we'll have more on that tomorrow.
Tuesday and beyond
The specific weather forecast gets a little more uncertain beyond Monday. What we do know: Temperatures will warm up. But whether that comes with sunshine or more clouds and rain chances is TBD. Look for highs in the 60s on Tuesday, well into the 70s on Wednesday, and perhaps 80s again by Thursday.