Yesterday ended up being an absolutely spectacular day for most of the area, except perhaps southwest of Galveston, which hung on to clouds. We maxed out at 71° officially at Bush Airport, making Monday our coolest day since February 18th! Today will be even cooler, as we battle some cloud cover. And we're still watching a pretty good chance of some very cool air this weekend.
Today
For Houston proper, today looks like a decent day. About 20,000 feet up today, a weak disturbance is going to cross the northern half of Texas, rotating around the base of a trough that's helping supply a major snowstorm for the interior Northeast.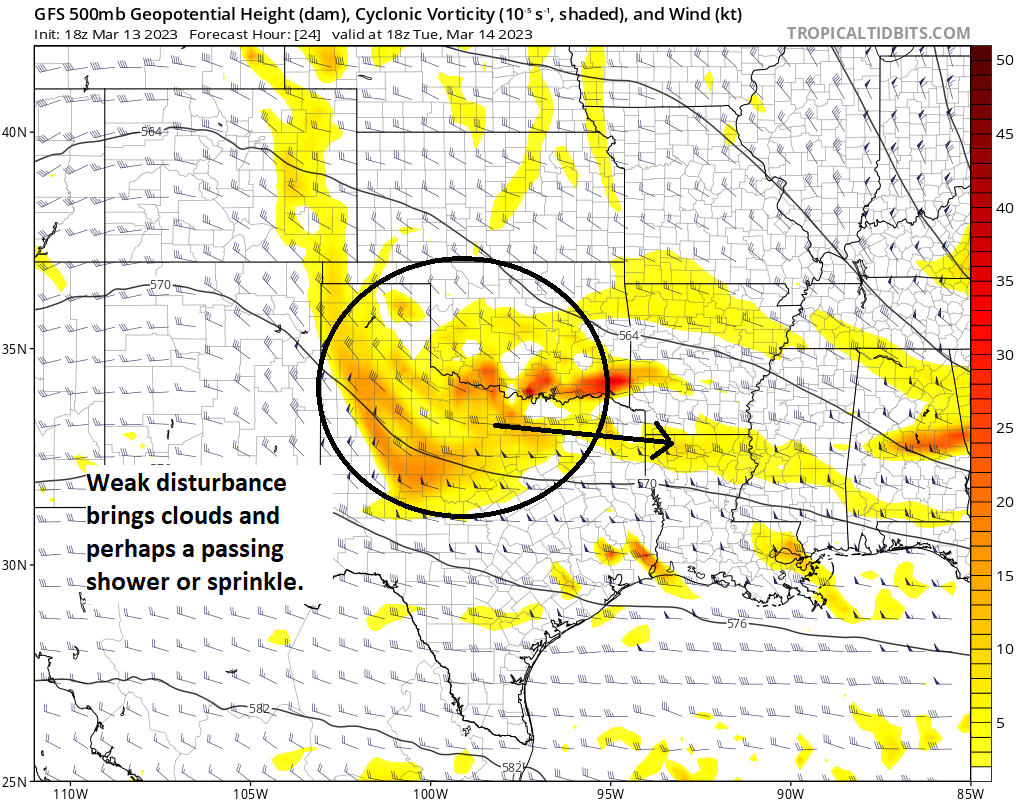 That disturbance won't do much more than give us a few extra clouds and slightly cooler temperatures today, especially north of Houston. Based on morning satellite imagery, I'm not super impressed by the cloud cover this morning, so the day should start decent at the least. Highs will peak in the lower half of the 60s north of Houston and the upper half of the 60s south of Houston. We could do 70 or so from about Sugar Land south and west or anywhere that avoids clouds. The best chance for a shower or some sprinkles would be along or north of Highway 105, but we are probably talking meager stuff overall.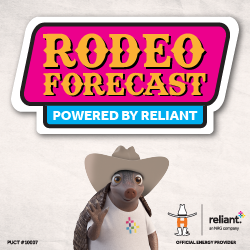 Bring a light JKT if you're checking out MGK tonight at the Houston Livestock Show & Rodeo. Mid-60s or so walking in and near 60 as you head home. No weather woes again.
Wednesday
Between our current weather and the stronger onshore flow ahead of our next front, we get Wednesday, which looks just sublime. Chamber of commerce type weather, with sunshine, morning lows in the 50s and upper-40s (near 60 at the coast), then just mild and pleasant with low to mid-70s and Goldilocks humidity levels…not too dry, not too humid. Enjoy!
Thursday & Friday
On Thursday, you'll notice the onshore flow increasing. Humidity will be going up, there will be more clouds, and we'll likely see temperatures quite mild in the morning (60s), warming into the 70s to near 80° again on Thursday afternoon. A few showers or a thunderstorm are possible on Thursday, especially to the north and west of Houston.
The primary cold front that will be impacting us comes through Friday morning. Ahead of it, expect showers and thunderstorms to be likely. While locally heavy rain and locally strong storms are possible, we aren't expecting any serious or widespread severe weather at this time. It could get a bit noisy late Thursday night and Friday morning though. We'll continue to keep an eye on this in case things change.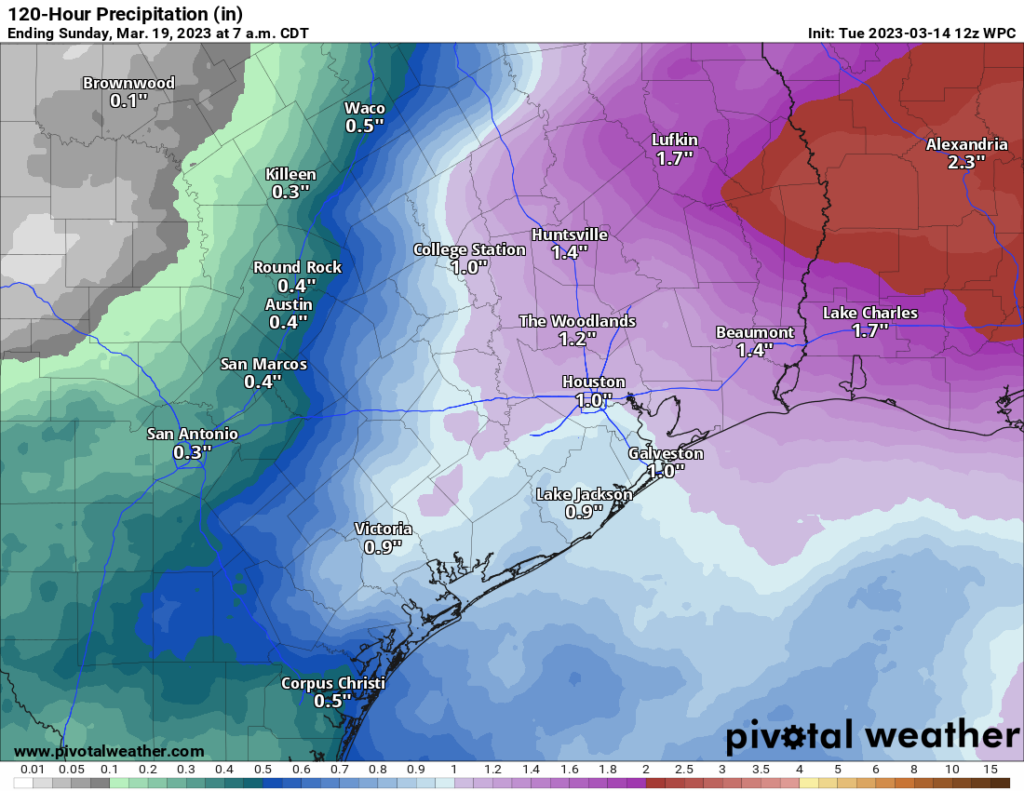 The big question on Friday is how much clearing we see. I think we'll remain cloudy into early afternoon right now, but then possibly filter in some sunshine from northwest to southeast before day's end. Friday's high temperature will probably occur around or just after midnight, near 70 degrees, falling into the mid-50s by morning. Maybe we can warm to near 60 degrees Friday afternoon, but that would be quite optimistic.
One thing you'll also notice Thursday and Friday? The wind. Gusts of 25 to 35 mph are likely across the area, with stronger winds possible over the water.
Weekend
Perhaps this will be our final real winter-like weekend of the season. Temperatures should bottom out in the 40s on Saturday morning, with some 30s possible north and west. We do not expect freezing temperatures, however. During the day, however, it will feel very un-March like. Our average high this time of year is up to the mid-70s. We may struggle to get into the mid-50s on Saturday with a lot of clouds and maybe a few pockets of light rain or drizzle.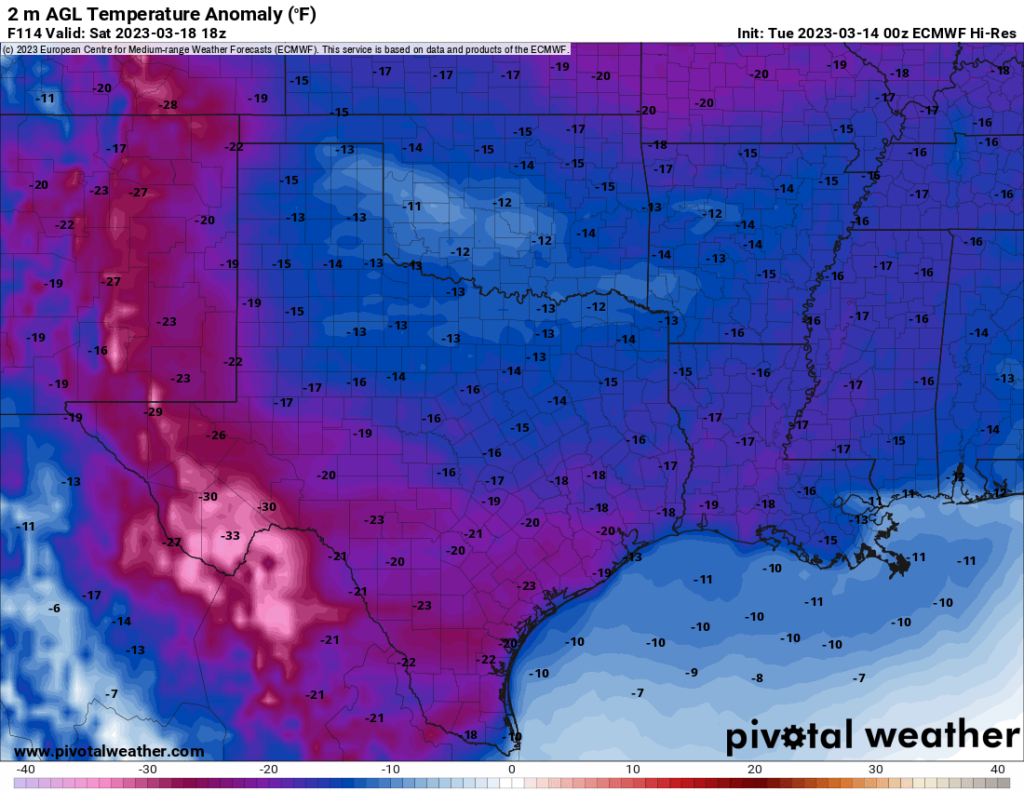 Sunday will only be marginally warmer with morning lows again in the 40s mostly, daytime highs in the 50s, and a mix of clouds and sun. Another system is pegged for Monday before we warm up a good bit next week. More on all that tomorrow and Thursday.