Good morning. Some readers reported seeing a bit of freezing precipitation on Tuesday. This was due to an upper level disturbance that moved in rapidly from the west. Because the atmosphere was very dry, it was not expected that this precipitation would make it all the way to the ground, but some of it did. What you saw, in most cases, was graupel. What the heck is graupel? It is similar to, but distinct from sleet. Here's a graphic that shows how it forms in the atmosphere. Essentially, supercooled water droplets form on falling snowflakes in a thin layer of warmer atmosphere.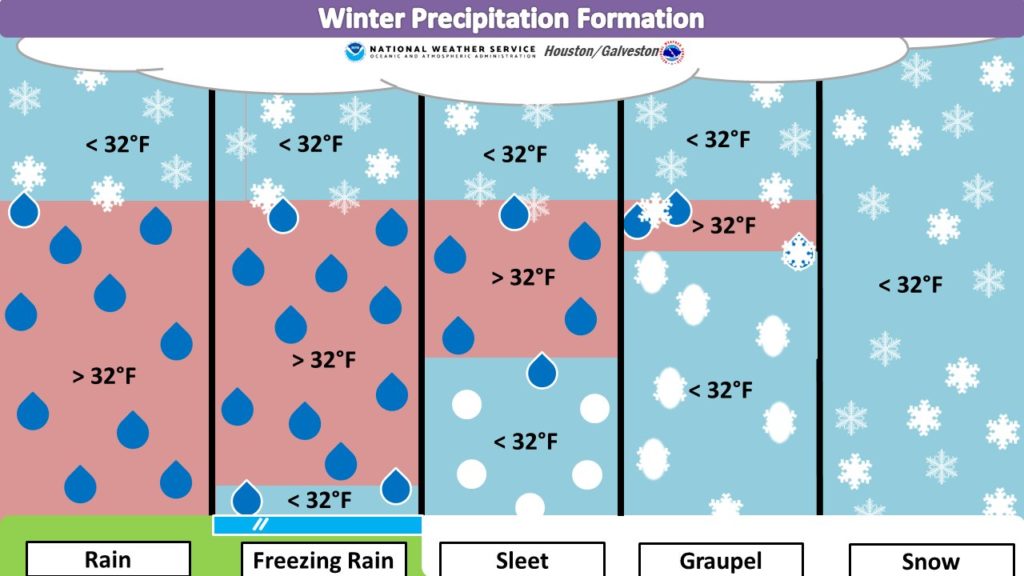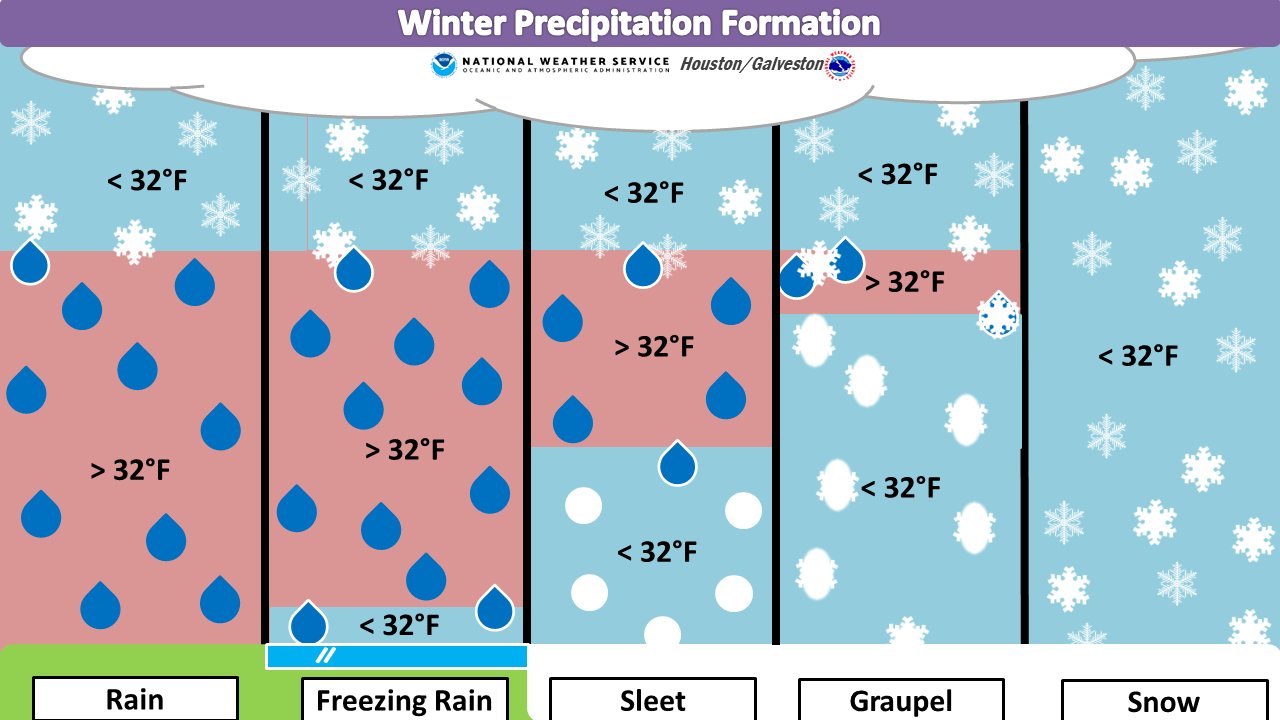 Wednesday
We're done with the wintry mix and precipitation chances for now. After a cold start, with temperatures dropping into the 30s across much of the area except for the coast, Houston should warm nicely today. Under sunny skies, we expect highs to reach about 60 degrees. Winds will be light, out of the west to southwest. Low temperatures tonight should reach about 40 degrees in the city of Houston. For the record, I'm choosing to run the Houston virtual marathon early on Thursday morning, which may give you an idea of my preferred weather conditions for long runs. In any case, Matt will be covering things on Thursday for Space City Weather as I'll be knackered.
Thursday
After another chilly start, this will be the warmest day of the week. Look for highs to reach the upper 60s to possibly 70 degrees for some areas, with mostly sunny skies. Just as things are warming up, a cold front will push through on Thursday evening, bringing a wind shift from the north. The atmosphere will be dry enough that we don't envision any precipitation with the front. Lows will probably drop down to around 40 degrees.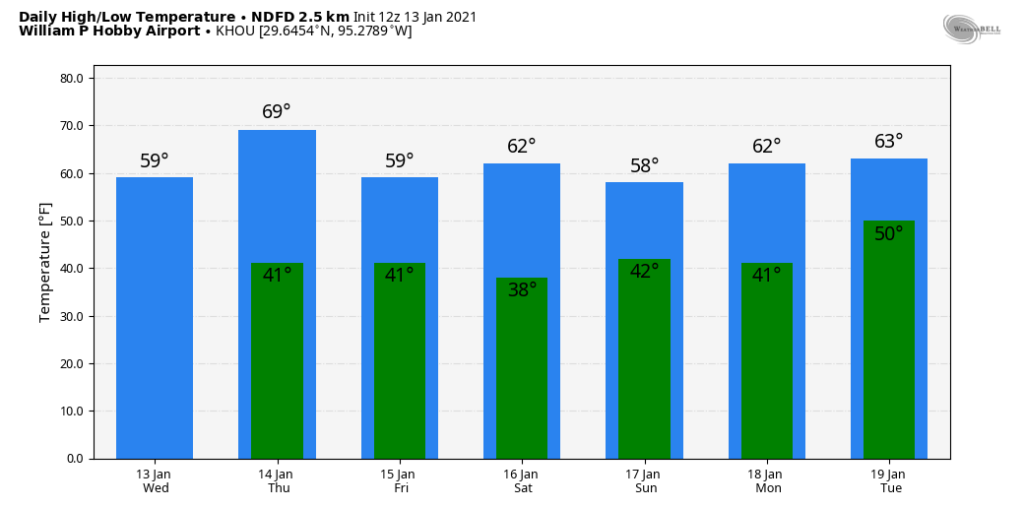 Friday
In the wake of the front, Friday will be breezy and cool. Winds out of the north will blow at about 10 to 15 mph. Look for highs in the upper 50s to 60 degrees, with mostly sunny skies. Winds will die down during the afternoon or evening hours.
Saturday
The first half of the weekend looks splendid. The day with start out in the upper 30s to 40 degrees, and with mostly sunny skies highs should reach into the low 60s.
Sunday
On Sunday we can't rule out the possibility of some rain showers due to some atmospheric instability. However, I think chances, on the whole, are fairly low—likely 20 percent or less. Skies otherwise should be partly sunny, with highs near 60 degrees.
Next week
For Monday—M.L.K. Day—we should see the return of mostly sunny skies and highs in the low 60s. The forecast turns a bit more sour on Tuesday and Wednesday, as it looks like several ingredients will come together to bring healthy rain chances. It's too early to have confidence in totals, but a general expectation for now is 0.5 to 1.0 inch of rain.