Bonafide winter has arrived in Texas, and we're just getting started. This may be Texas's most severe and damaging cold snap since the 1980s, and it's going to come with a significant mess on Monday, so do read on.
Today
After yesterday's fireworks via quite a few thunderstorms in the area, we expect today to be a bit quieter. There should still be some showers, and there may be some drizzle as well. But we aren't expecting much more than a few hundredths to tenths of an inch of rain today, and some areas will stay completely dry. The best coverage of showers should be south and east of the city. With plenty of clouds, temperatures won't go far today. Look for highs maybe getting to 40 degrees or so, low-40s if you're lucky.
Note to those traveling north or west of Houston, as we get a lot of questions: There may be some patchy freezing drizzle well off to our north, especially this morning. So if you're headed to Austin, Waco, or Dallas, be hyperaware of road conditions. Bookmark drivetexas.org for updates for the state and the Houston TranStar site for additional local conditions.
Saturday & Saturday night
Tomorrow will likely be a similar sort of day to today. Expect clouds, some showers, some light rain or drizzle, and cold temperatures struggling to get to 40 degrees or so. There could be a slightly more vigorous disturbance that pivots through very late in the day Saturday or Saturday night and brings more numerous showers. If that happens, there is the chance that areas north of I-10 get close to the freezing mark and freezing rain (ice) could become an issue.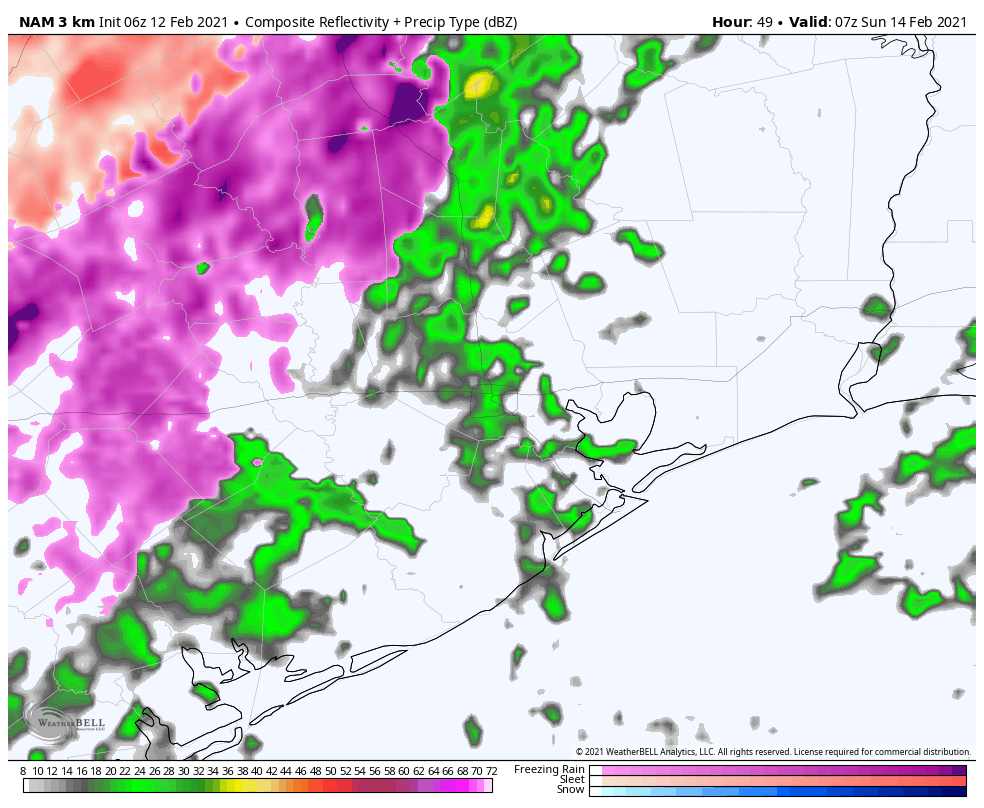 This would likely be mainly focused on the nighttime hours. The Houston area should just see a cold rain, but if you have to make your way north of Houston for any reason after 6 PM Saturday, you will want to pay particularly close attention to any forecast updates this weekend. Lows bottom out in the low- to mid-30s.
Sunday
That Saturday night disturbance should exit stage right on Sunday morning, and the majority of Sunday looks dry but cloudy. Because of the generally drier conditions, we may be able to sneak into the low or even mid-40s on Sunday afternoon.
Sunday night through Monday afternoon
So, here's where the troubling part of our forecast begins to emerge. As we've been discussing for days now, a strong disturbance and storm system are going to pass through the region on Monday morning. We are growing highly confident in wintry precipitation impacting almost the entire region, including the coast on Monday now. There is a good chance that travel may become close to impossible anywhere in the Houston area beginning early Monday morning.
Here's what we know right now:
Rain, or a wintry mix will develop on Sunday night.
It will likely quickly transition to all freezing rain and/or sleet, except maybe at the immediate coast before sunrise Monday.
Precip may be heavy at times Monday morning.
Frozen precip will likely end as some sleet or snow flurries by early Monday afternoon.
Ice and/or sleet accumulation is likely across much of the area.
Temperatures will likely remain below freezing all day Monday, dropping into the lower 20s by afternoon.
Winds will gust to 20-25 mph most of the day Monday.
Now, for what we really don't know:
Whether sleet or freezing rain will be the dominant precipitation type (snow seems mostly unlikely except well north and west of Houston or at the very end of the event).
How much sleet and/or freezing rain falls.
If there will be snow accumulation at the end.
The exact timing of the storm. (still some 3+ hour differences among various weather models)
How many power outages will occur.
Those first two points are very important, as there is a monumental difference in impacts between an all-sleet storm, an all-ice storm, and an ice storm followed by sleet. A couple inches of sleet is a nuisance, but it's not severely problematic. A tenth to quarter-inch of ice with gusty winds and bitter cold could be extremely problematic. And a layer of ice caked over by sleet or wet snow is even more problematic. Unfortunately, we really aren't good enough to predict winter storm precipitation totals to that specificity this far in advance. I can tell you that having looked at model data, they are loudly implying that a large portion of the area will be at risk for icing on Monday. This event will likely be problematic.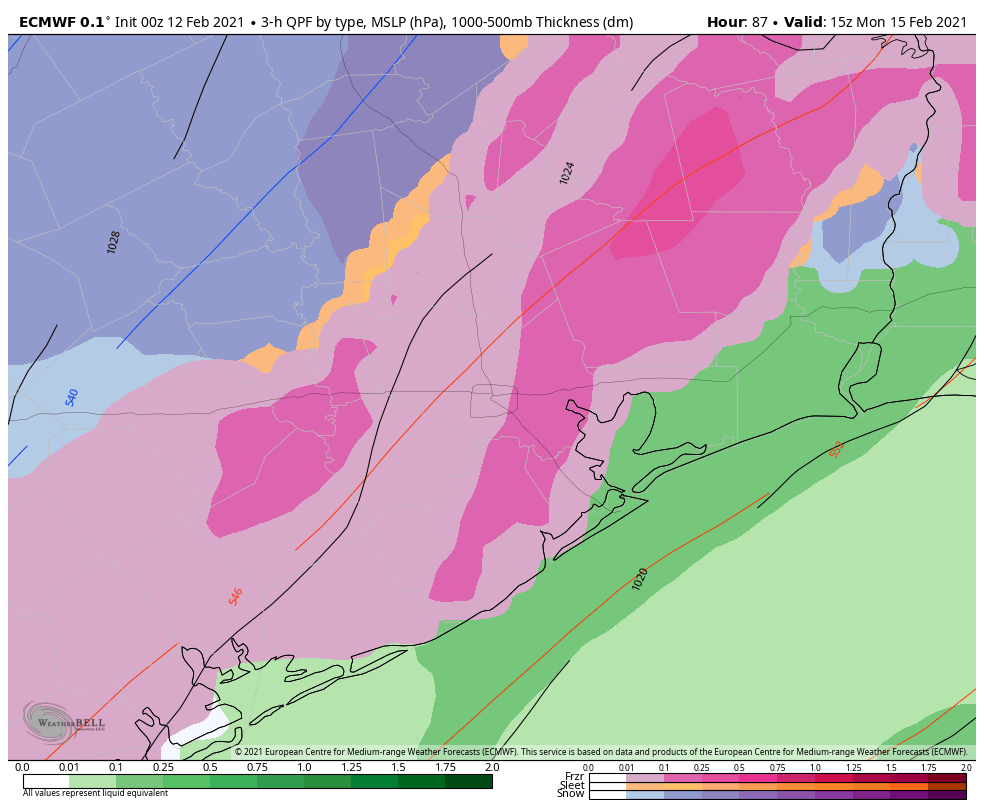 Much like flooding events, models struggle mightily when it comes to exact placement of the bullseye of a winter storm. But even putting that aside, any amount of ice on the roads here will make travel close to impossible, and that seems to be the direction we are heading for Monday.
So to summarize: A winter storm will impact the majority of the region late Sunday night through Monday afternoon with a sleet or ice storm being the most plausible outcome right now. We would strongly encourage folks to prepare to remain wherever you are from Sunday night through Tuesday morning. This forecast will change between now and then, and Eric and I plan to keep you posted all weekend long.
Monday night & Tuesday
The temperatures will be the big story once our storm exits Monday afternoon. We will likely see highs on Monday near freezing very early, dropping into the low-20s by afternoon. Those temperatures will continue steadily downward Monday night. The current forecast from the National Weather Service for Tuesday morning is shown below.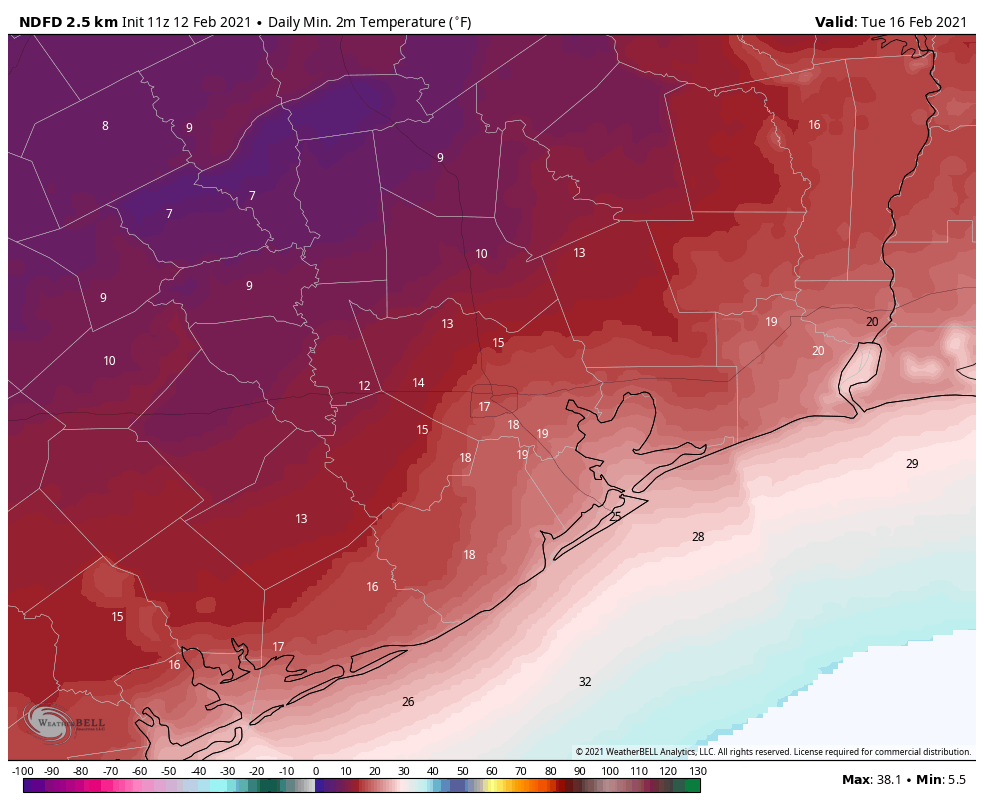 Yeah, that's cold. We are expecting the city of Houston to bottom out at 15 to 20 degrees. The western and northern suburbs will likely fall to 10 to 15 degrees. Bay Area and coastal locations will be around 20 degrees, give or take. If we were to somehow see accumulating snow on Monday, you could probably subtract another 1 to 3 degrees from these values at least. The last time Houston officially hit 15 degrees? December 1989.
Tuesday will see sunshine at least! We should break out above freezing by late morning. The combination of the sun and temps in the mid-30s should allow us to melt most of Monday's ice. We hope.
It's worth noting that this won't be just an extreme cold event in terms of temperature. It will also be so in terms of duration. Temperatures will likely drop below freezing in Houston on Monday before sunrise and not make it above freezing til mid or late Tuesday morning. This will easily be a 24 to 36 hour stretch of subfreezing temperatures for Houston, with a longer-duration north of the city. It has been over 30 years since Houston has seen this kind of cold weather. You absolutely need to prepare your home for the impacts. Reliant has provided some very useful advice below. You can also read more cold weather prep tips here, here, or here.
Later next week
I'll be honest with you: I don't even want to think about later next week right now, but the reality is, more headaches are likely. Another storm system is likely to impact the region on Wednesday into Thursday. This will also potentially carry a potpourri of precipitation types. Whether we see snow, more ice, or just plain rain remains to be seen. More cold will follow, and although we are unlikely to see the teens again, there is some chance we have another hard freeze (mid-20s?) by Thursday or Friday mornings. We'll get more into that Sunday or Monday.
Note from Our Sponsor:
As Houstonians are prepping their attire, gardens, pets and plans for the freeze, Reliant wanted to share some tips on prepping your home to stay warm during the expected winter weather.
Stay Warm Tips:
Here are a few things you can do immediately to reduce energy consumption and still stay comfortable. Best of all, they're simple and free.
Let the sun in. Open blinds and shades during the day and remove any solar screens so the sun can warm your home.
Check your thermostat settings. For every degree above 68°, you can expect a 3-5% increase in your heating costs.
On vs. auto. Ensure the fan on your thermostat is set to "auto" not "on" to prevent it from running 24/7.
Close heat escape routes. Be mindful of how often you're using bathroom or utility room ventilation fans and ensure the damper on your fireplace is closed when not in use, as heat can escape from your home through these outlets.
Set your ceiling fan to rotate clockwise. This helps force warm air down from the ceiling into the room to create a more comfortable environment in colder seasons.
Home Prep Tips:
A few home improvement projects can help keep your heating system from working harder than it needs to.
Consider installing a Nest programmable thermostat. This can help you reduce energy usage by up to 15% without lifting a finger.
Eliminate cold air leaks by weatherstripping exterior doors and windows. This is a relatively quick and inexpensive way to help save up to 10% on total energy costs. A few additional places to check are pull-down attic stairs, dryer vents and exterior wall outlets.

Try the paper test: Open an exterior door, insert a piece of paper and close the door. If the paper comes out easily, the gap is too large and can contribute to cold air leaks.

Get an annual heater tune-up. Make sure your furnace or heat pump is clean and in good working order, so that it can run as efficiently as it should.
Check your insulation. Ultimately, a home without proper insulation and weatherization can lose up to 40% of heated or cooled air.
Check out more on winter weather prep and common causes of high winter electricity bills here.