So far, this May, every day has recorded an above-normal temperature. The monthly average of 80.8 degrees is on pace to be the second-warmest May on record for Houston, behind only 1996. Temperatures this week will be even warmer, with highs likely reaching the mid-90s, and lows in the mid-70s. However my confidence is increasing in the arrival of a weak, late season cool front on Saturday night or Sunday that should bring some moderate relief in terms of temperatures, and needed rain showers.
Tuesday
In the meantime, however, high-pressure is going to drive near-record heat across the region. Today will be mostly sunny, with high temperatures in the mid-90s, and southerly winds at 5 to 10 mph. Overnight lows will be muggy, with temperatures only dropping into the low-70s beneath mostly cloudy skies.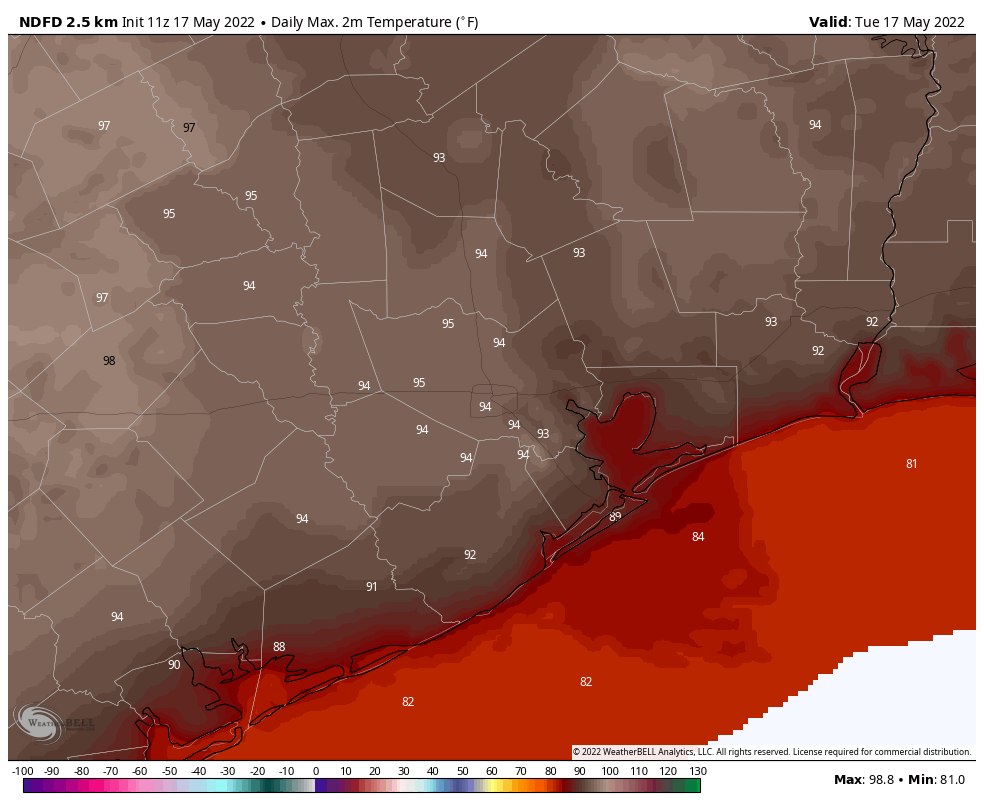 Wednesday and Thursday
Expect more of the same, with highs in the low- to mid-90s, and mostly sunny skies. Winds will be a little more noticeable, blowing out of the south at about 10 mph, with gusts up to 20 mph. Do I really need to tell you that the nighttime will be warm and muggy?
Friday
Highs on Friday should reach the low- to mid-90s, and we'll see even stronger southerly winds at 15 to 20 mph, and gusts of 25 or possibly even 30 mph. Friday night looks especially muggy, with overnight lows in the mid- to upper-70s.
Saturday and Sunday
The forecast for the weekend remains a bit fuzzy, but some sort of change is indeed coming. It looks like an atmospheric disturbance will provoke a chance of showers on Saturday morning, primarily for inland areas. Then, an approaching front should bring a widespread chance of showers and thunderstorms sometime between Saturday evening or Sunday morning. Right now accumulations don't look too impressive, perhaps on the order of 0.25 inch for most, but that value is subject to change. The bottom line is that Saturday should be partly to mostly cloudy, with highs in the mid-90s, whereas highs drop into the mid-80s or so on Sunday, with continued clouds. Lows on Sunday night should drop to around 70 degrees for Houston, with cooler conditions further inland.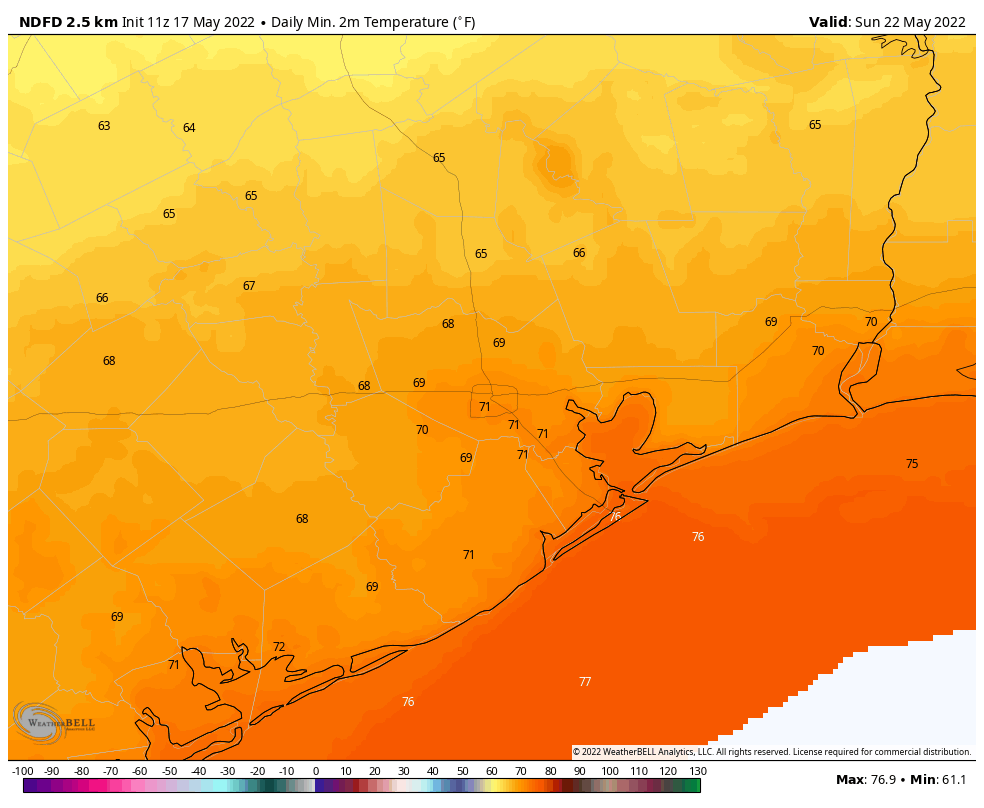 Next week
Monday should again be in the 80s before the cold front washes out. With the return of the onshore flow, it looks like we may some additional (and welcome) rainfall by Tuesday or so. Yes, please.