We eked out a 90 degree day on Thursday, and we'll look to do it again today, as early summer starts to assert itself. That said, the humidity will remain fairly tame over most of the next several days, especially away from the immediate coast. All in all, about par for the course for late May.
Today
We'll have plenty of sunshine today. Look for high levels of ozone as a result, so air quality may be a bit poor this afternoon, especially for those of you that are in a sensitive group for ozone. High temps should approach or exceed 90 degrees in many spots away from the coast.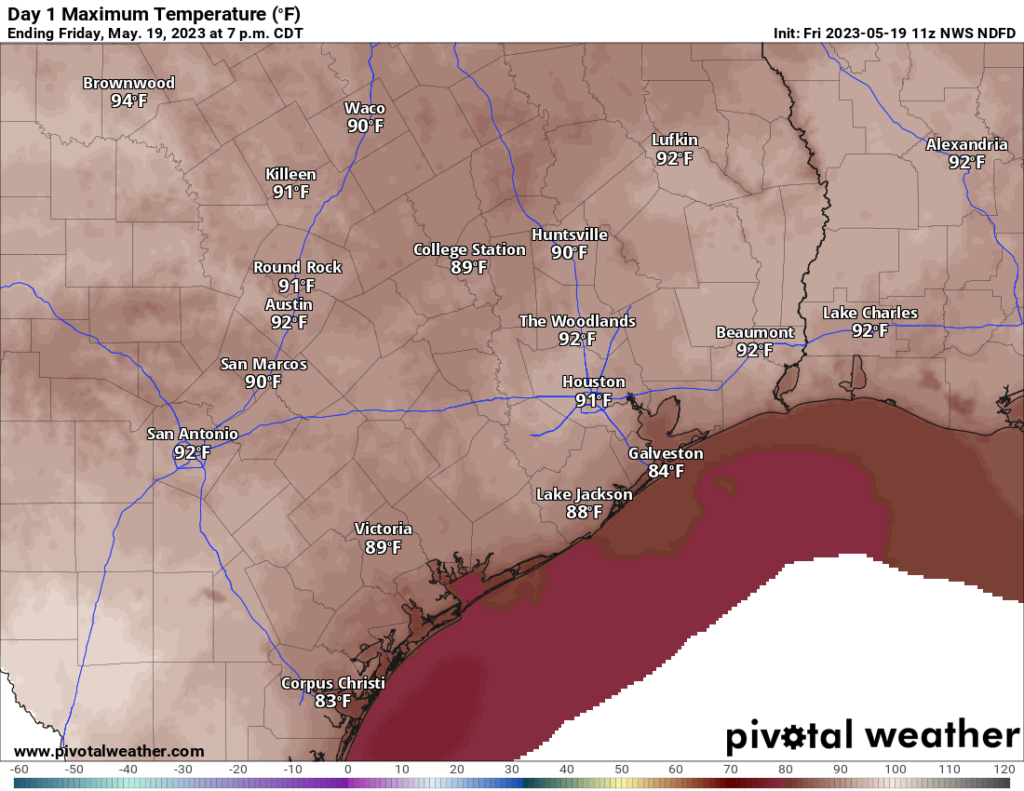 Weekend
The weekend will feature the much discussed "cool" front that should help keep the humidity in check a little longer. Of course, that does mean the return of shower chances. On Saturday, with the front sneaking into our northern areas in the morning, some showers and storms may pop up as early as the early morning. We'd likely see those dissipate rather quickly and then some new isolated showers or storms develop in the afternoon or evening elsewhere in the region. We'd anticipate that most areas won't see anything too crazy Saturday. A few communities will see a downpour, however.
Hit and miss showers may continue after sunset Saturday and into Saturday night, especially west of the Houston area, probably closer to San Antonio. Again, nothing major is expected, but if you have outdoor plans, maybe have an umbrella at the ready just to be safe.
As the front kind of washes itself out overhead on Sunday, we should see scattered storms across the area, focused in Houston or possibly points south. While we again don't expect any significant issues, there could very well be a couple downpours in the area Sunday. The slight edge for outdoor plans goes to Saturday this weekend over Sunday. We aren't expecting any big ticket totals, but a couple areas may see up to an half-inch or so of rain, while others see nothing at all. I'm keeping my expectations rather in check this weekend based on the latest data, but as always, prepare just in case a few showers or storms pop.
As far as temperatures go, we foresee upper-80s to low-90s Saturday and slightly cooler temps Sunday (low-80s) due to clouds and some of those possible showers. Morning lows should be around 70 degrees.
Early next week
Once we get to Monday, most of the impetus for driving showers and storms will have vanished. That being said, with some clouds and a good bit of sun, we could still see some showers or isolated storms, mainly south and southwest of Houston.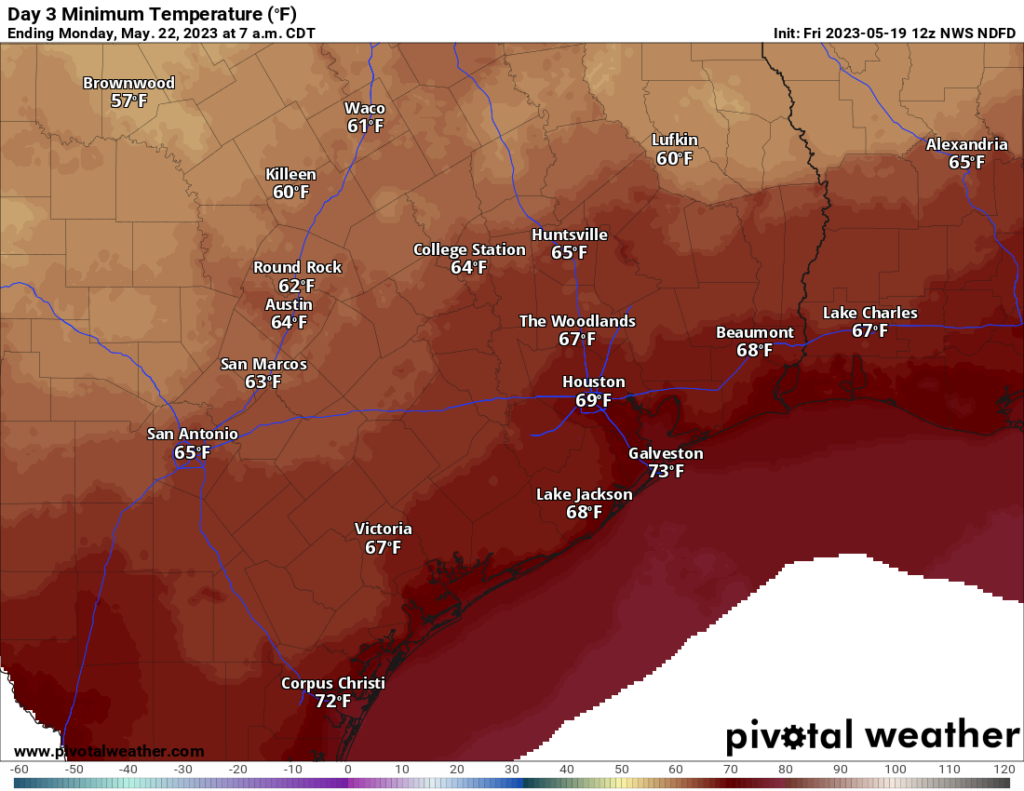 With the slight drop in humidity in the wake of the front, we will probably see lows mostly in the 60s to start next week. Daytime highs will still be plenty warm, with mid to upper-80s Monday and Tuesday. Tuesday's rain chances should again be mostly focused south and west of Houston and on the lower side in general.
Later next week
I think Wednesday and Thursday carry greater coverage of showers and storms than we see Monday or Tuesday and closer to Houston proper. These storms would likely come from the east in Louisiana and be capable of some heavier downpours, thanks to a weak "backdoor" cold front. Temperatures may hold in the mid-80s here. We might get a very slight reinforcing shot of drier air behind that front to keep humidity levels in check another couple days into the weekend. But thereafter, summer should begin to flex, with warmer nighttimes (low to mid-70s) and daytime highs at or above 90° daily by the end of Memorial Day Weekend.
It's a bit early to speculate much on the holiday weekend, but as of right now there is nothing that stands out in terms of higher rain chances or extreme temperatures. We'll check back in on that next week.