Happy St. Patrick's Day to those who celebrate. Just a little different out there this morning! Temperatures versus 24 hours are much colder.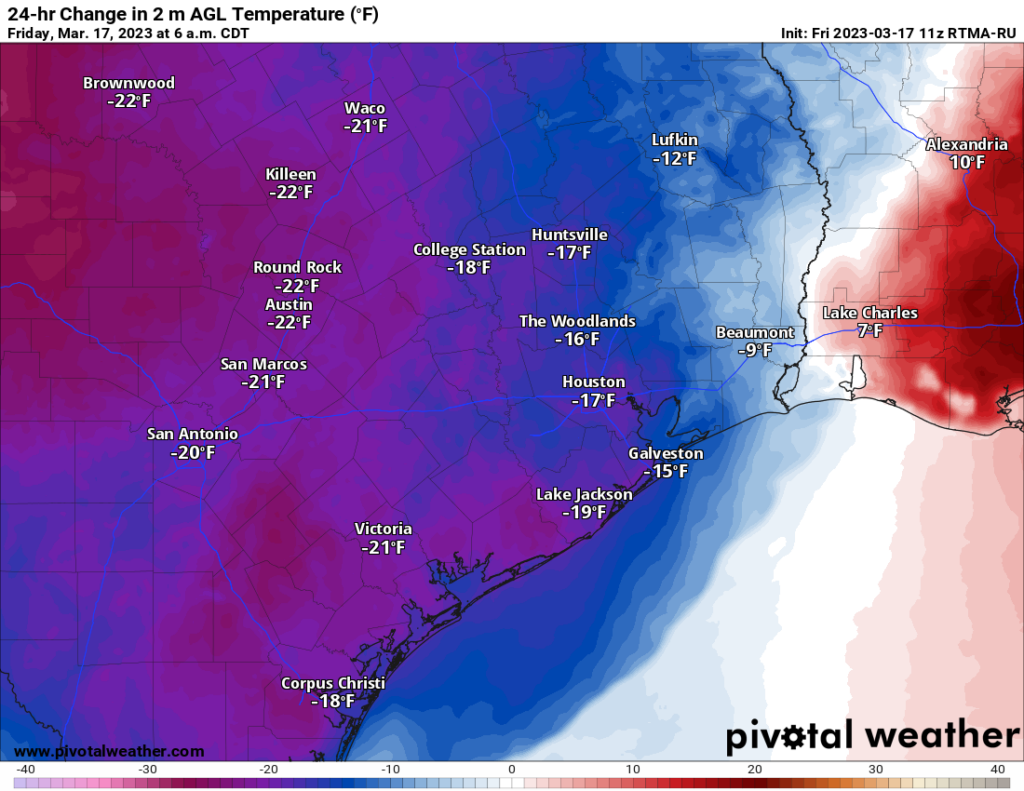 We are running 15 to 20 degrees cooler than yesterday, and that disparity will probably worsen through the day as temperatures stagnate. It feels more like a Valentine's Day than a St. Patrick's Day.
Today
Last night's line of storms is now long gone, but we are left with showers that will actually tick up in intensity some in the Houston area over the next hour or two.
Look for rain or showers to continue through probably midday across much of the area, and even then it will only gradually shut off. Temperatures will go almost nowhere today, stuck in the 40s, maybe up to low-50s in a few spots later this afternoon. The wind will continue howling at times as well through the day.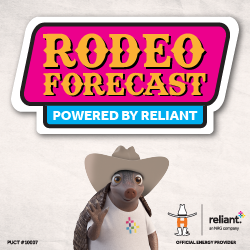 Tonight
Cody Johnson takes the stage tonight at the Houston Livestock Show & Rodeo, and you'll want to dress warmly! Temperatures will be near 50 degrees on your way in and in the upper 40s on your way out with a continued breeze. Rain should be done with, but it will still be a bit damp.
Low temperatures tonight will bottom out generally in the 40s area-wide. Some light rain showers are possible toward morning.
Saturday & Sunday
Look for another cloud-dominant day tomorrow. Temperatures will probably again struggle into the mid-50s at best. A few passing showers will be around, especially south of Houston. It's entirely possible that a few areas see some sleet mix in with the rain, though I'm not sure it will be precipitating hard enough for that to happen. For those of you planning outdoor activities, there's probably a better chance than not that you'll be mainly dry this weekend, but it will remain breezy and chilly and mostly cloudy.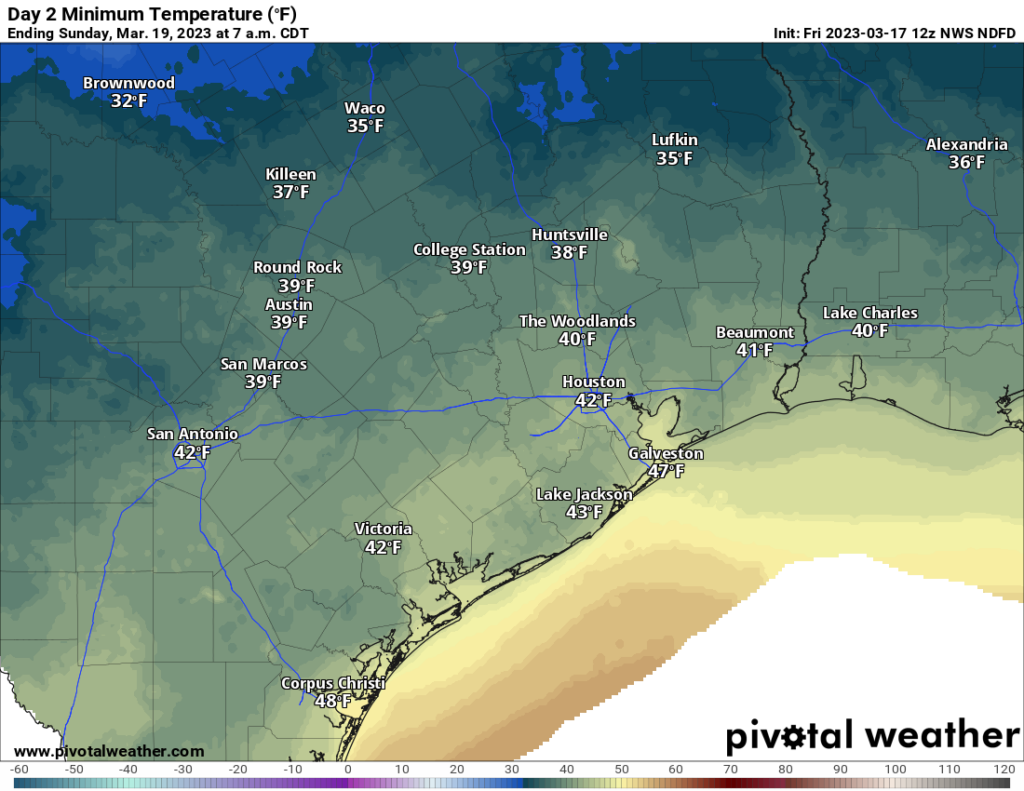 Morning lows will be chilly on Sunday. We expect 30s and 40s for minimums. A freeze is not a concern in the Houston area, but it'll certainly feel cold. Look for another day of mostly cloudy skies and low-end shower chances on Sunday, with highs perhaps a little better into the mid or even upper-50s. Either way, be ready for a chilly finale to the Rodeo!
A quick note: If your travels are to or from Big Bend or Guadalupe Mountains National Park this weekend, there is a good chance of some snow out that way. Higher elevations of West Texas may see an inch or two of snowfall from this moisture and cold.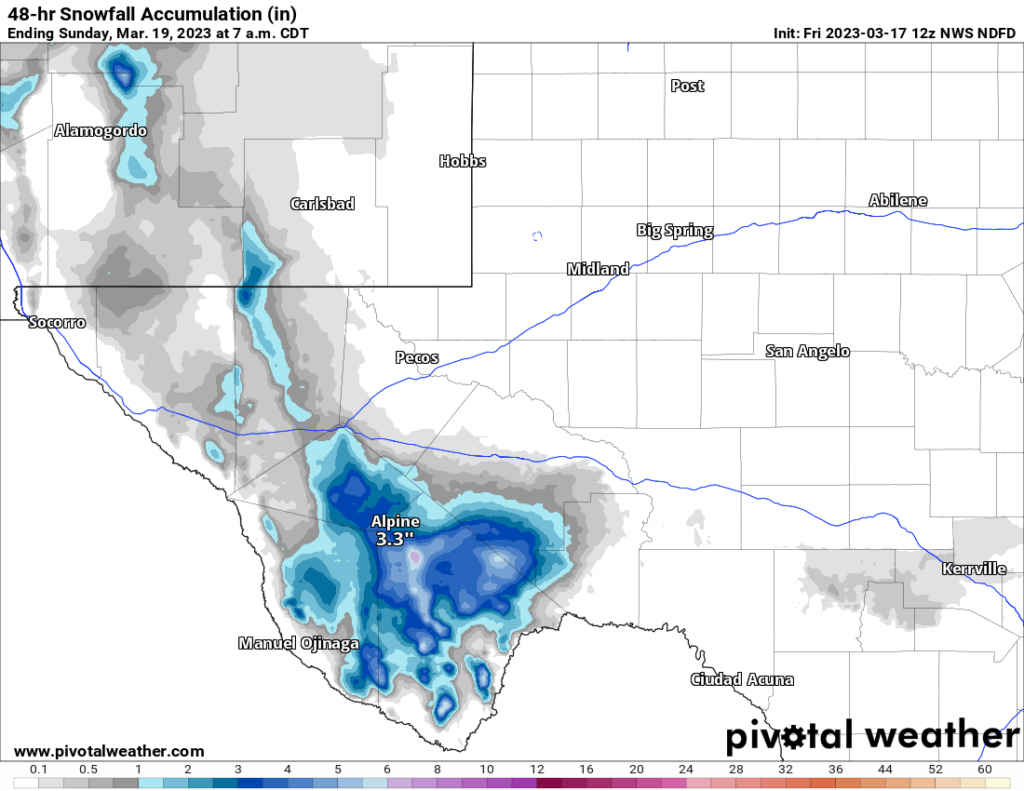 More a curiosity than a travel woe, but certainly impressive for mid-March!
Monday and Tuesday
Look for another day of mid or upper-50s after morning lows in the 30s and 40s on Monday. Monday morning may be the coldest of this stretch with widespread mid to upper-30s. Tuesday will see 40s to low-50s in the morning and upper-60s in the afternoon. Both days will be partly sunny with a low-end chance of showers.
Later next week
We will certainly warm up a lot on Wednesday and Thursday. Look for mid to upper-70s on Wednesday and 80s on Thursday. Both days should see at least some sunshine.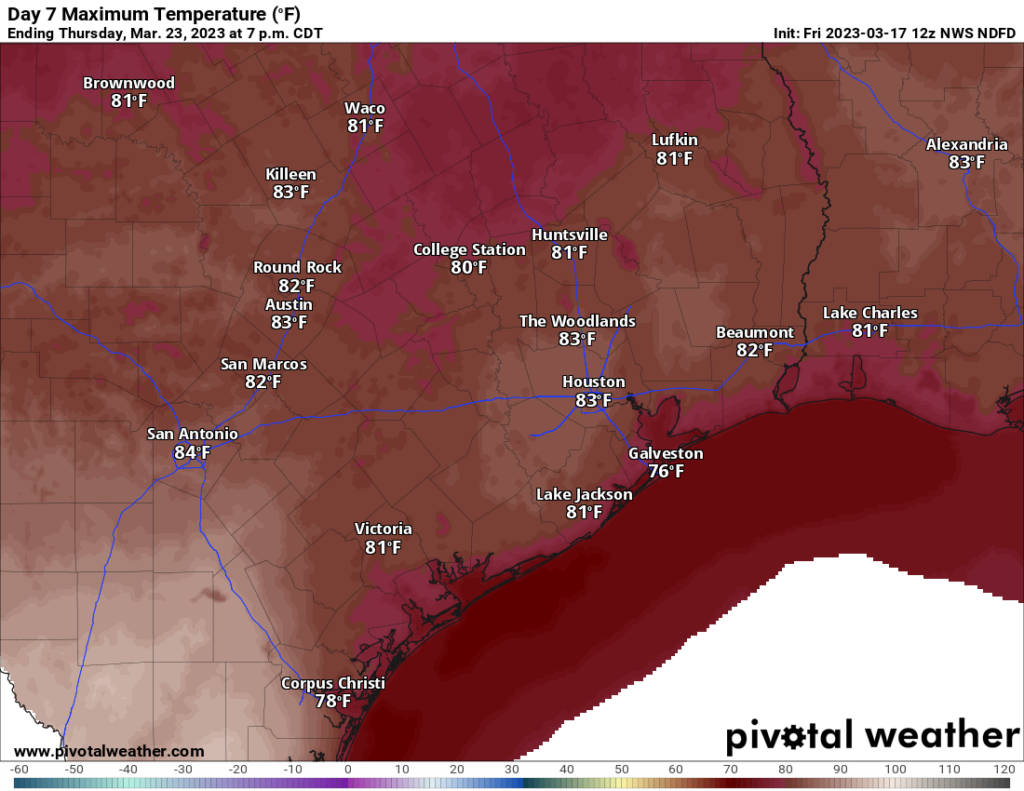 Beyond that, we may see another cold front around next Friday or Saturday to offer some comfortable weather next weekend and early on the week of the 27th. More on that next week.