Good morning. Houston has a couple of more days in the upper 80s before our temperatures spike this weekend. It will feel a lot more like July in Houston than May as highs push into the mid- or possibly even upper-90s as high pressure reigns.
Wednesday
Like the last couple of days, today will bring warm and breezy conditions to the region. A few isolated showers may pop up, but for the most part we'll simply see cloudy skies this morning before some clearing during the afternoon. With partly sunny skies, look for high temperatures to pop up into the upper 80s, with southerly winds gusting up to 20 or 25 mph. Clouds return this evening, with another warm night in the mid-70s.
Thursday
On Thursday, an upper-level low pressure system will start sliding toward our region, and this may provoke a day and night of more dynamic weather. The day will start mostly cloudy, with more southerly winds. It looks as though a line of storms will approach and move through our region during the afternoon and evening hours, although I think it will probably be weakening as it arrives. This may briefly produce some strong straight-line winds, and we can't entirely rule out hail or a tornado. But overall, the setup does not look all that favorable for severe weather.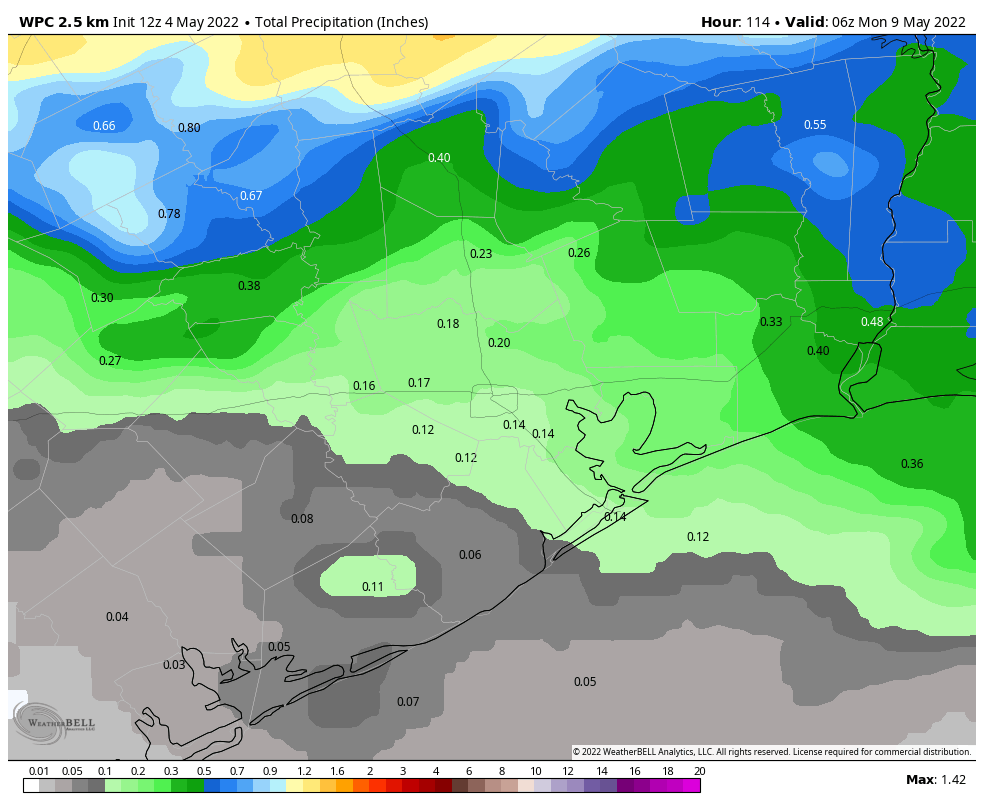 Rain accumulations through Thursday night will probably be fairly slight, on the order of a tenth of an inch or two, but there probably will be a few pockets of heavier rain. Highs Thursday should reach the upper 80s despite the clouds.
Friday
As skies clear out, we should see high temperatures push into the low 90s on Friday. Winds will be light, out of the south.
Saturday and Sunday
As we've been discussing, this weekend looks hot. Beneath the influence of high pressure, it will feel more like late July than May, with highs in the mid- or possibly even upper-90s. We may well tie or set record highs on both days. And there will be nowhere to go for relief in the state of Texas, with blazing temperatures from east to west, north to south. Overnight lows will only drop into the mid-70s.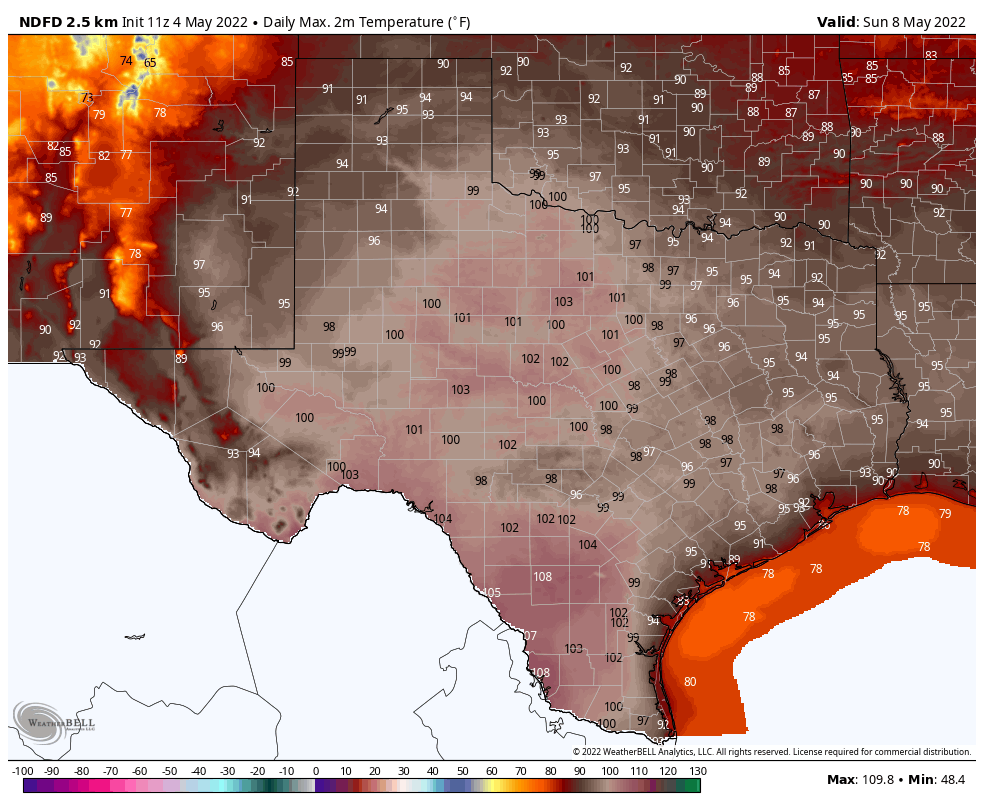 Next week
Temperatures will moderate slightly next week, with highs falling back into the low 90s, as the overall flow turns a little more southeasterly and some clouds start to return. Rain chances are next to nil for awhile, it appears.