Good morning. Houston will see a cold front move into the area later today and this evening. While the front won't bring too much cooling, it will perturb the atmosphere to the point where there is now a reasonably high likelihood of seeing a line of storms move through the area. After tonight, a much warmer pattern will set in, with temperatures peaking in the mid- to upper-90s this weekend. Get your summer on, Houston.
Thursday
If your Cinco de Mayo plans include a fiesta later today, please note the potential for storms this evening. Temperatures today will rise into the upper 80s with a mix of sunshine and clouds, and we'll see those familiar southerly winds gusting up to 20 or 25 mph. However later this afternoon and evening, a line of storms associated with the front is likely to form to the north of Houston, and push downward toward the coast. The high-resolution models have become more bullish on this line of storms holding up as it moves through Houston, with the main threats being straight-line winds and briefly heavy rainfall.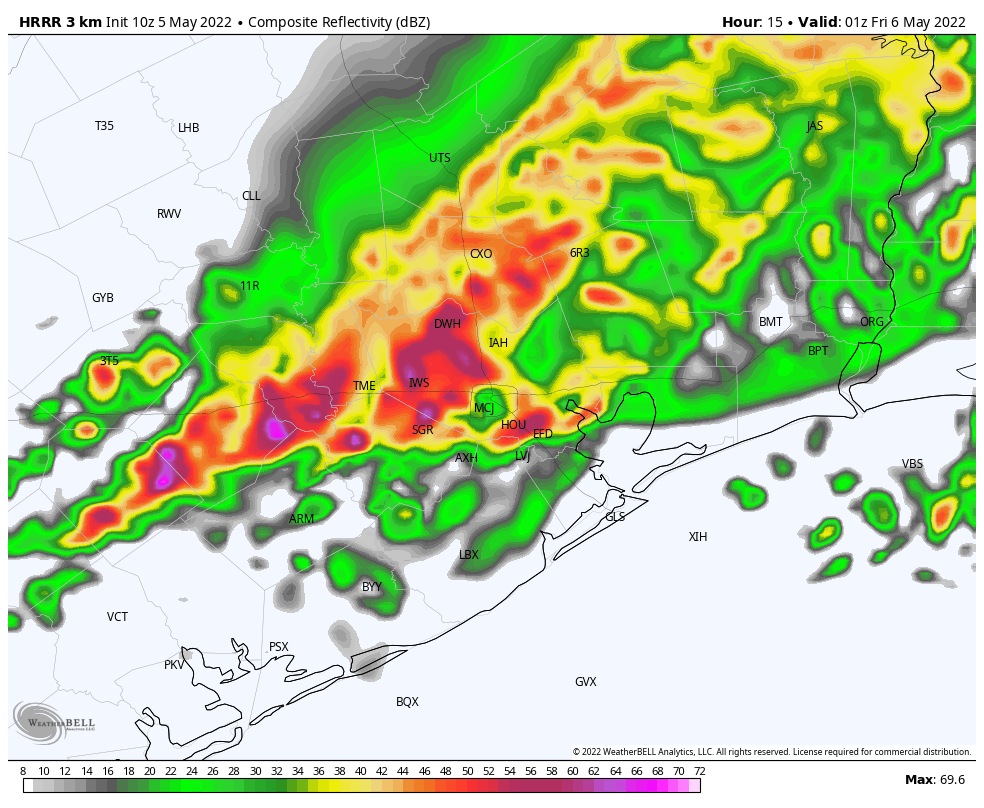 I'd guess the line of storms reaches northern Houston around 6 to 8 pm, the central part of the city at sunset, and down to the coast an hour or two later. This is probably our last chance of rain for at least a week, so I'm not going to complain, and it now looks like most of the region will see 0.5. to 1.0 inch, with higher isolated totals. The storms should pass fairly quickly, clearing your location within an hour or two of arrival. In the wake of the front, temperatures may briefly drop into the 60s tonight, especially inland of Interstate 10, with slightly drier air.
Friday
With a bit of drier air in place, temperatures on Friday should shoot up into the lower 90s, with mostly sunny skies and light southwesterly winds. Lows on Friday night will bounce back into the 70s.
Saturday and Sunday
With high pressure building over the area, the weekend forecast is straightforward: Our entire region will see hot and sunny weather. Temperatures will probably peak in the mid-90s for most locations, but some western partners of the metro area almost certainly will move into the upper 90s. There will be plenty of humidity as well, so please do take care out in the daytime heat. Overnight low temperatures won't drop much below the upper-70s.
Next week
Most of next week looks to be nearly as hot, with partly to mostly sunny skies, and highs perhaps in the low-90s most days. Rain chances are basically nil for as far as the eye can see after today and tonight.