Good morning! The big talking points this week are a brief warmup through Tuesday, the potential for storms ahead of the next cold front, and then an extended period of warmer weather during the first week of December. Before getting to the weekly forecast, however, I want to say just a little bit more about the Thanksgiving rains.
Earlier this year, parts of the Houston region were experiencing an extreme drought, and problems were most acute in Brazoria and Galveston counties. Even prior to last week's rains these coastal counties were in what the US Drought Monitor characterizes as a "moderate drought." Fortunately, I think we can safely put those concerns to bed after the region's widespread rains on Thursday, Friday, and Saturday morning. Nearly all of the coastal counties pulled in 4 to 6 inches of rainfall, with areas further inland recording 2 to 5 inches generally. This was the soaking we needed to extinguish this year's drought.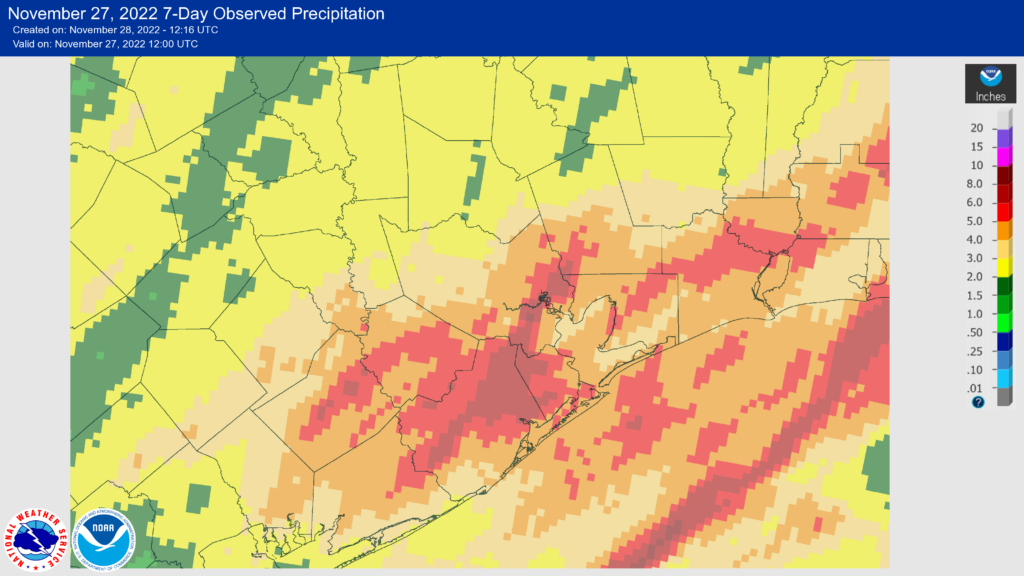 Fundraiser
Our annual fundraiser ends tomorrow! We have had a tremendous response this year from readers, and Matt and I are truly grateful for your generous support. If you've not picked out a shirt or other items, there is still time. You can buy Space City Weather merchandise here, or donate by clicking "I'd like to make a donantion" only. Thanks!
Monday
Much of the area is starting today out in the 40s this morning, and with mostly sunny skies we should see temperatures warm nicely into the low 70s by this afternoon. A reinforcing front arrived on Sunday to keep us dry overnight, but that front is washing out today and will be replaced by a warmer onshore flow. Accordingly, light northerly winds this morning will turn southeasterly later today. This will bring increasing clouds this evening, and lows tonight will only drop to around 60 degrees. (By the way, if you've not heard yet, the city of Houston is under a "boil water" notice due to a water pressure issue).
Tuesday
Given the warmer temperatures overnight, we have a good chance of seeing sea fog on Tuesday morning, which likely will be thickest near the coast. Otherwise, skies will be mostly cloudy on Tuesday, with highs near 80 degrees. The big question concerns the possibility of showers and thunderstorms during the daytime, ahead of a frontal passage late Tuesday night. All of the atmospheric ingredients we need for storms are there, but they probably won't line up just right. (The story is different well to our northeast). As a result, I expect to see scattered showers in Houston, with the potential for some thunderstorms on Tuesday. Accumulations don't look particularly notable. The frontal boundary, with cooler and drier air, is unlikely to reach Houston until around sunrise on Wednesday.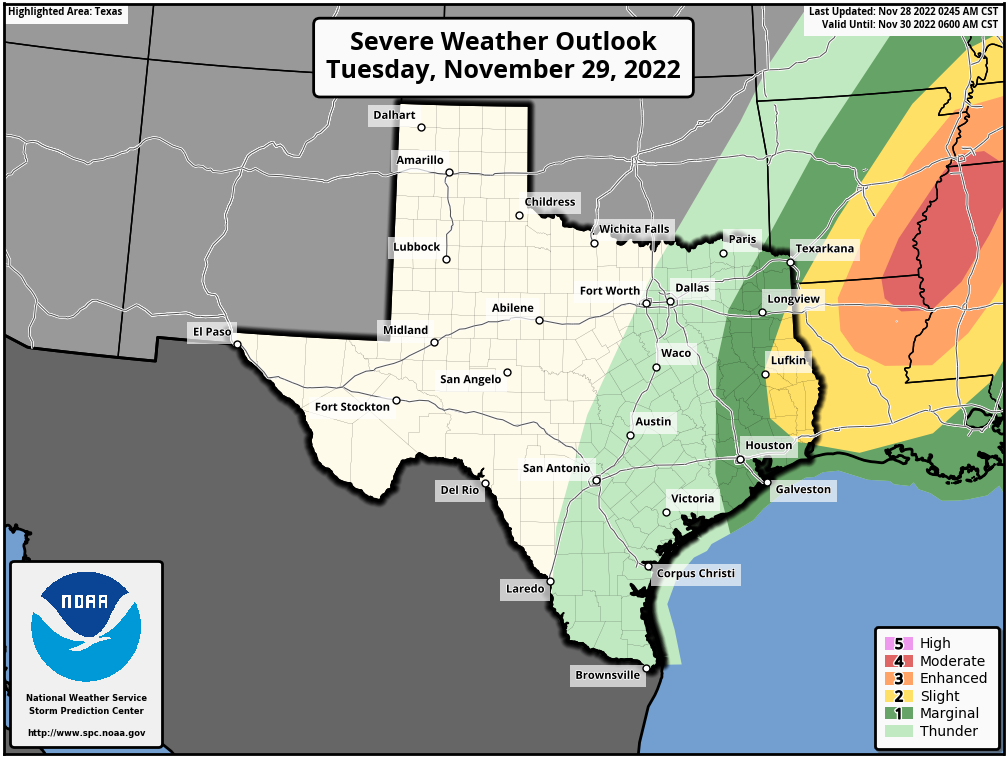 Wednesday
In the wake of the front this will be a cool and sunny day, with highs of around 60 degrees. Winds will be blustery, gusting up to 25 or 30 mph out of the north. Lows will bottom out near 40 degrees on Wednesday night.
Thursday
Another chilly day, with highs in the upper 50s to about 60 degrees. Expect partly sunny skies.
Friday, Saturday, and Sunday
The weekend looks warmer as the onshore flow gets reestablished. Saturday and Sunday, in particular, should see highs near 80 degrees with partly sunny skies. We can't rule out a slight chance of rain on both days, but for now any accumulations look slight.
Next week
The early part of next week looks fairly warm, too, before a cold front arrives to chill us down. The details of how strong this front will be, alas, are pretty fuzzy.