Good afternoon. With this post we will provide an update on rainfall expected tonight and Friday, before our region dries out and starts to heat back up this weekend. The bottom line: We are maintaining a Stage 1 flood alert for coastal counties through Friday. The biggest change in this afternoon update is that our area of greatest concern has shifted eastward: We now expect the heaviest rainfall from now on to be focused on Galveston Bay and points eastward.
As expected, the rainfall today has been largely focused along the coast. Whereas most of the metro area north of Interstate 10 has not seen more than a few stray drops, parts of Galveston Island have received as much as 4 inches. This trend is largely expected to continue as a tropical system moves northward, continuing to push a river of atmospheric moisture on shore. Because we expect such a wide variance in outcomes, let's break the forecast down for two different areas: the coastal counties of Galveston, Chambers, and Orange; and everyone else, including Houston.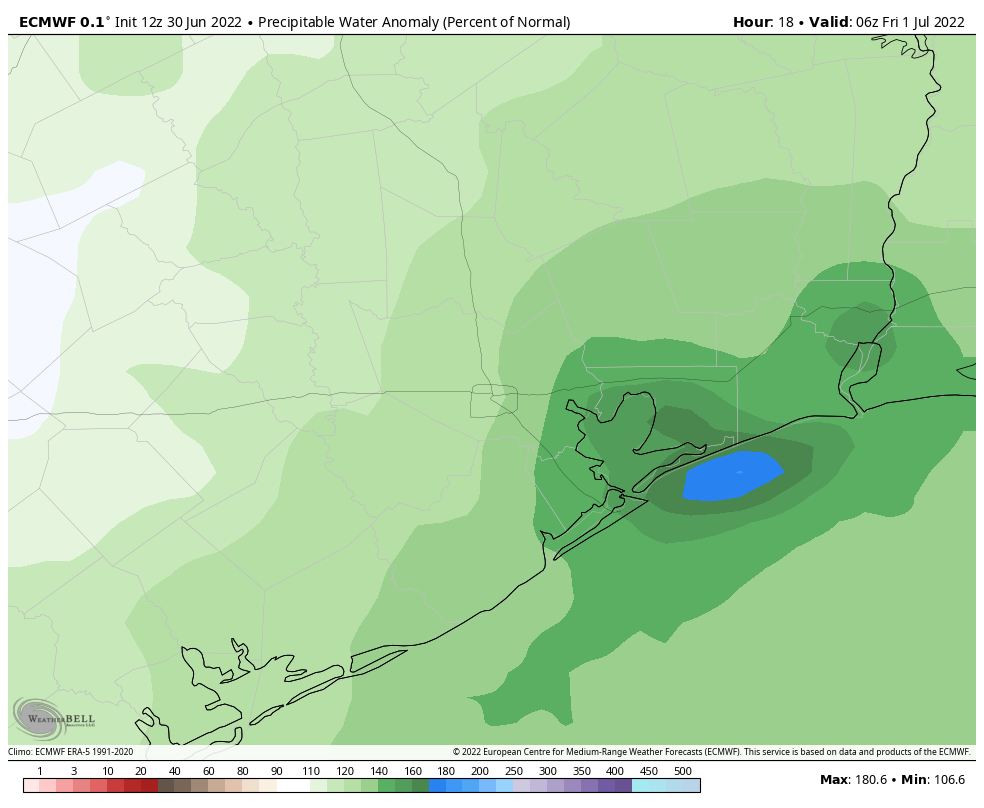 Galveston, Chambers, and Orange counties
Forecast modeling has zeroed in on these areas bearing the brunt of heavy rainfall, most likely from about midnight tonight and running through Friday afternoon. Locations in these counties may see between 2 and 8 inches of rainfall during that time period, and despite the dry soils the most intense rainfall rates will nonetheless quickly back up streets. (This kind of tropical moisture is capable of producing intense rainfall rates of 2 to 4 inches per hour.) If you live in these areas, you should definitely check the radar before getting on the road tonight and Friday. While things may be fine, there's also a chance they might not be. The worst should be over some time on Friday afternoon.
Houston, Harris County, and other parts of the metro area
For everyone else the rain showers are likely to be far more spotty, and the impacts minimal. Expect a day on Friday to be pretty much business as usual. While we could see a few areas away from the coast pick up some significant rain accumulations, it would not surprise me to have much of the inland parts of our region stay below one-half inch of rain. This is especially true for locations inland of Highway 59/Interstate 69. It just looks like the moisture is going to get shunted off too far to the east to really provide meaningful rainfall to those areas. I know, our lawns and trees could certainly use a lot more.
If needed, Matt will have an updated forecast later tonight. If not, look for a post early Friday morning to catch you up on the latest.