Well, here we are. It would appear that the summer of 2022 is going to begin quite early, as we are going to have multiple opportunities to approach or break record high temperatures over the next several days, with honestly no real confident end in sight.
Last night's storms packed a punch in parts of the area, mainly up toward Huntsville. For the rest of us, just some rain.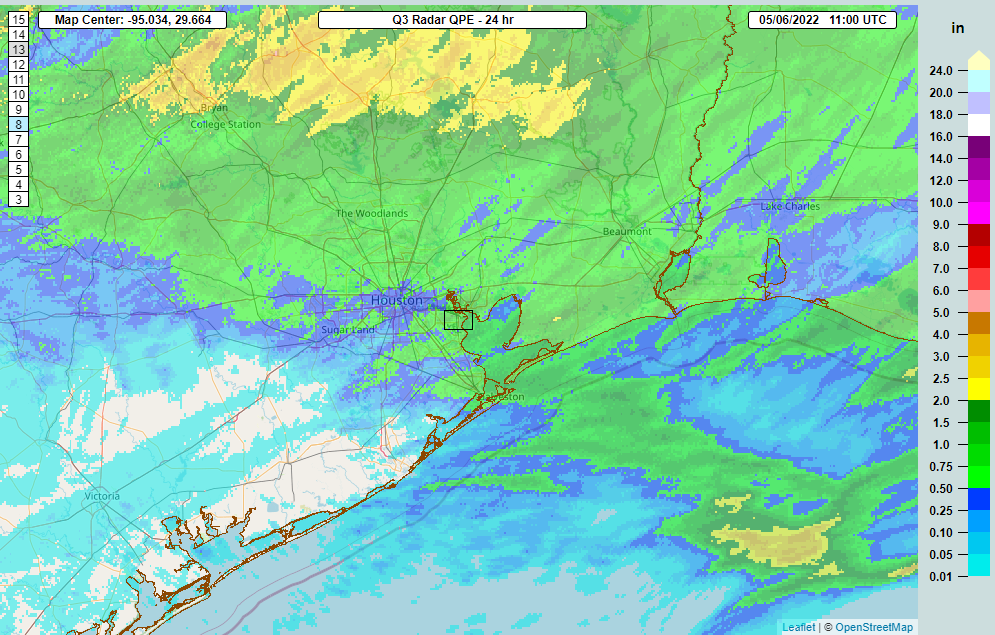 You can see rain totals on the map above, as estimated by radar. Mostly a half-inch to an inch north (more north of Conroe) and a quarter-inch to three-quarters of an inch south (highest in Chambers County). The only real "losers" with yesterday's storms were south of Sugar Land, across southeast Fort Bend and much of Brazoria, Wharton, and Matagorda Counties, which saw less than a quarter-inch of rain.
Any rain is good rain at this point, so we'll take it, as the drought monitor update released yesterday continues to show drought holding over most of Texas. Locally, the drought situation got a touch worse through Tuesday, with some expansion of drought south of Houston. Given the lack of rain there yesterday, this will almost certainly expand further next week.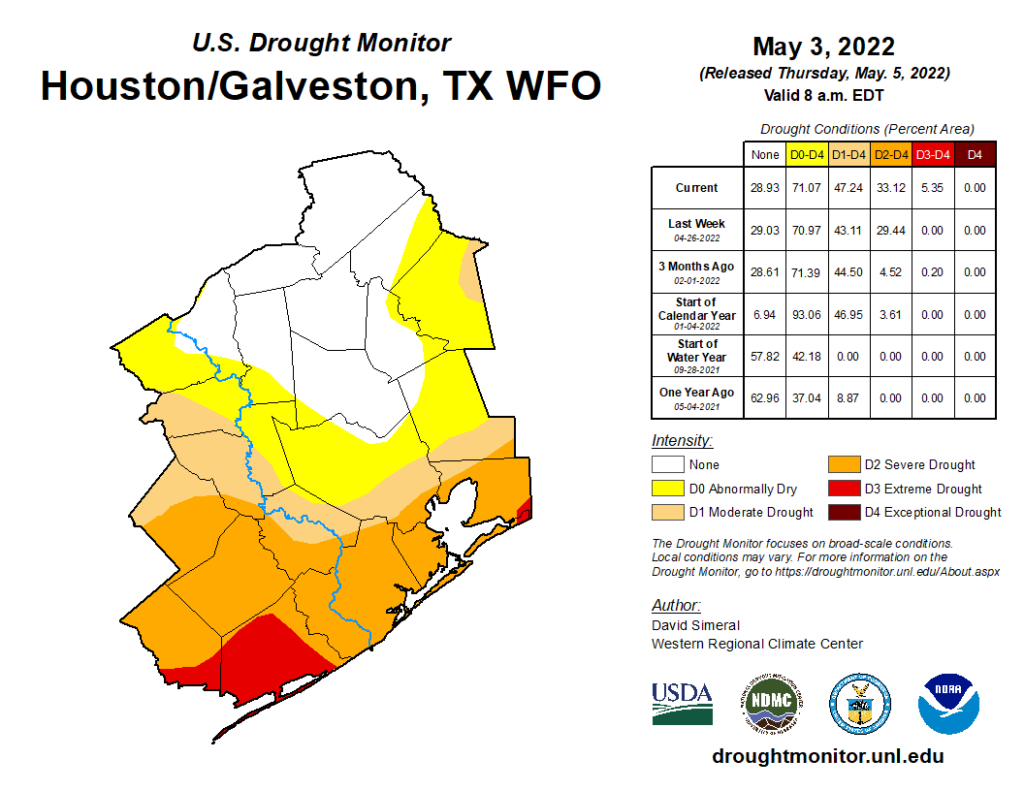 We are now seeing levels of "extreme" drought show up in Matagorda County. With very little rain expected over the next 7 to 10 days, along with extremely hot weather for May, it is possible we see drought expand rapidly through the month. We will be watching this closely.
Today
So with the rain behind us, we now step into summer-like weather. We should see sunshine today after perhaps a little morning fog burns off in spots. Highs will bump up into the low-90s.
Weekend
We expect a sun-filled weekend, along with near-record heat for May. Temperatures will be in the mid to upper-90s both days with morning lows in the 70s. Combined with the humidity, it will feel like it's over 100 degrees at times this weekend. Stay hydrated. Stay in shade. Our bodies need time to adjust to these levels of heat.
Next week
At this time, there is no reason to forecast any real rain through Friday. This means it will be sunny and hot with no relent. Expect highs well into the 90s and lows in the 70s each day. We're not talking cheap 90s either; these will probably be 93-96 degree type days each day. In fact, if we look at the NWS forecast into next week and compare it to the record highs for those dates, you'll see we're currently forecast to tie or break records from Saturday through Thursday.
| | | |
| --- | --- | --- |
| Day | IAH Forecast High | Record High (Year) |
| Friday | 92° | 94° (1906) |
| Saturday | 97° | 94° (1998) |
| Sunday | 96° | 96° (1967) |
| Monday | 96° | 94° (2011) |
| Tuesday | 94° | 94° (1927) |
| Wednesday | 94° | 94° (1890) |
| Thursday | 96° | 92° (1967) |
Numerous record highs may be approached or exceeded over the next week.
We have not had an early to mid-May heat wave of this intensity in quite a few years, with only one record high set in the 2000s, one of the lengthier stretches that has not seen records broken much in recent years. So again, please stay cool this weekend and be extra cognizant of your exposure to the heat this early in the season. With that, some tips!
A Message From Our Sponsor, Reliant
As Houstonians get ready for our first taste of summer with temps in the high 90s starting this weekend, now is the perfect time to talk about how to prepare for the heat. Our sponsor Reliant shared the below helpful tips for staying cool while managing your energy usage.
Follow the 4×4 principle. Set your thermostat four degrees higher when you're away from home for more than four hours to save on energy usage and costs.
Rotate your ceiling fan counterclockwise for a wind chill effect. This can make the temperature in a room feel up to 4 degrees cooler allowing you to be more comfortable and adjust your thermostat to save money. Don't forget to turn off your fan when leaving the room.
Use blinds or curtains to reduce solar heat gain by up to 50 percent. Direct sunlight can increase the demand on your AC by as much as 30 percent.
Switch out your old light bulbs for new LEDs to light your home efficiently. Unlike incandescent bulbs that generate heat, LED bulbs are cool to the touch, last longer and use 70-90 percent less electricity.
Schedule an HVAC checkup. Now is a good time to arrange a tune-up with an HVAC service professional to ensure your system is running at its best. Just as you wouldn't take your car out for a long road trip without getting serviced, you don't want to enter summer without your AC system being properly maintained.
Find additional energy efficiency tips by clicking here.