We've got a dynamic forecast ahead, with potential record highs today, more warm weather to end the week, and a chance of storms Saturday night and Sunday morning. Let's get to it.
Today
It's going to be quite warm today—ironically because a cold front will be moving through Houston. Matt explained all the details in a special post Tuesday evening, but essentially the combination of a warm air mass already in place and drier air moving in with a cool front this afternoon could be enough to push high temperatures to 90 degrees this afternoon for parts of Houston. We think it will get close—whether we get that warm is dependent upon when the front and drier air arrives (earlier in the afternoon means we'll be warmer)—and the entire region will be hot regardless.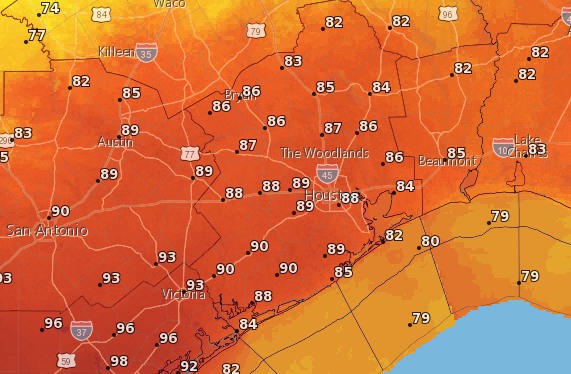 The other question with today's forecast is whether any rain showers are likely to break through the capping inversion. Looking at some different variables this morning, I think it's going to be difficult for most areas to see much, if any rain. A few thunderstorms are possible if the cap breaks, but that would most likely be well north of the metro Houston area.
Thursday and Friday
A cool breeze by Wednesday evening should bring much more seasonable weather to the region by Thursday morning, with lows in the mid- to upper-50s across most of Houston except for the coast. But high temperatures will bounce back quickly into the mid-80s, and a warmer, moist flow will resume off the Gulf of Mexico by Thursday afternoon, or so.
This will set the stage for a very warm day on Friday, with high temperatures possibly reaching 90 degrees, again, under mostly sunny skies.
(Space City Weather is sponsored this month by The Mole, a Jonathon Price novel.)
Saturday and Sunday
All of that returning moisture will bring a moderate chance of rain back to the forecast by Saturday morning.
If you're part of the BP MS 150 ride to Austin, you're going to start out the ride with fairly favorable conditions. Although it will be warm in the morning, in the upper 70s, you're going to have a nice 15mph (or gustier) south-southeast wind that will mostly be at your back. Morning rain chances are low, but I wouldn't rule out a few scattered showers, and possibly a few thunderstorms during the afternoon hours.
On Saturday evening a fairly strong cold front will blow through central Texas. For bike riders now around Giddings or La Grange and making the ride to Austin, the practical effect of this may be rain and storms during the overnight hours. But things should clear up sometime during the morning hours, and you'll be left with a fairly strong headwind, perhaps 15mph and gusting higher on the way into Austin. This will be less than pleasant.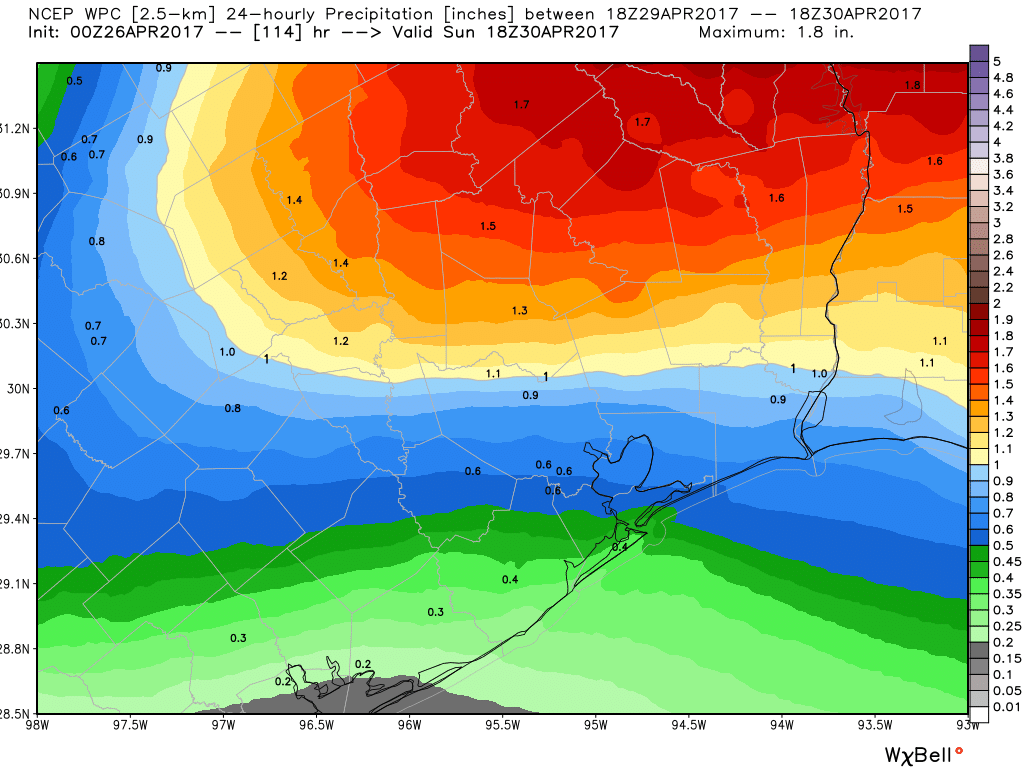 The front will reach Houston by late Saturday night or Sunday morning, and I expect a broken to fairly solid line of showers and thunderstorms to move through. I think it's likely that most areas see 0.5 to 1.5 inches of rain—higher amounts than this are possible up north—but fortunately the storms should clear the area by late morning or early afternoon. In its wake we'll see cooler, drier weather to start next week, with Monday morning again seeing lows of around 50 degrees, or so, for inland areas.
Posted at 6:50am CT on Wednesday by Eric