We're going to see a potentially dynamic day of weather on Thursday as a dying cold front approaches the metro area. Friday will be a transition day before high pressure clamps down on the region over the weekend and beyond.
As a weak cool front sags down toward the Houston area this morning, a broken line of moderate to strong showers and thunderstorms will move with it. As of 6:30am CT, this line stretches from Luling to Navasota to Huntsville, but it should gradually move the east-southeast, and into the Houston area.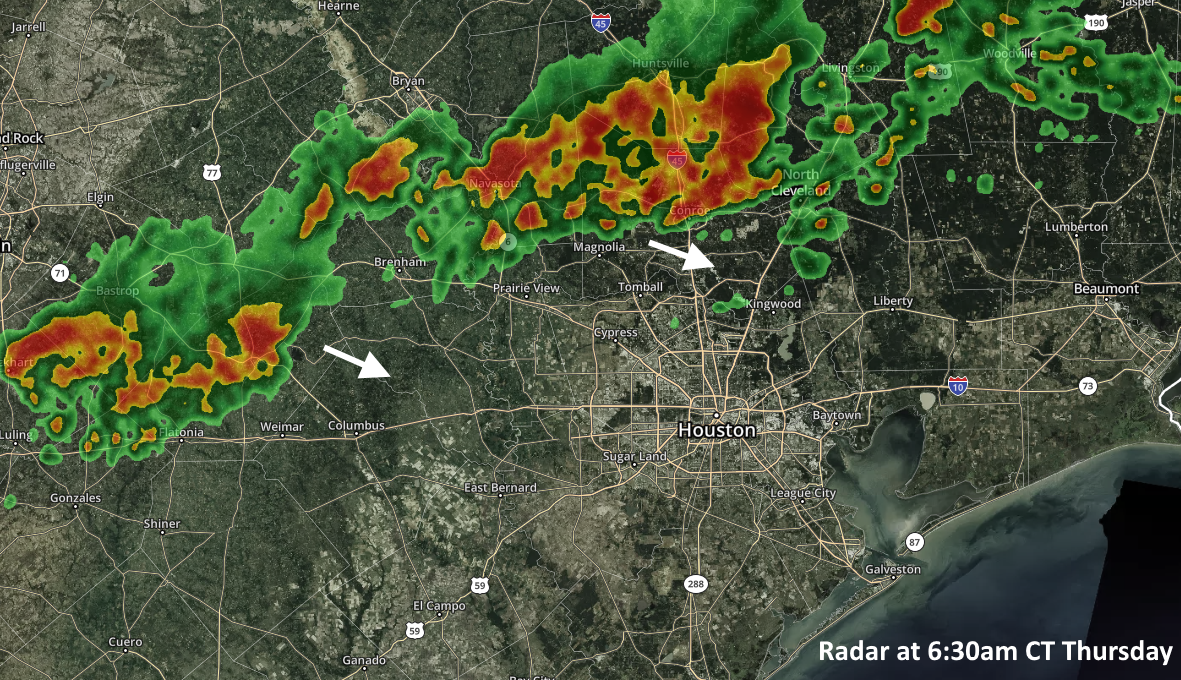 Based upon high-resolution modeling, it appears as though the best rain chances will be north of Interstate 10 this morning, along the highway and through the central Houston area during the middle of the day, and closer to the coast later this afternoon and early evening. I think these showers will be pretty hit-or-miss, meaning that some areas will probably only get a smattering of rain while a neighborhood a few miles away gets lots of lightning and  1-, or 2-, or even in a few isolated cases perhaps as much as 3-inches of rainfall. Because some of these isolated cells may produce some heavier showers, we can't rule out some street flooding throughout the day under the strongest storms. Rains should end by around 6 to 8pm for most of the area.
Cloud cover today should help limit high temperatures to the upper 80s or around 90 degrees.

Friday
On Friday the remains of the front will lift back north, and this should aid in the additional development of some rains—particularly for inland areas north of I-10, where rain chances should be around 40 percent. Right now it does not appear as though these showers will be nearly so widespread nor intense as Thursday's stronger storms. Friday will probably be a partly to mostly cloudy day, with highs near 90 degrees.
Saturday
With partly sunny skies, highs should get into the low 90s. We can't entirely rule out a few isolated showers, but chances will be around 10 percent.
Sunday and Monday
As high pressure builds over the area, so will temperatures. These look like days of nearly full sunshine, with highs in the mid-90s. Hello, summer!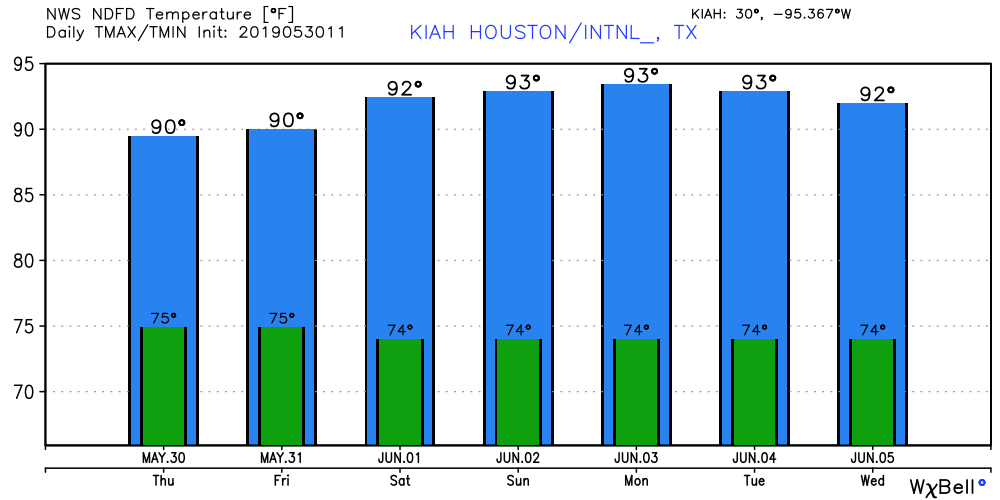 After Monday
It appears as though hot and sunny weather will stick with Houston through at least around Wednesday or so of next week, before temperatures back off some. After Friday, our next real rain chances probably won't come until Thursday, Friday, or Saturday of next week, when most of the major global models are suggesting we'll see another decent shot of precipitation.