While we've mostly gotten off easy here in Southeast Texas the last couple days, areas to our north and east have been pummeled by storms. The maps below show estimated rainfall for Friday into Saturday and Saturday into this morning.

Areas in Northeast Texas saw tremendous rains Friday night, that unfortunately ended up being tragic in Palestine, TX. Yesterday morning and again this morning, the Lake Charles area was particularly hard hit as well, with totals of 6-8″ over a large area leading to widespread street and highway flooding.
So with all this in mind, today is a new day, and some changes will take place atmospherically that should lead to increasing storm chances.
TODAY
The cold front primarily responsible for a lot of this mess cleared us yesterday, but it will begin to move back northward today. With it will come ample amounts of atmospheric moisture. The good news is that precipitable water values (a good gauge of atmospheric moisture) aren't going to be exceptional like we saw on Friday or during the Tax Day flooding. That said, they will be elevated.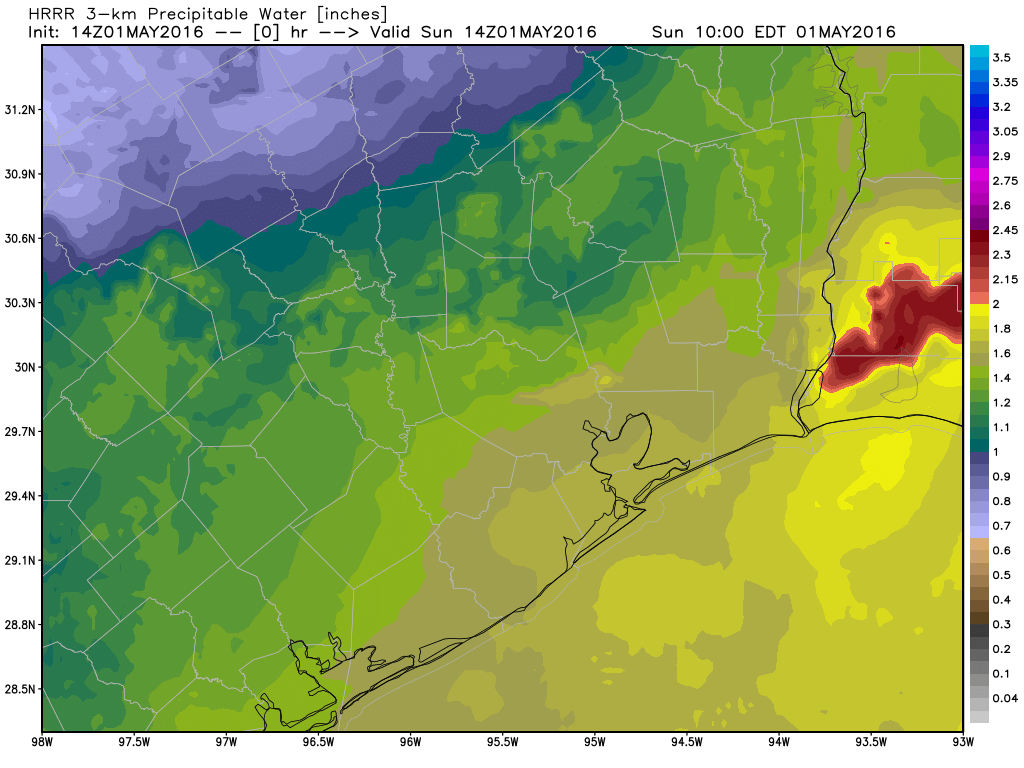 The animation above shows values rising from 1.2-1.3″ early today to closer to 1.6-1.8″ on average this evening. So as the day progresses, the atmosphere becomes more favorable for some scattered showers and thunderstorms to develop around the region.
I think storms today will be very sporadic and hit or miss, as there really is no large scale trigger to get widespread storms going until tonight. So if you have outdoor plans the rest of the day, have an umbrella and a plan to be somewhere safe if lightning develops. The highest chance for pop up storms will be south and east of US-59. There are already a few showers in Matagorda, Brazoria, and Galveston Counties as I write this.
TONIGHT/MONDAY
This will be the more interesting period of weather. A few upper level disturbances swing through here tonight and tomorrow morning. With the front in place and ample moisture around, I expect more widespread showers and thunderstorms to develop overnight and Monday morning. Yes, this might mean a sloppy morning commute. Some details on tonight/Monday:
Confidence? Medium to High
Any severe weather? Strong winds and isolated hail possible once again, but tornado risk is near to perhaps below average for a setup like this.
How much rain? 1-2″ on average, isolated spots see 2-4″, and yes, isolated spots may see under 1″ total.
Flooding? I think this looks to be more of an isolated street flooding sort of setup than anything worse. That said, if any storms form and sit over one area, an isolated spot could see more widespread street flooding. But the risks tonight and tomorrow look less significant than things appeared Friday, so we're not super worried.
Things do look to quiet down and clear out tomorrow afternoon and evening, setting the stage for an absolutely stunning middle and end of the week: Warm days, pleasant nights, and low humidity. We've earned it. Eric will have more details on that tomorrow morning.
Posted at 11:10 AM Sunday